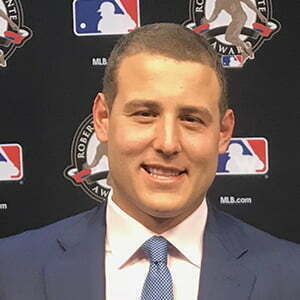 Purdue University Northwest's Sinai Forum speaker series for 2020-21 will feature a recent World Series champion and one of the founders of tech giant Apple Inc.
Anthony Rizzo, first baseman for the Chicago Cubs and member of the 2016 World Series winning team, and Steve Wozniak, co-founder of Apple Computer, are among the speakers headlining the new season of the PNW Sinai Forum.
Rizzo open's the series with a livestream discussion from noon to 1:15 p.m. on Sept. 19. He will be interviewed by Dan Plesac, a Crown Point native, who spent 18 years in the majors and now works as an MLB Network analyst.
Rizzo's talk is the first of two virtual events planned for fall 2020, PNW said. The second is a livestream with Jonathan Rauch, a senior fellow with the Brookings Institution in Washington, D.C., discussing "On Free Speech and Cancel Culture." Rauch's event is from 4 p.m. to 5:15 p.m. on October 11.
Other speakers include Steve Wozniak, a Silicon Valley icon and philanthropist for more than 30 years who designed Apple Computer Inc.'s first line of products; Paul Nicklen, a renowned nature photographer who creates awareness and inspires action for global issues incluidng climate change; and Max Eisen, an Auschwitz survivor who teaches about the dangers of hatred and discrimination in society while promoting understanding between community groups.
Additional information on the speaker series is available online on Purdue University Northwest's website. Two additional speakers will be named in spring 2021, PNW said