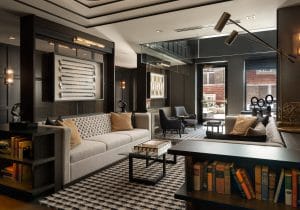 Purdue University is launching a real estate finance program in honor of Dean V. White.
The college will offer the Dean V. White Real Estate Finance Program as an academic minor during the 2022-2023 school year. It will be available to management students and students in other disciplines across the university.
"We are seeing fascinating changes in real estate markets to how and where people live, work and recreate," said David Hummels, the Dr. Samuel R. Allen Dean of the Krannert School of Management. "These changes represent a fundamental challenge and opportunity for business."
The college's school of management revealed the program during the recent Krannert Alumni Awards Celebration Dinner. The new program, named in memory of the late Indiana entrepreneur in recognition of a $20.8 million pledge from the Dean and Barbara White Family Foundation, was approved on April 8 by Purdue trustees.
The gift is the largest monetary contribution ever made to the school of management.
The new program will provide an academic experience for students to prepare them to plan, develop and manage successful commercial real estate projects. High-impact experiential learning opportunities will connect students with real estate experts and prepare them for industry-leading positions and careers, university officials said.
Four new faculty positions will be created through the new program's funding. A portion of the gift will be used to create or renovate space in or on the site of the Krannert Center for Executive Education and Research to house the program.
Bill Hanna, executive director of the Dean and Barbara White Family Foundation, said Dean White had a passion for real estate "and the creative nuances of crafting the perfect deal, a deal that starts with a new vision for an area and that results in new businesses, jobs and a stronger community."
Dean White was a veteran of World War II, attended the University of Nebraska and was a graduate of the Merchant Marine Academy in King's Point, New York. He spent most of his life in Crown Point, where he developed a successful entrepreneurial career in advertising and real estate development, eventually becoming one of Indiana's most prominent philanthropists and successful business leaders. He died in 2016.
Dean, his son Bruce and the White family have been generous contributors to Purdue during the past three decades. Among the family's donations was a combined gift of $30 million that helped transform the Union Club Hotel at Purdue, Autograph Collection, which is used as a learning laboratory for Purdue hospitality students.
Bruce White is a Purdue graduate and past Purdue trustee who remains heavily involved in Purdue's hospitality program through his company, White Lodging, based in Merrillville. In 2021, Purdue renamed its hospitality school the White Lodging-J.W. Marriott, Jr. School of Hospitality and Tourism Management in honor of the company's ongoing support and partnership.