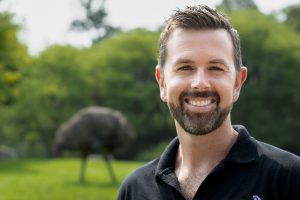 Joshua Sisk is the new executive director of the Potawatomi Zoo in South Bend.
The Potawatomi Zoological Society Board of Directors recently announced Sisk's appointment. He most recently served as the zoo's director of animal programs and education.
"I've worked with Josh for a number of years and witnessed his professional growth on many fronts," says George Horn, president of the zoo's board of directors. "In a group of outstanding candidates for the position, the board was impressed with Josh's passion for the zoo and his commitment to achieving the lofty goals we have established in our master plan."
Sisk advocates for the zoo becoming a modern zoological facility focused on conservation, education, and animal welfare.
"I look forward to leading the zoo's continuing growth alongside this great community that truly supports their local zoo," he said.
Sisk is in his second stint with the Potawatomi Zoo. He first joined in March 2015.
Sisk previously worked for the Wildlife Conservation Society, first as animal care supervisor for the Central Park Zoo in New York and then as assistant curator of special animal exhibits at the Bronx Zoo in Bronx, New York.
Sisk left the Potawatomi Zoo to become curator of mammals at the Los Angeles Zoo, but returned to South Bend and the Potawatomi Zoo in May 2018.
Since his return, Sisk guided the Potawatomi Zoo through the complex AZA reaccreditation, which was successfully achieved in September.
Sisk has worked in zoological institutions since 1995 and has spent the last 12 years supervising large departments at AZA-accredited zoos.
He earned a Master of Science degree in zoology from Miami University of Ohio in 2015 after performing field work in Namibia, South Africa, Malaysia, and Mexico.