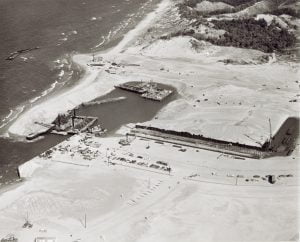 An idea to open a deep-water port in Northwest Indiana five decades ago has become a multi-billion-dollar economic powerhouse.
July 17 marked the 50th anniversary of the grand opening of the Port of Indiana-Burns Harbor, a transportation hub which connects America's heartland to the world and provides a stimulus to the state's economy, which accounts for 30,000 jobs and contributes $4.8 billion in economic activity to the Region economy annually, according to port estimates.
"It all really started to come together in 1961 when visionary leaders decided that Indiana should invest in freight transportation and develop an intermodal port," said Ian Hirt, director of the Port of Indiana-Burns Harbor. "Since then, the port has far exceeded original expectations by generating significant economic rewards for Northwest Indiana and the entire state."
Port officials said around the 1930s, business leaders and state officials began discussing the need to build a deep-water public port at or near the point where Burns Ditch, a drainage channel, entered Lake Michigan.
According to the Ports of Indiana records, the Great Lakes had just opened to international ships via the St. Lawrence Seaway and the "port issue" was a hotly debated topic.
Gov. Matt Welsh and state leaders determined an organization with greater authority than the Indiana Board of Public Harbors and Terminals was needed to develop the state's first port. In 1961, the group was succeeded by the Indiana Port Commission, known today as the Ports of Indiana.
During the past three decades, the commission constructed and now operates three public ports – Burns Harbor on Lake Michigan; Mount Vernon, which opened in 1976 and Jeffersonville, which opened in 1985 on the Ohio River.
The port at Burns Harbor became reality in 1965 when Gov. Roger Branigin and the Indiana General Assembly secured $35 million in funding over three year to develop the project. It took most of the decade to establish, construct and develop the Port of Indiana-Burns Harbor, which opened in July 1970.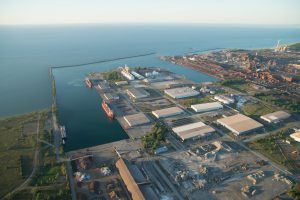 "We are so proud to be one of the original companies to call the port home," said Dan Frick, Owner of Frick Services. "From the very beginning, the port's synergies have served our family business and customers with the fullest satisfaction. The entire operation has contributed to our success."
The Port of Indiana-Burns Harbor has nearly 600 acres of land and 30 port companies, including 15 steel-related companies and three steel mills. The port handles about 9,000 rail cars, 75 ships, 350,000 trucks, 376 barges and 200 Great Lakes vessels annually.
The Burns Harbor port currently is undergoing nearly $20 million in improvements, which will allow it to handle more cargo as well as reduce its impact on the environment.