Nurse Ana Ruby received Northwest Health — Porter's 2023 Nursing Excellence Award.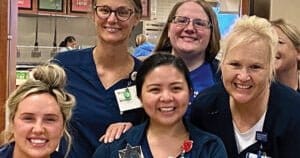 Ruby's peers nominated her for the award, which recognizes nurses for the critical role they play in assisting patients. Ruby's expertise and outstanding nursing skills were cited as reasons for earning the award. She also was described as a nurse "who works tirelessly to anticipate the needs of her patients and teammates."
Her peers also noted that, when she is in charge, the floor runs smoothly even during busy times, and that she encourages others to excel.
"Nurses are nominated for this prestigious award by those who witness their commitment to excellence day in and day out," said Ashley Dickinson, CEO, Northwest Health, in a press release. "We are very fortunate to have many outstanding nurses, like Ana, at Northwest Health – Porter. She delivers exceptional, compassionate care to their patients, as well as understands the importance of teamwork and mentoring others."
The award requires recipients to be RNs or LPNs in direct contact with patients.
Ruby also received a cash prize and a copy of "Shining the Light on All the Right," by Mark and Bonnie Barnes, co-founders of the DAISY Foundation,
an international movement that recognizes extraordinary nursing.