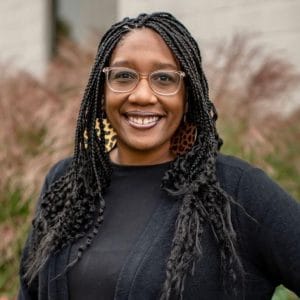 Ivy Tech Community College has a new leader in place to advance diversity and create more opportunities for minority-, women- and veteran-owned businesses seeking to do business with its campuses throughout Indiana.
Amber Williams will serve as vice president of diversity, equity, and belonging for Ivy Tech. In this system-wide role, she will lead the college in implementing initiatives that promote and advance diversity, equity and belonging and ensure the efforts support the college's values and strategic goals.
"We have made exceptional strides in our diversity, equity, and belonging work as a college," said Sue Ellspermann, president of Ivy Tech. "Ivy Tech is the front door to post-secondary education and prosperity for many Hoosiers as Indiana's open access community college."
Williams also will work in collaboration with the college's procurement office as well as work with campus leadership to develop engagement opportunities to proactively affect the recruitment, retention, engagement, and persistence of under-represented students.
Williams, who has 12 years of higher education experience, began her career at Ivy Tech Kokomo in 2010 as an assistant professor of psychology. In 2020, she became the college's executive director of diversity, equity, and belonging, and has served as interim vice president of diversity, equity, and belonging.
Ivy Tech was named by Forbes as a Best Employer for Diversity, Best Employer for Women and Best State Employer.
Williams is honored and looks forward to her new role at Ivy Tech.
"Through engaging and service-oriented leadership, I look forward to being a part of the continuous work being done across the state to create a sense of belonging for our employees and students that help to close equity gaps and make a difference in the lives of generations to come," she said.
Williams holds a Master of Arts in industrial/organizational psychology from Middle Tennessee State University and a Bachelor of Science in psychology from Evangel University. She is the recipient of numerous honors and awards, including the 2019 Dr. Martin Luther King Jr. Memorial Commission's MLK "Keeping the Dream Alive" Award, Ivy Tech's 2016 Excellence in Volunteerism Award, and the 2016 Paragon Award for new Phi Theta Kappa Advisors.
Ivy Tech's Northwest and North Central Indiana campus locations include, East Chicago, Gary, Goshen, La Porte, Michigan City, South Bend and Valparaiso.