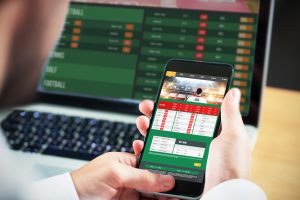 Sports betting in Indiana showed some signs of bouncing back in May.
PlayIndiana.com reported Indiana's online sportsbooks generated $37.3 million in bets in May, up 41.9% from $26.3 million collected in April.
PlayIndiana.com analysts estimate the state's sportsbooks lost out on nearly $160 million in bets in May. Even as major sports leagues prepare to resume play, the shutdown created by the pandemic could have long-ranging effects on Indiana as neighboring states rush to open up sports betting to shore their budgets, analysts said.
"In the short-term, the path to recovery is relatively straightforward," said Dustin Gouker, lead analyst for PlayIndiana.com. "Sports must return (and) the bottom line is that there is now a light at the end of this tunnel."
May's wagers produced $3.2 million in adjusted gross revenue, doubling the $1.6 million in April, and yielded $302,097 in tax revenue for the state. PlayIndiana.com estimates a typical May would have attracted more than $200 million in bets and retail sportsbooks, which remain closed, would have generated nearly $45 million in bets.
Bettors had more sports to wager on in May, including NASCAR and European soccer.
"Online sportsbooks have proven to be resilient," said Jessica Welman, analyst for PlayIndiana.com. "Operators have been remarkably creative in keeping bettors engaged, even with fringe sports as the main attraction."
When the market does normalize, Indiana will likely face more competition from Michigan, Illinois and soon Ohio, PlayIndiana.com said.
Gouker said Indiana's main advantage when it launched was limited competition in the Midwest.
"That is obviously changing, which was inevitable," he said. "But Indiana still has one of the most solid regulatory infrastructures in the U.S. and that will help keep the state ahead of the curve."
Market leader DraftKings/Ameristar Casino generated $20.1 million in bets, up from $13.6 million in April. That yielded $1.8 million in gross receipts, up from $908,322. FanDuel/Blue Chip Casino was second with a $12.3 million handle, up from $9.7 million.