How the SBA helped two moms spread nutritious, delicious BNutty goodness around the world
Editor's note: The Indiana District Office of the U.S. Small Business Administration is partnering with us to profile small business owners who are excelling in the Region. This story is the first in an occasional series.
Once upon a time, Carol Podolak's and Joy Thompkins' kids played soccer together. Their team had an opportunity to play in Texas but needed money to get there.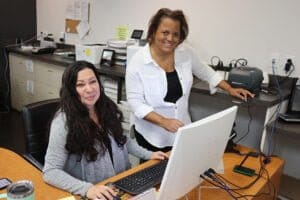 Tired of the usual fundraising ideas, Podolak and Thompkins wanted something new that would be popular, portable, tasty and healthy. Joy had a recipe for made-from-scratch blueberry peanut butter, which was delicious, nutritious and a hit — not just with kids but with parents and buyers too.
The duo continued making and selling jars of peanut butter goodness, adding new flavor profiles and building an exclusive line of healthy Hoosier-made products available as a fundraising solution for youth sports teams in Northwest Indiana.
Then QVC called. They wanted to sell the moms' peanut butter on the air. So, in 2014, BNutty Peanut Butter opened its first "Nuthouse" — which is what the duo affectionately call BNutty's production facilities — producing a line of gourmet, all natural, American-sourced artisan peanut butter. And that's when their lives took a nutty turn into full-on small business ownership.
"Joy reminds me all the time that we could have stayed where we were, only doing mass production a few months out of the year," said Podolak, BNutty co-owner. "But how much fun is that?" she continued with a smile.
How SBA resources helped
Stylishly packaged in recycled materials, BNutty Peanut Butter was a hit on QVC, and the novice entrepreneurs realized they needed more space.
Small business projections and financing were a foreign concept for the former project manager and nurse midwife, but friends told them about the SBA resource partners at the Northwest Indiana Small Business Development Center.
SBDC business experts, who provide free and low-cost one-on-one counseling to entrepreneurs for the life cycle of their small business journey, mentored the moms. They gave them homework assignments designed to help them create structure, strategy and business plans. These plans paid off, and BNutty secured a new 16,000-square-foot "Nuthouse" in Portage, hired more staff and continued seeing steady upticks in sales.
As it turns out, it was an early homework assignment from the SBDC that gave Podolak and Thompkins the idea that they could spread their pots of peanut butter delights around the world.
"It was one of those questions they ask you on a job interview," Podolak said. "Where do you see yourself in five years? Our business adviser was coming for a visit, and in our break room we have two maps — one of Indiana and the other of the world. We hung a sign over the world that says 'BNutty goals.' It started as a joke, but it became our reality."
In 2020, BNutty's sales manager went to a "Selling Online to the World" workshop taught by SBDC exporting experts. In 2021, BNutty began their exporting journey in earnest participating in the Export Indiana Accelerator Program, taking advantage of the SBA grant funded IN-STEP exporting assistance program and Food Export Midwest.
Impact/outcome
Since 2014, BNutty has created more than 80 jobs. During their first year exporting, BNutty's total sales rose 20%. In 2023, BNutty Peanut Butter won the SBA Indiana Exporter of the Year award.
"Exporting has exponentially increased our production, resulting in facility expansion, increased sales and new business," Podolak said, which has put them in the hunt again for a larger "Nuthouse."
Consumers can find BNutty in 13 countries, online and in stores throughout the U.S. Plans include expansion in Southeast Asia and a national grocery store chain this summer.
Caption: Carol Podolak (left) and Joy Thompkins inspect BNutty jars with an employee. (Photo by Laura Schafsnitz, SBA Indiana Public Affairs)