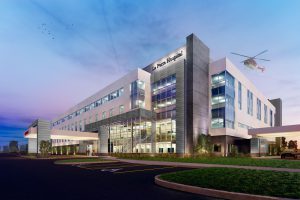 LA PORTE – Operators of La Porte Hospital have revealed the facility's new look and selected a general contractor to lead its construction project.
The latest rendering – the second version of the hospital design – shows larger windows, and a more modern look, with silver and grey materials and tones that reflect the community's natural lakeside landscape. The new La Porte Hospital – as announced previously – will be a full-service acute care community hospital.
The general contractor will be Robins and Morton of Birmingham, Ala., which specializes in hospital and healthcare construction. The firm has built around the country, including facilities in Bloomington and Valparaiso, and various hospitals in Illinois and Ohio.
"Robins and Morton is an award-winning healthcare facility construction firm that has a solid history of incorporating the local community into the projects they lead," said Ashley Dickinson, La Porte Hospital CEO. "Our expectations for the new La Porte Hospital are high, and we feel good they will help us deliver on them."
A groundbreaking ceremony will be held in August, and Robins and Morton expects to begin bidding the first package of work for the new hospital this fall. The bidding process will be competitive, and local organizations will be encouraged to participate, hospital officials said.
The 200,000 square-foot, $125 million facility is scheduled to open by spring 2020.
"We are extremely excited to have the opportunity to build the new La Porte Hospital," said Josh Young, onsite superintendent for the new La Porte Hospital. "Being part of such an impactful project for the community is something we take seriously, and our ultimate goal is to build a facility that will meet the healthcare needs of La Porte and surrounding communities for many years to come. We look forward to engaging local businesses and subcontractors in the project and are ready to move forward with building a hospital that exceeds the community's expectations."
The final footprint of the hospital will be determined after various approvals are finalized, hospital officials said. The hospital is being built on land the hospital owns directly to the west of the current facility.
The current La Porte Hospital will remain open during construction. Additional information on the project is available online at NewLaPorteHospital.com.