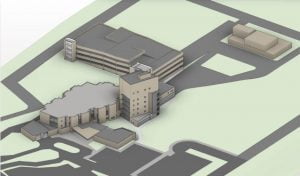 The transformation of Franciscan Health's former Michigan City hospital site will begin in November.
System officials expect work on the renovated Homer Street campus to be completed by fall 2021. Work includes demolition of structures built before 1986.
"I'm grateful that the Franciscan Alliance Board of Directors have centered their plan to repurpose our Homer Street campus on the health needs of the community," said Dean Mazzoni, Franciscan Health Michigan City president and CEO. "From providing mental health services and nutrition programs, to giving our elderly residents a place to gather and receive healthcare services, this is truly a mission-driven project,"
The work is projected to cost about $20 million, according to Franciscan.
Approximately two-thirds of the existing facility will be removed, primarily along Wabash Street and the corner of West Ripley Street, Franciscan said. The 2001 patient tower, emergency department and parking garage will remain.
The remaining facilities will be remodeled and used for new Franciscan services including behavioral health, drug and alcohol treatment and healthy and nutritious foods.
The renovated campus also will include Franciscan's all-inclusive care for the elderly program, which provides a social gathering space for adults 55 and over and services to coordinate their care.
Physician offices and other services and programming based on community need will round out the offerings, Franciscan said.
Franciscan Health's new $243 million hospital in Michigan City, which fronts I-94, opened in January 2019.