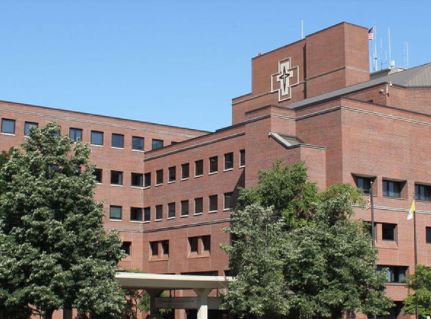 Franciscan Health's sprawling hospital campus in downtown Hammond will undergo a major transformation and will be significantly smaller but will continue providing care as it has for more than 100 years, officials say.
The health system's board of trustees approved spending $15 million to demolish sections of the hospital and $31.2 million to renovate the remaining space into an eight-bed acute care hospital, 24/7 emergency department and primary care facility. The site also will continue providing inpatient care for short stays, imaging services, laboratory services, wound care, dialysis, and prenatal care.
Demolition is expected to start in August, said Robert Blaszkiewicz, a spokesman for Franciscan. A timetable for all the planned work was not available.
"I want everyone to understand we are not closing the hospital," said Patrick Maloney, president and CEO of Franciscan Health Dyer, Hammond, and Munster. "We are still committed to providing the highest quality healthcare to the city of Hammond and the surrounding communities for decades to come."
A smaller operation in Hammond will require fewer workers. Blaszkiewicz said as many as 300 full-time employees will be impacted but it is likely many will be moved to other Franciscan sites around the Region.
He said Franciscan currently has 500 full-time openings in its Region footprint. Franciscan also will offer early retirement to eligible employees at its Hammond, Munster, and Dyer facilities.
The nearby Franciscan Health Catherine McAuley Clinic in Hammond will not be impacted nor will the Prenatal Assistance Program.
Economics is partly behind the decision to downsize the Hammond hospital at 5454 Hohman Ave. Franciscan said the cost to upgrade older hospitals prompted the opening of a new Franciscan Health hospital in Michigan City and construction of a new hospital in Crown Point.
Franciscan also has another hospital in nearby in Munster, which recently underwent a $16.5 million expansion. Franciscan Health leaders say the changes to its Hammond facility "can best serve the community's needs in a way that doesn't draw fiscal resources away from patient care."
Blaszkiewicz said the decision to alter the focus of the Hammond facility "is a continuation of (Franciscan's) strategy in Northwest Indiana to improve clinical outcomes and patient safety by developing specialized centers of excellence."
Refocusing services offered in Hammond will save Franciscan Health money, he said. The Hammond hospital had 400 beds in the 1950s and is currently licensed for 250 patients, but its average daily patient census in recent months has been between 50 and 60.
"It does save costs with the elimination of the duplication of services at three hospitals within a 10-mile radius," Blaszkiewicz said. "Unfortunately, in order to operate the Hammond facility for the next 10 years, the estimated cost was just shy of $82 million (and) that $82 million is just to cover the cost of upgrading and improving our facility's infrastructure (and) that is $82 million that we would not be able to invest in patient care."
The change also reflects a continuation of Franciscan Health's strategy in Northwest Indiana to improve clinical outcomes and patient safety by developing specialized centers of excellence. For example, the Franciscan Health Cancer Center Munster draws patients from western Lake County and Chicago's south suburban area.
"After extensive studies of our facilities and the Northwest Indiana market, it became clear that we needed to resize Franciscan Health Hammond for continued viability," said Cal Bellamy, chairman of the board of directors, Franciscan Alliance, Northern Indiana Division. "We will remain in Hammond, but it would be impossible to remain here as we currently are (and) the changes we are making in Hammond fit into our regionally-based plan for care (because) they also reflect the growing trends in the healthcare industry, which de-emphasize inpatient beds in favor of increased preventative care, along with virtual care, allowing patients to be treated in the comfort of their homes."
Franciscan plans to keep about 10,000 square feet of shell space at the renovated Hammond site if needed for future use.