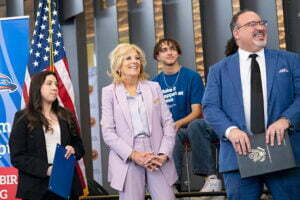 First lady Jill Biden has rescheduled her visit to Ivy Tech Community College's Valparaiso campus for March 6, according to an announcement from Ivy Tech's public affairs office.
The White House originally planned a visit on Feb. 17, but the visit was postponed.
U.S. Deputy Secretary of Labor and nominee for U.S. Secretary of Labor Julie Su, and U.S. Deputy Secretary of Energy David Turk will join her.
Biden will discuss President Joe Biden Administration's "commitment to strengthening our economy and building pathways to good-paying jobs through career-connected learning." 
Biden will arrive at the Porter County Regional Airport in Valparaiso.
Biden visited Mesa Community College in Arizona on Feb. 13. There she reiterated the President's stance that community colleges provide the "best career training in America," according to prepared remarks for the event. She said his administration wants to make apprenticeships and community colleges accessible to all Americans.
"Here in Arizona, Mesa Community College is bridging the gap between what students learn and their careers — and I hope others will follow their lead," Biden said on her Facebook page.
Learn more about Jill Biden's postponed visit here.