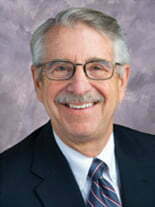 After 43 years of banking, David Bochnowski is retiring as the executive chairman of Finward Bancorp's board of directors.
"Since 1981, it has been my honor to serve our customers, communities, and the Peoples team, as we utilize the resources entrusted to us to build the regional economies of Northwest Indiana and more recently Chicagoland," Bochnowski said in a press release. "From our roots as a savings and loan to our current charter as a publicly traded bank, we have provided hundreds of millions of lending dollars for home buying, consumer needs and small business development."
His son Benjamin Bochnowski will succeed him June 30 as chairman of the board. Benjamin Bochnowski has been CEO of Munster-based Finward Bancorp, the holding company of Peoples Bank, since 2016.

"David Bochnowski has worked tirelessly for the shareholders, employees, customers, and communities of Peoples Bank and Finward Bancorp over the past four decades," Benjamin Bochnowski said. "He had the vision and courage to raise capital at a small savings and loan during a tumultuous time and forge the path for the company we have become today."
David Bochnowski has been the executive chairman of Finward Bancorp since 2016. He was the CEO of the company and chairman of the board for 35 years before that. He also is a former chairman of America's Community Bankers, the American Bankers Association Government Relations Council, and the Indiana Department of Financial Institutions, and a former member of an advisory council to the Federal Reserve, the Securities and Exchange Commission advisory committee on small and emerging companies, and the board of the Federal Home Loan Bank of Indianapolis.
Anthony Puntillo, Finward Bancorp's lead director, said that, during David Bochnowski's tenure, the company grew to $2 billion in assets.
"In my 18 years as a director, I witnessed David demonstrate the consistent clear vision and steady inspiration that was necessary to drive the bank's success," he said.
Puntillo also said Benjamin Bochnowski's selection to succeed him was part of a careful succession plan conducted by an outside agency.
"As the bank's CEO, Ben has demonstrated success at building upon David's legacy," Puntillo said. "I am certain he will continue to do the same as our new board chair."
David Bochnowski has supported community nonprofits and organizations, such as former chairman of One Region and the Legacy Foundation, and a member of the boards of Community Health Care System, Calumet College and Valparaiso University. He also received lifetime achievement awards from the Northwest Indiana Small Business Development Committee and the Northwest Indiana Urban League, and earned the Sagamore of the Wabash, Indiana's greatest citizen recognition.
Benjamin Bochnowski joined the Finward Bancorp in 2010 and became the executive vice president and chief operating officer in 2013. He was promoted to president in 2015. He is a director and first vice vhairman of the Indiana Bankers Association and is a member of the Indiana Department of Financial Institutions Board. He also serves on One Region's board of directors, as well as supporting Allies for Community Business.