Efforts to slow the spread of COVID-19 have pushed health care providers, service organizations and businesses delivering assorted goods to people who are weathering the crisis at home to their limits.
With the situation in constant flux, individuals and businesses are doing what they can to provide relief and do what they can to assist.
Larson-Danielson donates critical medical equipment, supplies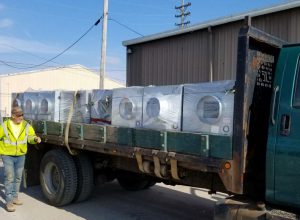 Larson-Danielson Construction Co. of LaPorte is assisting Northwest Indiana hospitals and other healthcare providers by donating available PPE and air filtering equipment.
In addition to providing hundreds of N95 masks to local healthcare providers, the company has donated the use of 24 HEPA air filtering units to two hospitals for their use in creating additional isolation rooms associated with the Covid-19 virus.
Company employees Jeff Gulley and Roger Stauch volunteered to load and deliver the HEPA air filtering units to the hospitals.
SERVPRO donates pizzas to Franciscan Health Michigan City
SERVPRO of LaPorte and Porter counties donated and delivered 50 pizzas to employees at Franciscan Health Michigan City on March 20.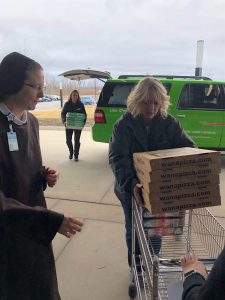 Company owners Tiffany and Sean Mitchell made the gesture as a way to thank healthcare workers for what they're doing to help the community during the crisis, said Jenni Alexander, SERVPRO sales and marketing representative.
"It's important for all of us to stick together and we'll get through this as a community," said Alexander, who along with office manager Liz Conklin, delivered the pizzas from Papa John's and Wana Pizza restaurants. "We need to be supportive."
Salvation Army partners with food bank
The Salvation Army of Lake County and the Food Bank of Northwest Indiana are partnering to ensure enough food and other essentials are available to assist those in need in Lake County.
"The coronavirus crisis is too big for any one nonprofit or corporation to manage," said Captain Brian Clark, Lake County Indiana coordinator for The Salvation Army. "We must partner with one another to help our Lake County neighbors through this most difficult and dangerous time."
He said since the COVID-19 pandemic began a few weeks ago, The Salvation Army Food Pantries are experiencing five times as many households in need of groceries and other services provided by the organization.
The Salvation Army in partnership with Strack & Van Til, launched a "Check-Out Challenge" to raise funds for the organization, which will go towards its Region efforts to assist families during the crisis.
The Salvation Army said in addition to anonymous donations, many businesses also have come forward to assist including:
American Precision Services
NiSource-NIPSCO
Indiana Grocery Group LLC
True Sense Marketing
Peoples Bank
Dyer Bank & Trust, A Wintrust Bank
St. Vincent De Paul Society of St. Joseph's Church
Numerous initiatives are underway to help slow the spread of the virus. Assistance also is available to businesses experiencing financial hardship as the world deals with the crisis.
Many service organizations also have launched websites and increased assistance to aid those in need during pandemic.