The Ports of Indiana is looking for a new company to operate its international agriculture shipping terminal at Burns Harbor. Cargill will no longer operate the facility as of June 1.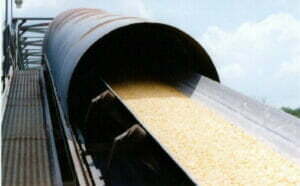 The Ports of Indiana financed the construction of the facility in 1979. During those 44 years, 500 million bushels of corn and soybeans have been exported from the terminal.
"It's the end of an era and a new beginning for one of the largest international ag terminals on the Great Lakes," said Ryan McCoy, port director for Ports of Indiana-Burns Harbor, in a press release. "It's bittersweet for me because I worked at that facility for 10 years, and Cargill has been a great partner for the Ports of Indiana and the local community."
McCoy said the change also is an opportunity.
"This change also creates a unique opportunity to reimagine the facility and expand its capabilities going forward," he said.
The 7-million-bushel terminal is capable of handling ocean and 1,000-foot lake vessels year round.
Ports of Indiana will become the owners of the facility that can load 90,000 bushels of grain per hour into an ocean vessel. It also has storage facilities for 7.2 million bushels of product.
Responses to a request for qualifications are due by April 21.