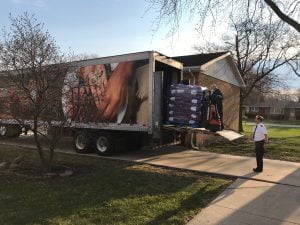 There has been no shortage of support from businesses and organizations seeking ways to help the community during the COVID-19 crisis.
Latitude Commercial, Sysco donate nearly 4.5 tons of food to Salvation Army
The Salvation Army of Lake County, which has been overwhelmed by requests from people during the crisis, received a donation of nearly 4.5 tons of food from Aaron and Brett McDermott of Latitude Commercial Real Estate Services in Schererville and Sysco Corp. of Houston.
"We are witnessing a 500% increase in the use of the three Lake County Food Pantries," said Captain Brian Clark, Lake County coordinator for The Salvation Army. "We expect and are preparing for the numbers to increase sharply, as the COVID-19 cases rise, and more people lose their jobs in Lake County."
The Salvation Army of Lake County said the McDermott brothers arranged for the donation from Sysco to benefit The Salvation Army of Lake County's three Corps Community Centers and its Adult Rehabilitation Center in Gary and other nonprofits in Northwest Indiana.
"We have connections with all kinds of companies," said Aaron McDermott. "We were looking for ways to leverage our relationships to help the communities in Northwest Indiana during the pandemic, and with food being the greatest need right now, Sysco was a natural choice."
Residents can donate meals to health care workers
The Greater Valparaiso Chamber of Commerce in partnership with Delivery.com, launched Feed the Frontline NWI, an initiative to encourage Region residents and businesses to buy meals from area restaurants and have them delivered to healthcare workers in Northwest Indiana who are facing heightened demand for services because of the coronavirus outbreak.
Deliveries initially began to just Porter Regional Hospital in Valparaiso but was expanded. Visit the Feed the Frontline NWI website to place orders.
The chamber said the list of participating restaurants changes regularly. Restaurants interested in taking part should email Eric Berindei at Delivery.com.
Knights of Columbus, DTSB partner to donate food to first responders
The Knights of Columbus #553 and Downtown Sound Bend Inc. have partnered to prepare and provide meals to members of the South Bend Police Department and South Bend Fire Department beginning April 9.
The meals will be delivered by Downtown South Bend Inc. staff and ambassadors.
"Charity is the first duty of the Knights of Columbus," said Steve Sommers, special events coordinator for Knights of Columbus #553. "We want to give back to those that are on the front lines of the COVID-19 situation."
Traditionally, the Knights of Columbus are busy preparing food for their Friday fish fries but when those events were cancelled because of restrictions placed on public interaction due to the crisis, the organization sought another service project.
Meals will be delivered on April 9 to all 11 SBFD stations, and on April 14 to the SBPD station.
The Knights of Columbus said it would donate their labor and provide food at cost for any business or organization interested in sponsoring a meal to be donated to a group. Interested businesses can contact Sommers at (574) 220-1212.