There has been no shortage of support from individuals and businesses for the organizations providing aid to the community during the COVID-19 pandemic.
Even as the businesses began reopening in recent weeks, donations of assorted resources continue to pour in for the groups aiding the Region during the crisis.
Rotary Club of Munster fights hunger
The Rotary Club of Munster recently presented The Salvation Army of Lake County and the Food Bank of Northwest Indiana each with a $2,500 donation.
The organizations will use the funds to buy food to assist individuals and families impacted by the pandemic.
"Food banks and other humanitarian organizations have seen the need for food multiply since the COVID-19 pandemic began," said Subir Bandyopadhyay, president of the Rotary Club of Munster. "We can think of no better way to put our donation to work to help people in need than to support these two fine organizations."
Between March and May the Food Bank has distributed 2,058,292 meals to individuals in need around the Region. The Salvation Army of Lake County has experienced a 500% increase in demand for its services since March.
United Way assists South Bend food bank
United Way of St. Joseph County recently awarded Hoosiers Feeding the Hungry a grant totaling $5,000 to pay processing fees on livestock donated to agencies serving residents in St. Joseph County.
"Hoosiers Feeding the Hungry has the opportunity to help farmers and reduce food insecurity by receiving 500 pigs per week," said Debra Treesh, executive director of Hoosiers Feeding the Hungry. "The average cost to process a pig is about $200 so that is $100,000 per week that we will need to raise."
The funds provided will pay to process about 4,300 pounds of donated livestock – providing more than 17,000 meals through area hunger-relief agencies.
Big Shoulders Fund distributes meals
The Big Shoulders Fund on Father's Day June 21 distributed 10,000 meals to families in need at various sites around Northwest Indiana.
Since the start of Big Shoulders Fund's COVID-19 relief efforts, the group has distributed more than 2,250 meals to families in need at Aquinas Catholic School in Merrillville in collaboration with restaurant partner Veteran's Café in Merrillville.
The Big Shoulders Fund Father's Day initiative was supported through a donation from Bruce White, founder and chairman of Merrillville-based White Lodging, and his wife, Beth, both long-time supporters of Big Shoulders Fund. The Bruce and Beth White Family Foundation funded the expansion of Big Shoulders Fund's programming to 20 schools in the Catholic Diocese of Gary in fall 2019.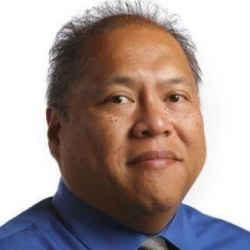 Latest posts by Larry Avila
(see all)