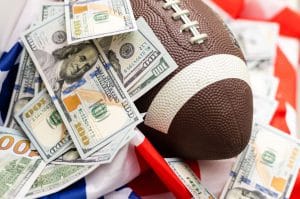 Indiana's sports betting industry took off in October with $446 million in wagers, compared to $382 million in September, according to Indiana Gaming Commission's monthly report. Of that, $302 million of the bets were placed in Northwest Indiana's casinos.
PlayIndiana analyst Jake Garza credited the increase to the return of football.
"The $168 million worth of football bets was the biggest piece of October's $446 million total," Garza said. "That's no surprise given that Hoosiers had the Indianapolis Colts to bet on last month, plus plenty of college teams like Notre Dame."
October's wagers will bring in more than $4.4 million in taxes for the state, and $47 million profit for the sportsbooks.
"Indiana's $446 million October sports betting handle inched the state closer to the $10 billion mark for lifetime wagers," Garza said. "At this rate, the state will easily reach that benchmark before the year's end."
However, October's number is down from the same time last year, when $461 million was waged.
Garza expects sports betting in Indiana to "skyrocket" as the basketball season gets underway.
Here's the breakdown of which sport took in the most bets in October:
Football: $168 million
Basketball: $57 million
Baseball: $32 million
Parlay: $126 million
Other: $61 million
January usually brings in the biggest numbers because sports overlap the most then, Garza reports. January 2022 was a single-month record with $500 million in wagers.
Northwest Indiana's casinos include Ameristar in East Chicago, Blue Chip in Michigan City, Hard Rock in Gary, Horseshoe in Hammond. Ameristar Casino reported the most bets with more than $153 million in wagers in October. Blue Chip Casino took in the most profit with $18.5 million in adjusted gross revenue.