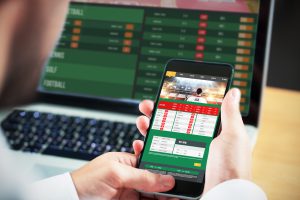 NFL playoff games in January contributed to shoring up Indiana's position as the nation's fourth largest legal sports betting market.
That's according to analysts at PlayIndiana.com, which reported Indiana's $170.8 million handle in January was up 9.5% from the previous $161.8 million total in December, citing official state data released Feb. 10.
Adjusted gross revenue from those bets was $12.9 million, up 9.3% from $12 million. That yielded $1.2 million in tax revenue for the state, PlayIndiana.com reported.
Indiana retail and online sportsbooks also capitalized on basketball betting. Indiana's sports betting growth rate could help the state overtake Pennsylvania as the nation's third largest legal sports betting market, according to PlayIndiana.com.
"Indiana has built an impressive infrastructure that continues to maximize the market's potential," said Dustin Gouker, an analyst for PlayIndiana.com. "That should help keep the state a step ahead of its competition as neighboring states (including) Michigan prepare for their own launches."
Interest in college football's national championship game also contributed to increased betting. Basketball brought in $59.8 million in bets, or 35% of the state's handle. Football drew $36.7 million.
Online sportsbooks generated $123.4 million in bets in January. Online betting represented 72.2% of January's handle, up from 69.5% in December.
PlayIndiana.com expects more growth for Indiana. PointsBet, BetIndiana, and BetMGM will launch this month, which will bring the state's number of approved online sportsbook licensees to seven.
Indiana's acceptance of online betting and proximity to Chicago, have fueled the growth in the state's sports betting market.

Larry is an award-winning journalist with more than 25 years of experience working with daily newspapers and business-to-business publications around the Midwest. Avila is a Michigan native and a graduate of Central Michigan University.

Latest posts by Larry Avila (see all)