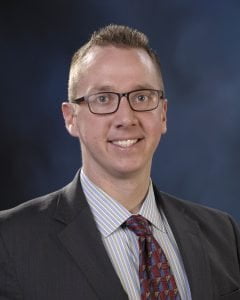 Sean Fischer is the new chief financial officer for La Porte Hospital and Starke Hospital.
"Our focus at La Porte Hospital over the next couple of years will be continued growth as we open our new hospital," said Ashley Dickinson, CEO of La Porte Hospital. "Sean brings with him a strong commitment to work collaboratively with hospital leaders and identify and implement key strategies for growth."
Fischer starts his new role July 13.
Fischer has a Bachelor of Science degree in accountancy from Northern Illinois University and a Master of Business Administration from Louisiana State University – Shreveport. He most recently served as vice president of finance and central Illinois division controller for the Hospital Sisters Health System in Springfield, Illinois.
Fischer began his career as an auditor for KPMG LLP in Chicago and has served in health care leadership since 2010. He is a certified public accountant, certified healthcare financial professional, a member of the American Institute of Certified Public Accountants and the Healthcare Financial Management Association.