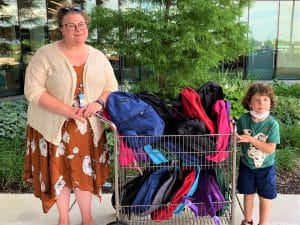 There's no shortage of people and businesses willing to lend a hand to assorted causes and to those in need across the Region and North Central Indiana. Here are some recent donations made to several organizations and those in need:
Staff from Franciscan Health Michigan City donated items and school supplies to fill 50 backpacks, which were presented to children served by Sandcastle Shelter and Stepping Stones Shelter for Women, both in Michigan City. Each backpack was filled with pencils, filler paper, pens, crayons, markers, a ruler, glue sticks, erasers, scissors, a pencil case and folders. Twenty-five of the backpacks were assembled by Matteo Rizzo, the 5-year-old grandson of Lynn Robbin, a palliative care nurse at Franciscan Health Michigan City.
The Hard Rock Casino Northern Indiana in Gary is providing the Boys and Girls Club of Greater Northwest Indiana a $25,000 matching grant to help boost its Return 2 Learn Fundraiser which runs through Sept. 30. Hard Rock will match every dollar donated up to $25,000. The support from Return 2 Learn provides academic support for Club members throughout the year. The after-school programming enhances the work the kids put into their school day by providing daily homework help, free tutoring and mentoring allowing children to become productive, responsible and caring students and members of their communities. For more information or to donate, please visit the Boys and Girls Club of Greater Northwest Indiana's Return to Learn page.
Munster High School Boys and Girls Swimming and Diving Team hosted a Swim-a-Thon fundraiser Sept. 17. Money raised from the event, will benefit classes and programs for cancer patients, hosted by the Cancer Resource Centre at locations throughout Northwest Indiana. The resource center, which opened in 2003, is offered through the Community Cancer Research Foundation, a not-for-profit organization dedicated to improving the quality of cancer care in Northwest Indiana and Chicago's south suburbs.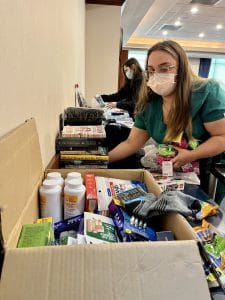 Soldiers overseas will receive games, toiletries, snacks and more, thanks to an effort by a new staff-led team at St. Mary Medical Center. The Hobart hospital, which is part of Community Healthcare System, formed the Give Back Committee to collect items and pack care packages to be sent to soldiers serving overseas. The boxes were delivered to a chaplain who shipped the donations to a military unit for distribution. The group's next project will be to partner with the hospital's Christian Awareness Committee for a food drive, with donations supporting a local food pantry.
Valparaiso University will host a benefit choral concert for Ukraine on Oct. 6 at 7 p.m. in the Chapel of the Resurrection. The concert will feature the choral ensemble, Cappella Romana. Audience donations will be accepted to benefit the nonprofit humanitarian organization, Rebuild Ukraine. Rebuild Ukraine and their partners in Eastern Europe provide aid to the defenders, civilians and refugees of Ukraine. Since March 2022, the organization has raised more than $370,000 in donations directly supporting Ukrainians with food, medical supplies, and medical equipment for Ukraine hospitals.  
Other recent donations and philanthropic efforts in Northwest Indiana and the Michiana area reported by Northwest Indiana Business Magazine can be found on the magazine's website.