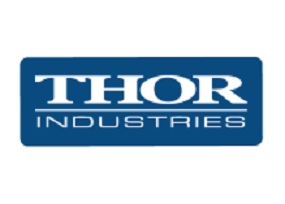 ELKHART – Thor Industries says it will become the world's largest RV manufacturer once its purchase of Erwin Hymer Group SE of Germany closes.
Thor Industries announced Sept. 18 it has entered a definitive agreement to buy the privately-held Edwin Hymer Group SE for $2.4 billion. The combination creates the world's largest RV manufacturer, with a leading position in both North America and Europe and establishes a global sales and production footprint for the company, Thor Industries said.
"This acquisition is well aligned with Thor's long-standing capital allocation strategy," said Bob Martin, Thor Industries president and CEO. "Our focus has been, and continues to be, on delivering value to shareholders by investing opportunistically in accretive growth opportunities with companies that have a strong marketplace position, successful operations, and growth-oriented management teams."
Headquartered in Bad Waldsee, Germany, Erwin Hymer Group is a manufacturer of recreational vehicles in a growing European market. EHG sells through a worldwide network of more than 1,200 retail dealerships and employs more than 7,300 people worldwide.
Martin Brandt, CEO of Erwin Hymer Group, will continue to lead EHG as CEO after the deal closes reporting directly to Martin.  
No changes in production facilities or employee levels are anticipated within EHG or Thor as a direct result of the deal. The transaction has been approved by Thor's board of directors and is expected to close before year's end.
EHG's expects to generate revenues of more than $2.9 billion for its fiscal year which ended Aug. 31. 

Larry is an award-winning journalist with more than 25 years of experience working with daily newspapers and business-to-business publications around the Midwest. Avila, a graduate of Central Michigan University, is a Michigan native. He resides in Crown Point.

Latest posts by Larry Avila (see all)