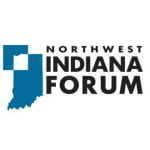 Business and community leaders who have been working on various aspects of a strategy to ensure Northwest Indiana's economic future will provide an update on their efforts Aug. 22.
The Northwest Indiana Forum will host a luncheon at the Avalon Manor, 3550 U.S. 30 in Hobart, from 11 a.m. to 1 p.m. A highlight of the event will feature an update by the people who have spent the past year working on how to best implement the Ignite the Region plan, a strategy for long-term economic development in Northwest Indiana.
The plan focuses on five areas including, business development and marketing, entrepreneurship and innovation, talent and placemaking and infrastructure.
Additional information about the event is available online or through the Northwest Indiana Forum's website.

Larry is an award-winning journalist with more than 25 years of experience working with daily newspapers and business-to-business publications around the Midwest. Avila is a Michigan native and a graduate of Central Michigan University.

Latest posts by Larry Avila (see all)