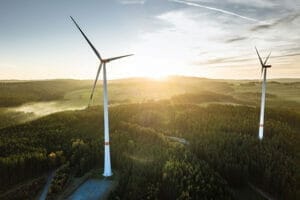 Cleveland-Cliffs Inc. has agreed to purchase most of the energy produced by a new wind farm in Randolph County, east of Indianapolis.
Cleveland-Cliffs, which makes steel in Burns Harbor, signed a 15-year power purchase agreement for 180 megawatts of the 200 MW that will be produced at the Headwaters III Wind Farm along the Ohio border. Houston-based EDP Renewables North America is constructing the third of three farms there.
"A key priority of Cleveland-Cliffs' greenhouse gas reduction strategy revolves around the efficient use of energy and clean energy," said Lourenco Goncalves, chairman, president and CEO of Cleveland-Cliffs Inc. in a press release. "We are committed to the greening of the grid through renewable energy projects such as the Headwaters III Wind Farm."
EDP expects the facility to start making power in 2025.
"We are excited to begin our partnership with Cleveland-Cliffs to supply clean energy to support the production of American-made steel for a major American manufacturer," said Sandhya Ganapathy, EDP Renewables North America CEO.
Cleveland, Ohio-based Cleveland-Cliffs, which is the largest flat-rolled steel company in North America, said the agreement advances the company's goal of reducing emissions 25% by 2030.
"This power purchase agreement underscores EDP Renewables' sustained commitment to bringing more renewable projects to Indiana, a state that is a key contributor to clean energy buildouts and our overall commitment to the energy transition," Ganapathy said.
The Headwaters III Wind Farm is an extension of the 200-MW Headwaters I Wind Farm and the 198-MW Headwaters II Wind Farm in Randolph County. Headwaters II saves more than 355 million gallons of water each year, while Headwaters I saves 2.4 billions gallons, according to company fact sheets. Both Facebook and Walmart buy Headwaters power.
EDP says its renewable energy sources generate electricity for the equivalent of 372,000 average Indiana homes. Headwaters III's output will generate power for the equivalent of more than 54,000 average residences. Both Headwaters I and II already are producing almost 400 MW of electricity.
The company also is constructing a 202-MW Indiana Crossroads II Wind Farm in White County, and the 200-MW Indiana Crossroads Solar Park. Two other wind farms in White County also are fully operational.
The Headwaters III project is expected to create hundreds of jobs in the Winchester area throughout its 30-year lifespan, according to the EDP statement.
EDPR has 58 wind farms, nine solar parks and eight regional offices in North America. It has installed 1,264 wind turbines in Indiana. Its Indiana projects alone represent a capital investment of about $1.4 billion. Through 2019, about $15 million has gone to local governments; more than $66.7 million has been paid to local landowners; and 674 jobs were created during project construction and 88 permanent jobs in the state.