Global marketplace offers opportunities for businesses adept enough to compete in rapidly changing arena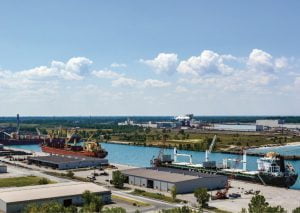 The global marketplace has been a hotbed of activity in recent months.
From trade wars to proposed tariffs, as well as growing populations and increased industrialization of countries such as China and India, leaders from a range of sectors have been working around the clock to find strategies to best navigate the volatile situation.
Signs of slowing
Through the first two quarters of 2019, the Ports of Indiana is 4% behind the record 2018 performance and 6% above the second-best year of 2015. The Port of Indiana-Burns Harbor exported about 100,000 tons of goods through June 2019 as compared to 60,000 tons through June 2018, a 66% increase, according to Port Director Ian Hirt.
"Northwest Indiana is a hub of international trade with Burns Harbor unloading scores of ocean-going vessels each year," Hirt said. "This year, approximately 90% of waterborne export shipments were international, including barge shipments that are transloaded onto ships in New Orleans."
Burns Harbor imported about 750,000 tons from international locations through June 2019. This compares to about 850,000 tons through the same point last year, down 12%.
"We expect the reduction to remain the case for the remainder of the year," Hirt said. "Imports are primarily a victim of the current challenges to international trade."
He said the Region is primarily one that consumes, hence imports outnumber exports, he said.
"The ships and barges we handle are large bulk carriers and rarely have consumer items, which are a staple of Midwest manufacturing," Hirt said. Grain is the primary export commodity along with some metallurgical coke, a by-product from steel mills.
"We have not seen a trade war like this in many years." Hirt said. "Given the multitude of factors affecting global commodity markets, we believe the current workload does not accurately portray what the future holds."
The flip side of decreased imports are expansions.
"Several tenants at Burns Harbor are in the midst of expansions," Hirt said. The Burns Harbor port actively is seeking tenants and cargoes.
"We have some good leads that we believe will become new additions to the port family within the next year or two," Hirt said.
New cargoes in 2019 include imported salt and sugar. In addition, Burns Harbor handled a unique shipment of two large rubber-tire gantry cranes destined for the CSX Inter Modal Terminals in Chicago. These types of cranes stack shipping containers.
Urschel adapts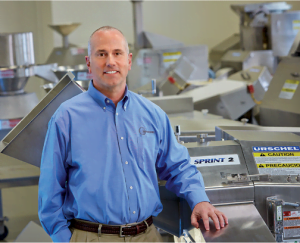 Chesterton-based Urschel Laboratories houses manufacturing and corporate operations under one roof. But, more than 50% of its annual business (based on annual revenue) is accomplished through international sales and service.
"We began to ramp up our overseas business strategies in the early-2000s," explains Tim O'Brien, executive vice president of sales and marketing. "We realized that China and India were not only growing via increased population but were becoming much more industrialized. We saw the opportunity to expand our product footprint in both countries."
Urschel designs, manufactures and sells commercial precision food-cutting and milling equipment.
"Food and food processing are a staple for every country," O'Brien said. "As countries such as China and India became more industrialized, our products were able to help them expand that type of business."
Early on, Urschel learned that developing countries had different strategies.
"Our original equipment was too large and too expensive for many of their needs," O'Brien said. "We needed to adapt and create smaller versions that delivered the same high-quality, precision and speed at a smaller initial investment."
The ability to adapt quickly and proficiently has resulted in an overseas revenue that has increased annually for the past 10 years. Urschel has 11 offices in Europe, four in Asia and two in Latin America.
Chesterton remains the company's sole manufacturing plant.
"We keep production here because of quality assurance," O'Brien said. "Urschel's reputation is based on the highest quality … we have tolerances as low as 1/10 of 1/1000 of an inch … we decided it was better to keep all manufacturing here at our new plant."
O'Brien said Urschel's international business success is dependent on two soft skills: communication and trust.
"We always have to understand the needs of the client as it relates to our product and not try to shoehorn a solution," he said. "And we have to have employees overseas that we can trust to understand the balance of Urschel and the client."
Uncertainty ahead

"Northwest Indiana has a proud history of attracting international business, trade and investment, and in recent years, has been particularly successful," according to Micah Pollak, director of the Center of Economic Education and Research at Indiana University Northwest.
"In the last few years, the value of goods exported from Lake and Porter counties has grown from $872 million in 2014 to $1.5 billion in 2017," he said. "This substantial growth has significantly outpaced export growth percentages in both the Chicago metropolitan area, and the state of Indiana as a whole."
In addition to the flow of goods, another measure of international business is the flow of investment into an area from abroad. In 2018, first-year foreign direct investment in Indiana rose 22% from $2.36 billion to $2.89 billion, according to Pollak.
"Taken together, these two measures show that there is growing interest by other nations in purchasing goods from Northwest Indiana and in investing in the Region," he said.
Pollak said, while much of the evidence of recent local growth in international business is based on 2017-18, there are signs that things may be quite different in 2019.
"As the U.S.-China trade war drags on, further tariffs are being added by both sides and the long-term effect of earlier tariffs are beginning to be fully felt," he said. "In particular, the outlook of the steel industry reversed course this year, going from record profits in 2018 to losses in 2019."
Signs of a similar reversal can be seen in other manufacturing and related industries, Pollak said.
The full effects of a trade war and tariffs are complex. For now, they substantially discourage international trade and business by making it more difficult and expensive, he said. If the decline in international trade and business continues and accelerates in 2019, it will be because these macroeconomic factors rather than any regional factors in Northwest Indiana.
MonoSol takes the leap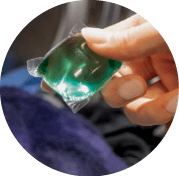 Without international trade, MonoSol would have never grown to where it is today, according to P. Scott Bening, CEO.
"MonoSol's customers are some of the biggest and most-respected multinational CPG companies in the world," he said. "Nearly every major brand of laundry and dishwasher detergent uses our water-soluble film to make packets or pods (and) as these products gain in popularity around the world, we grow with our customers."
Bening says that the same is true in other product categories where the films are used, such as the manufacturing of solid surface and engineered stone countertops that are increasingly popular with designers and homeowners.
"As our customers enter or expand into new markets, we need to be able to supply and expand along with them. When they grow, we grow," he said.
Today, 50% of MonoSol's business is outside the U.S.
"With 90% of our production in the Midwest, we have managed to be a globally competitive company, using American people and resources to compete," Bening said. "It's essential for us to sell internationally while making it invisible to our customers that we are not producing locally."
In 1999 and 2008 MonoSol was named Exporter of the Year by the Northwest Indiana Trade Council.
"That philosophy of persistence and relationship building was key to propelling our growth then and is still foundational to how we conduct business globally today," Bening said.

MonoSol has three production sites in Northwest Indiana and another one opening in the Lebanon/Indianapolis area early next year. It also has a manufacturing facility in Saijo, Japan, and in Hartlebury, England, and soon will have another site in the EU, Bening said.
MonoSol has become experts in import-export logistics.
"In the future, however, we will be expanding step-by-step into various regions of the world to support customer growth, shorten parts of our supply chain and guard against tariffs, trade wars and other issues that could impact our ability to efficiently support our customers," Bening said. "As we grow, this balance will become more complicated."
Indiana in the global marketplace

Last year was one of the Indiana Economic Development Corp.'s strongest years for committed capital investment and job commitments by foreign-owned businesses, according to Secretary of Commerce Jim Schellinger.
"Indiana secured a 300% increase in committed capital investment from international businesses between 2016 ($818 million) and 2018 ($3.2 billion)," he said.
Indiana is home to almost 1,000 foreign-owned business establishments that support 193,000 Hoosier jobs, based on IEDC-provided data. Indiana-based companies such as Cummins, Eli Lilly, Hillenbrand, Zimmer Biomet, Cook Medical, Elanco and Franklin Electric all have a strong international footprint.
"In the first two-and-a-half years of his administration, Gov. (Eric) Holcomb has led eight international economic development trips to build relationships and attract new jobs," Schellinger said. "In 2018 our economic development team traveled to 17 different countries and strengthened relationships at home too, hosting international delegations from 36 countries and territories."
One effort to increase global connectivity is securing more international nonstop flights.
"We're excited to host Routes Americas 2020 in February," Schellinger said. "It will draw 800 delegates representing 80 airlines, 300 airports and 50 tourism authorities to Indianapolis. We look forward to showing off Indiana as a premier destination and use this opportunity as another way to increase our connectivity to the rest of the globe."
Indiana offers a pro-growth business climate and a skilled workforce, both critical components. One of the next considerations is typically incentives. In addition to the efforts mentioned previously (international economic development trips, etc.), Indiana offers a variety of business tax incentives, corporate tax credits and economic development programs for companies creating new jobs and investment in the Hoosier state.
"In addition to our traditional incentives, we also offer free business planning and other consultation through our Indiana Small Business Development Center, start-up advisement services and venture capital through Elevate Ventures, and assistance identifying and securing innovation-focused grant dollars through the Indiana Procurement Technical Assistance Center," Schellinger said.
Click here to read more from the Oct-Nov 2019 issue of Northwest Indiana Business Magazine.