Girls on the Run marks 15 years of mentoring young women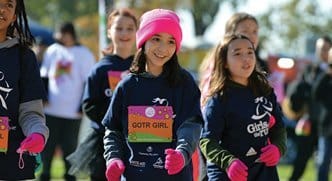 For almost two decades, the Northwest Indiana branch has used running as part of a curriculum that helps girls build confidence as well as recognize their individual strengths. The goal is to show participants that, when faced with a challenge, they can adapt and overcome anything.
"Along with learning important life skills, the participants in our program set a goal for themselves at the beginning of the 10-week season to complete a 5K," said Jill Schlueter-Kim, founding executive director of Girls on the Run of Northwest Indiana. The nonprofit is celebrating its 15th anniversary in 2022.
The program is fun but also challenging. The reward at the end of a 10-week session brings teams from across the Region together to celebrate with a DJ and activities.
For Schlueter-Kim's branch, its anniversary milestone will be commemorated with special shirts and medals with the theme "Fearless 15." It also created a video, which features participants commenting on how the program increase their confidence and gave them the strength to stand up to bullying.
The pandemic prevented the group from hosting its signature event, the Sneaker Soiree, where attendees wear cocktail attire and sneakers. But this year it's back and set for April 23 at White Hawk Country Club in Crown Point.
The party will feature a wall-of-wine raffle and dessert bar. The event raises funds to provide financial assistance to more than 75% of program participants.
Girls on the Run is tiered for specific age groups, including girls in grades three to five; grades six to eight and girls between 16 and 18 years old. Each program is designed to help participants grow individually and as a community.
For grade-school girls, participants are taught to recognize their individual strengths and celebrate connections with others. The middle-school program considers the whole girl and is an inclusive place, while the high school-aged program offers opportunities to find community, become a leader and make an impact.
Stephanie Madison, a board member for Girls on the Run of Northwest Indiana, said she hopes the organization will increase the number of girls it serves.
"We don't turn anyone away because of financial need," said Madison, who is vice president and team lead for corporate social responsibility at First Merchants Bank. "I … just see it continuing to grow."
Girls on the Run of Northwest Indiana is offered on a sliding fee scale, considering the financial category of a participant's household and household size.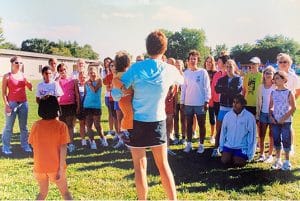 GOTR International was founded in Charlotte, North Carolina, 26 years ago.
The Northwest Indiana chapter is one of 200 councils across the country, each its own 501(c)3 nonprofit organization, with its own structure and budget. However, each council has the same programming, coach training, branding and curriculum, Schlueter-Kim said.
Collectively, the councils have served more than 2 million girls since 1996. The Northwest Indiana branch has assisted more than 16,000 girls in its 10-county service area.
The size varies among councils, from serving fewer than 1,000 girls annually to thousands, Schlueter-Kim said. Her group works with more than 2,000 girls each year.
"Celebrating 15 years is a huge milestone for us," she said. "When we started our council in 2007, we had one team of 15 girls."
Schlueter-Kim said the community has been supportive of her group, which has received funding from Region foundations, businesses and individuals through the years.
"The fact that we've seen so many folks support our mission in so many ways, tells us that our mission is a powerful one and our program is needed and valued," she said.
Getting through the crisis brought on by the pandemic has presented an assortment of challenges, but Schlueter-Kim is confident her organization and the community will move forward.
"Like everyone else, March of 2020 saw the start of a very challenging time for us, and we are incredibly proud that we are on track to be back to serving as many girls in 2023 as we did in 2019," she said. "I cannot even imagine what 2037 will look like for us, but I'm confident that we will still be here joyfully pursuing our mission."
Click here to read more from the April-May 2022 issue of Northwest Indiana Business Magazine.