Pandemic forces organizations to learn new ways to successfully gather online

When COVID turned the world upside down in March 2020 and in-person meetings became impossible, the Northwest Indiana Forum successfully pivoted to virtual networking to keep our businesses informed on important issues.
In a normal year, the forum hosts about 20 in-person events to encourage regional partnerships through networking and to educate an array of legislative or business topics to help the Region's economy flourish. Since health concerns made it impossible to meet, we sought other methods to keep our membership engaged. Zoom became our new platform and friend. To date, the Forum has presented 30 virtual meetings, one hybrid (in-person/virtual) event and five economic development site selector conferences reaching well over 2,000 participants.
Although I can't officially claim Zoom master status, I want to share some best practices, which may make your virtual meetings run smoother or perhaps ease your trepidation on hosting your sessions. There are different platforms to use: Google Meet, Microsoft Teams and GoToMeeting, and while these tips will reference Zoom, they are universal across all platforms.
Know your audience
Registration is an important part of planning any event, even virtual programs. The Forum's Zoom pricing package has a 100-person limit, which gave us restrictions on a few meetings. If your meeting exceeds 100 attendees, it is recommended to move to the webinar format instead of the meeting format.
An old dog can learn new tricks. Even after hosting well over 30 virtual meetings, we partnered with the Greater Northwest Indiana Association of Realtors on a webinar with more than 300 attendees. Sara Perazzolo, director of marketing for GNIAR, enlightened me on the "register" feature in the Zoom meeting setup. By activating this feature, the host can create a registration page with company/event branding graphics to promote the event. Once the guest has input their information, this feature will automatically send an email confirmation with Zoom link and code to the participant.
Host a practice session
Schedule a practice session with all participants. Walk through the agenda, allow presenters to test the screen-sharing component and test run any videos that will be aired. Due to lack of travel, many of the economic development meetings moved to virtual. Serving as Zoom master for a few conferences, I was able to move site selectors through eight breakout rooms with each room featuring two or more economic development professionals. Pre-conference practice sessions were vital to a successful conference. Much was learned in practice, especially with videos, if the speaker is muted then the video is muted. It is better to learn this in practice versus in a live setting.
Breakout rooms are a great tool to encourage small group discussions and private conversations within a larger virtual meeting. This feature is easy to set up within Zoom by checking a box and designating the number of breakout rooms needed. An important tip, the person hosting the meeting should not be responsible for moving participants throughout the breakout rooms. Designate a person for this task to ensure smooth room transitions and flow of the overall meeting.
Screen sharing: have materials ready to be easily accessible and shared. Attendees do not want to wait and watch a search for documents.
You're on mute!
That's the catch phrase of 2020. At the start of Zoom meetings, the feature to mute all lines upon entry was used, but in time, our secret sauce became to open the Zoom meeting five minutes before start time. This allows attendees to greet each other, have some fun banter and for the host to provide updates on future meetings or events.
Keep it brief
One-hour meeting times seem to have the best success. Start on time, keep the agenda flowing and allow for a question-and-answer period. Be prepared with backup questions if attendees are not talkative. If conversation is flowing, continue the meeting or discuss scheduling a follow-up meeting.
I look forward to the days when we can come together again at our favorite Region establishments and discuss business in a more personal atmosphere, but until those days return, virtual platforms are here to stay. Relax, be prepared, and remember to unmute your line.
Click here to read more from the April / May 2021 issue of Northwest Indiana Business Magazine.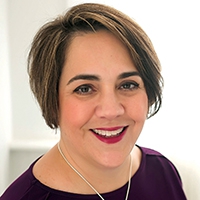 Latest posts by Raeann Trakas
(see all)