Experts say downtime opportunity to plan for eventual bounce back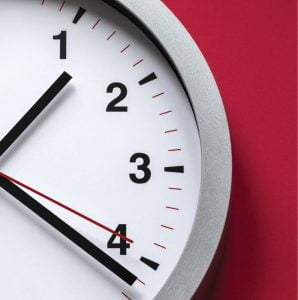 For every economic downturn, there's a recovery, and experts say lulls are the best time to plan for the bounce back.
Staying at home doesn't mean standing still, experts said. Nor should it mean ending marketing efforts.
Jack Adams, CEO of Safari Marketing, used Gov. Eric Holcomb's stay-at-home order to reconsider what products and services to offer in the future.
His firm's clients include many restaurants and bars. The forced closure offered an opportunity to do facelifts and remodeling. Idled delivery vehicles finally became available for new vehicle wraps.
He knew that, when clients were able to get back to business as usual, they would be swamped again. They would be so busy with day-to-day operations that long-term planning would be difficult, Adams said.
"The downturn gives a great period of time to develop a strategy, research," said Seth Spencer, founder of SERA Solutions in Michigan City.
Cutting back on expenses when revenue shrinks or disappears shouldn't mean eliminating marketing.
"A lot of people are pumping the brakes on their marketing right now," Adams said while the stay-at-home order was in place. "Pumping the brakes is the worst thing they could do."

Michelle Andres, president of Group 7even in Valparaiso, said the key for a business during a slow economy is to maintain market share, "which doesn't happen by going dark with advertising."
"If a business goes dark, they lose a lot of top-of-mind awareness," she said. "Once they lose that, they then start to lose footing within the market, and that is something very expensive to get back."
Andres said that, during the global pandemic, it wasn't business as usual.
"People (had) new challenges, new fears and new aspirations," she said. "So, business as usual (wasn't) going to cut it."
Andres said marketing teams need to be ready to toss out their marketing plans, postpone their scheduled blogs and social media posts, and pivot quickly and completely.
"The goal is not to stop advertising, but rather, the way you advertise needs to change," she said.

Mat Barbur, cofounder of True Mtn Marketing in St. John, said people will remember what brands did during the pandemic.
Andres said working with a local social influencer/blogger to get a conversation started about your business could be effective in maintaining awareness.
"Again, the goal is to generate top-of-mind awareness, so get people talking about you however you have to," she said. "Create amazing promotions."
She said people struggled to maintain daily routines during the crisis, so it's important to provide optimism.
"Giving discounts to first responders or parents (who) are working from home and having to help teach their kids is a great way to generate positive brand perception and shareable content at the same time," Andres said. "And even better, it's a way to show your customers that you care about your community and neighbors."
Barbur said, during a downturn, maintaining your brand's voice and presence is important.
"I want the company to be real to who you are," he said. "Brands have to talk to people. They have to get on a one-on-one level with a person."
Andres said people need reminding that your company is operating even during a lull.
"Customer relationships are like any other relationship," she said. "No one wants a fair-weather friend, and the same thing holds true with consumer/brand relationships. (So) if you disappear when things get bad, that communicates something whether you intend it to or not."
Effective strategy
Spencer pointed to Starbucks as an example of a company that responded well during and after a crisis.
When the company was accused of racism after an incident at one of its stores, the CEO took to Twitter and announced that what the store manager did was wrong and took responsibility for fixing the problem. The stores were all shut down for employees to undergo sensitivity training, one on one, and came back well from that crisis because of the way it was handled, Spencer said.
In an economic crisis, all businesses are affected, albeit in different ways.
Businesses must realize the difference between essential and nonessential marketing. The answer will vary by industry, Spencer said.
During the pandemic, with food and beverage businesses unable to allow customers to dine in, marketing should be directed toward carry-out and delivery services, Spencer said.
For a flooring business, "those sales are likely to come to a screeching stop," Spencer said, so marketing should be postponed until it's business as usual. Most likely customers postponed their flooring needs too, even though their carpets still needed replacing. It's just a question of timing and affordability, Spencer said.
Business owners need to know whether their customers are affected by a crisis, Spencer said, which means "really being on top of who your customer is."
Knowing your customer is key to marketing decisions and ultimate success.
See who's on your website, who's walking through your door, Spencer advised. Is your voice a good reflection of who you want to be as a company?
Barbur said not to chase millennials and their money if your regulars are baby boomers. Why chase other people instead of turning customers into more loyal ones and bringing their friends back into the store? he added.
"Who is my type of consumer that I need to be spending the most advertising bucks trying to get those people in?" Barbur said.

Julie Olthoff, president of VIA Marketing in Merrillville, prefers dividing communications into target audiences."
"Broadly speaking, you have previous and current customers and then prospects," she said.
Barbur said businesses should be attentive to their core customers because they'll be your brand ambassadors.
"You're trying to get these people to evangelize," Barbur said.
That's especially true when emerging from a recession, a pandemic-forced lull or other crisis.
When the dollars start flowing again, it will be time to cast a narrower net rather than a wider net with marketing efforts, Barbur said.
For businesses that are struggling financially and absolutely can't afford to continue traditional marketing, take advantage of your network and think outside the box, Andres advised.
"For example, keep putting out social content and ask your followers to share what you put out," Andres said. "Your loyal customers are your greatest fans. When asked for help, they will rise to the occasion."
Spencer said it's important to make informed decisions when it comes to developing marketing strategy. That means letting data drive decisions.
That's one of the reasons Spencer prefers digital advertising, where it's easy to track results. "Who's filling out your forms? Where are they coming from?" he said.
But traditional media's effectiveness can be tracked easily, too. Magazines, billboards or radio, for example, generate a custom URL that creates a website specific to that medium, Spencer said. It's inexpensive to create a custom URL, and that generates the numbers an advertiser wants to see to gauge effectiveness, he said. Promotional codes work, too.
"You can see where every one of your dollars is going," Spencer said.
When coming out of a slump, most businesses will need to pump up their cash flow.
"We will need to creatively think of offers or added-value perks to turn the faucet back on," Olthoff said. "For B2B, maybe a pre-pay discount. For retail, maybe get more for your purchase."
Be ready for recovery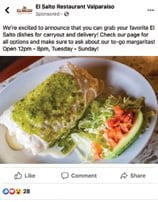 An emotional appeal to customers is appropriate, too.
"We can't wait to see you," is a smart message, Spencer said.
Thank your customers and let them know you'll be a community partner going forward, he said.
A Valparaiso restaurant whose owner was worried about having to close the doors was honest with its customers, and hundreds of shares on social media later, it was able to remain afloat, Spencer said.
Coming out of the pandemic is different from a recession. "I don't think we will be immediately comfortable being close to each other, so messages about cleanliness will still be important," Olthoff said.
The focus after a shutdown is on getting the product or service to the consumer as quickly as possible, Spencer said, so expert advice on marketing is needed for quick recommendations.
An honest agency or expert will listen to a business owner's story and say whether it's worth the customer's time or money to hire the expert, Spencer said.
"Odds are you'll save money by working with an expert," Spencer said. "Agencies will have a lot more insight into what works and what doesn't work."
"For current customers, e-blasts would be immediate, and I'm still a fan of reminder postcards," she said. "For both audiences, hosting an open house/event, signs in front of your business, social media activity, digital ads, traditional media, etc.," will be appropriate, Olthoff said.
"The rule still stands that you should never do just one media. It's a committed mix over time," Olthoff said. "It takes six weeks for a good digital run to take hold. On average, it takes 13 weeks for traditional media to deliver."
Barbur said as a recovery begins, people will crave the social media equivalent of comfort food.
"I think right now people are searching for that feeling of comfort," Barbur said.
They'll go to Facebook — "it's where their friends and family are" — to share stories about how they survived the crisis and see how their friends and family fared.
Over time, perhaps, they'll drift back to the platforms that were starting to catch their attention before the crisis. Older people were drifting toward LinkedIn, which is business-oriented, and younger people toward TikTok, a video-sharing service, Spencer said. Streaming services are gaining traction, too.
"We're seeing a lot of attention being paid to these platforms," Spencer said. "I'm most curious what's going to be popular on these streaming platforms."
Whatever the medium, the important thing is to remain in touch.
Andres said at the end of the day, stopping your marketing when the economy is struggling positions you as a long-lost friend of your customer.
"They may have really like you and even have really fond memories, but they will move on and expand their network," Andres said.
"If you continue to communicate with your customers, you become that friend everyone wants to have — the one that you can't wait to see and no matter how long it has been, you pick up right where you left off."
Click here to read more from the June-July 2020 issue of Northwest Indiana Business Magazine.