For state Rep. Julie Olthoff, making pottery a lifelong passion
"I took to it right away," she said. "I went to Lew Wallace (high school in Gary), and I had a great art teacher, Mr. (Gino) Burelli. I just fell in love with pottery."
Even though she graduated high school in 1976, pottery remains among Olthoff's life passions.
"I've been doing pottery for about 38 years," the Merrillville resident said.
Olthoff's early experience with pottery led her to pursue an art degree from Indiana University Northwest in Gary where she continued to do pottery.
"It took me eight years to do my four-year degree just because I worked myself through college," she said. "So between high school and college, I did pottery for like 12 years."
Olthoff knew it would be difficult earning a living as an artist, so she started working for a marketing company.
"My professor said many artists have other jobs, so they're either teaching, waitressing or construction or something, and then they go home over the weekend, or on their off time, and create art, hoping to break it big and get your work in studios," Olthoff said.
An opportunity to work as a graphic designer came up for Olthoff.
"I took that and that supported art," she said. "I've always painted or done pottery when I had studios and then another job to put food on the table."
The marketing company Olthoff went to work for, VIA Marketing, she now owns.
Once married, Olthoff had a house built in Merrillville and turned half of the basement into her pottery studio.
As for inspiration for her pottery, Olthoff said she considers herself a hobbyist.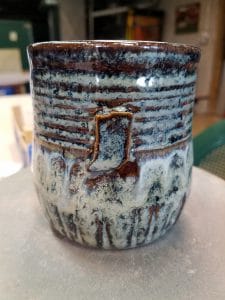 "If I see something and I feel like making it, or an idea pops in my head, I'm going to make that," Olthoff said.
Olthoff said she will not generally make pieces just to "appease customers and make things that sell the most."
"I have a couple of items that I will make because they sell," she said. "I only sell because I want to cover the cost of clay and glaze and electricity for firing my kilns."
Olthoff said she usually sells her creations on consignment in local shops.
"Pottery is very heavy, so to think that you can sell it on Etsy or one of the other art websites, it's hard," Olthoff said. "How do you ship it and guarantee that it's not going to break when it gets there?"
So, she prefers to sell in stores, and it also gives people an opportunity to look at her work before deciding to buy.
Olthoff said she used to sell her pottery at a shop in downtown Crown Point, but the place closed when the pandemic hit.
Her sister-in-law Cheryl Davis says Olthoff's love for pottery is more than just a hobby.
"It's a passion for her," Davis said. "She's very skilled and has an eye for it."
Davis joins Olthoff at her home on most Thursday nights for fun and pottery making.
"It's really a good time and a relaxing time," Davis said.
Besides running a marketing company and creating pottery art, Olthoff is also an Indiana state representative who serves the 19th district. She was elected to the post in November 2020 and is running for reelection.
But Thursday nights are still reserved for pottery.
"I love creating art," she said. "I love working in mud, so it's something that I've just done for many, many years, even before I was a public servant."
Those who know her don't bother her on Thursdays.
"Everybody knows that pottery night is Thursday (for me)," she said. "I believe people should have something that makes them happy in their life and set aside time (for) it."
Click here to read more from the October-November 2022 issue of Northwest Indiana Business Magazine.