An update on arts and entertainment options across the region
Summer entertainment abounds throughout Northwest Indiana. Here is just a sample.
A new entertainment promotion is coming to South Bend from May 29-June 4. Titled "Best Week Ever," the project's plan is to blitz South Bend with a variety of non-stop activities for the full week.
Several venues will take turns hosting sporting events, fireworks displays, footraces, parades and other festivities. Music factors in as well, with a trio of hit makers from the 1990s—Everclear, Fastball and Vertical Horizon—performing June 3 at Four Winds Field. Find out more at bestweekever2017.com.
The annual Wakarusa Bluegrass Festival has become a top draw for area bluegrass enthusiasts, as it brings in some of the top performers in the genre. This year's musicians include Larry Sparks, Larry Efaw and the Bluegrass Mountaineers, and Tony Holt and the Wildwood Valley Boys. There are also spontaneous jam-session opportunities throughout the weekend. This year's festival is June 9-11, and there's a full schedule at wakarusabluegrassfestival.com.
In the 1970s, Vegetable Buddies was South Bend's top club for touring bands, hosting concerts by Muddy Waters, Captain Beefheart and the Magic Band, John Lee Hooker and many others. Now, Vegetable Buddies has returned and it's even at the same address: 129 N. Michigan St. Featuring live bands most nights, the venue is already attracting stars from the worlds of blues, reggae, folk and rock. See who's in town next at buddiesdtsb.com.
The Lerner Theatre in Elkhart will be quite busy this summer. The venue is the home for local stage company Premier Arts, which has two musicals in a row coming up: "Singin' in the Rain" from May 12-14 and "The Little Mermaid" from July 14-16. Gordon Lightfoot, a living legend with hits like "Sundown" and "The Wreck of the Edmund Fitzgerald," comes to the Lerner for a concert on May 21. The venue also hosts some of the Elkhart Jazz Festival's gigs as well, from June 23-25. Check out a full roster of Lerner Theatre events at thelerner.com.
South Bend Civic Theatre showcases its versatility with three different types of shows on the horizon. First, Mark Twain's characters come to life in "Big River," the musical adaptation of "Huckleberry Finn," May 5-21. There's also a contemporary play, John Patrick Shanley's "Outside Mullingar," a story about the love lives of Irish farmers, June 9-18. Finally, it's a perennial favorite, "The Wizard of Oz," hitting the stage July 14-30. For more information, visit sbct.org.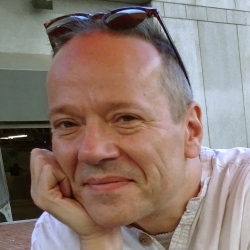 Latest posts by Jack Walton
(see all)