An update on arts and entertainment options in greater South Bend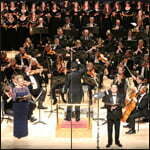 The competition for the position of the next conductor and artistic director for the South Bend Symphony Orchestra is heating up. Beloved maestro Tsung Yeh has stepped down after a 28-year term in the position, and now five finalists each take a turn leading the orchestra in one of the SBSO's Masterworks Concerts. The process is off to a promising start, and it's hardly over yet: Contestant Vladimir Kulenovic's turn at the podium comes on March 11, in works by Debussy, Beethoven and Tchaikovsky. Keitaro Harada gets his chance to audition on April 15, directing the SBSO in pieces by Britten, Elgar and Beethoven. Both concerts will be at the Morris Performing Arts Center, 211 N. Main Street in South Bend. Find out more at www.southbendsymphony.com.
Music–from ancient to modern–abounds at the University of Notre Dame's DeBartolo Performing Arts Center. The adventurous Third Coast Percussion performs Feb. 4, followed by Cuarteto Casals on Feb. 12 and the Venice Baroque Orchestra on Feb. 19. The Kronos Quartet appears March 25, with special guest Wu Man, who plays a Chinese lute called a pipa. A couple of star opera singers also visit the DPAC for recital engagements: tenor John Mark Ainsley on March 4 and baritone Nathan Gunn on April 9. There's also dance, with Ballet Hispanico in performances May 5-6. The theater event of the season is Lauren Gunderson's "I and You," presented by Notre Dame's Department of Film, Television and Theatre, March 1-5. Get the full DPAC schedule at www.performingarts.nd.edu.
Three big shows are on the horizon at South Bend Civic Theatre. First, the kids' musical version of Roald Dahl's, "James and the Giant Peach," will run March 3-12, part of the Kids4Kids series. Tennessee Williams' Pulitzer Prize-winning, "A Streetcar Named Desire," is next, from March 31-April 9. "Big River," the musical adaptation of Mark Twain's "Huckleberry Finn," is the main SBCT musical feature, and it takes the stage May 5-21. The South Bend Civic Theatre is located at 403 N. Main Street in South Bend. Visit www.sbct.org to learn more.