The Morris Performing Arts Center in South Bend has traditionally offered a wide variety of entertainment options, but this Spring is uncommonly diverse, even by Morris standards. On April 17, prominent figures from ABC's "Dancing with the Stars" reconvene and recreate their fancy footwork for "Maks, Val & Peta Live on Tour." April 19 brings the comedic stage play "Guess Who Showed Up at Dinner?" The Irish pop goddesses Celtic Woman present a concert April 20, followed by comedian Gabriel Iglesias on April 23 and magic from The Illusionists on April 29. On May 1, tribute act Brit Floyd faithfully duplicates the sounds from vintage Pink Floyd albums. The touring version of Cyndi Lauper's smash musical "Kinky Boots" takes over for a three-day run from May 4-6. The South Bend Symphony Orchestra's new conductor and musical director, Alastair Willis, leads the SBSO in a Masterworks series concert on May 12, featuring works by Edward Elgar and Robert Schumann setting up the concert's centerpiece, Tchaikovsky's Fifth Symphony. Although the grunge-rock revolution happened a whopping 25 years ago already, some of the genre's stalwarts are still alive and rocking: Alice in Chains comes to the Morris on May 16, revisiting vintage hits such as "Man in the Box" and "Rooster." See a full schedule at www.morriscenter.org.
It's been a long time since the University of Notre Dame has enjoyed a number-one ranked football team, but Notre Dame is still number one when it comes to chamber music competitions. The Fischoff National Chamber Music Association was founded in 1973, and its annual competition is not only the largest such event in the nation, it's also established an international reputation. Each year, an average of 125 ensembles converge to compete on the stage of Notre Dame's DeBartolo Performing Arts Center, and the musicians involved represent over 20 nationalities. There are junior and senior divisions, meaning that there are opportunities for youngsters to be involved while also plenty of chances for professional ensembles to perform. The configurations run the gamut of chamber-music possibilities, from piano trios to woodwind quintets, and the composers range from Baroque masters to modern-day innovators. This year's program runs May 11-13. Find out more at www.fischoff.org.
A short trip southeast from South Bend down to Nappanee is more than just a chance to experience Amish culture up close. Nappanee also offers exciting live theater shows via the Round Barn Theatre at Amish Acres. From April 11 to May 20, it's a jukebox musical called "The Rat Pack Lounge." The plot revolves around the idea that Frank Sinatra, Dean Martin and Sammy Davis Jr. have come back down from heaven for one night to fulfill a forgotten contractual obligation. They get together for one last boozy blast, crooning their biggest hits. If the Round Barn is famous for one thing, it's the tradition of hosting long annual runs of "Plain and Fancy." It's the story of a couple of sophisticated New Yorkers who find themselves immersed in Amish culture, with hilarious and moving results. May 23 opens this year's six-month run, which the Round Barn is now doing for the 32nd year in a row. For more information, visit www.amishacres.com.
The Lerner Theatre in Elkhart brings a country double-bill to town on April 19, with opening act High Valley setting the stage for headliner Frankie Ballard. On April 20, a Beatles tribute act, 1964: The Tribute, celebrates the mop-top era of the Fab 4. Christian rocker Michael W. Smith performs on April 27, with five-man a cappella group Home Free singing a concert on May 4. Elkhart's own theater troupe Premier Arts stages the delightful "Sister Act" for a three-day weekend May 11-13. Like certain other beautiful old theaters, the Lerner boasts its own vintage organ — the Kimball Organ. The Kimball will provide all the accompanying sounds on May 20 as the Lerner screens Buster Keaton's classic silent movie, "The General." Get further details at www.thelerner.com.
Click to read more from the Apr-May 2018 issue of Northwest Indiana Business Magazine.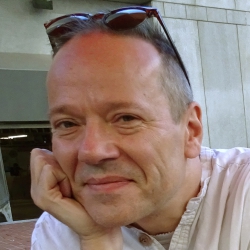 Latest posts by Jack Walton
(see all)