Acorn Concert Series at Gabis Arboretum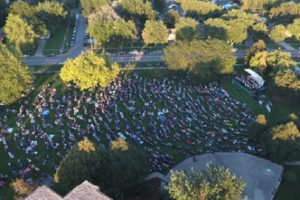 The former Taltree Arboretum presents its summer-long concert series beginning June 2 with Echoes of Pompeii, a ten-piece band that will give fans the sound of Pink Floyd. Also on the concert: Obsessive Compulsive Distortion. June 30 brings Chicago-born blues singer Wayne Baker Brooks to the stage. A Chicago Blues Hall of Famer, and the youngest son of blues master Lonnie Brooks, Wayne Baker Brooks has performed with such notables as Buddy Guy, Koko Taylor, Bo Diddley, and many more. Also on the concert: The Blues Project, a youth music program based in Valparaiso, whose aim is to pass on the music and history of the blues to the next generation of musicians. Other concerts include Mr. Blotto and Gato on July 28, Carl Weathersby with the Corey Dennison Band on August 25, and concluding with Mississippi Heat and Funky Mojo Daddy on September 22. For the full schedule: 219/462-0025 or www.taltree.org
South Shore Summer Music Festival
The 12th annual South Shore Summer Music Festival will feature free concerts by the Northwest Indiana Symphony in six communities across Northwest Indiana during July and August. The series opens on July 21 at the Town Complex Grounds in Cedar Lake. On July 28, the Symphony heads to Crown Point for a concert on the lawn at Franciscan Communities. Other concerts include the Indiana Lakeshore at West Beach on August 3, Griffith's Central Park on August 4, Hammond's Wolf Lake Pavilion on August 10, and Schererville's Redar Park on August 11. The Porter County Community Foundation will present an additional concert in Valparaiso on August 8 at Central Park Plaza. More summer concert information is available at the Symphony office, 219/836-0525 or www.nisorchestra.org
Dunes Summer Theatre Summer Series
"Noises Off" provides a glimpse into the world of theatre. The audience will witness both the rehearsal process and what goes on behind the scenes once the curtain is raised. The play opens the night before the first performance and the cast is hopelessly unready. Baffled by entrances and exits, missed cues, missed lines, and bothersome props, including several plates of sardines, Lloyd, the director, is beyond frustrated. Seen from backstage, Act 2 provides a view of the dysfunctional relationships between cast members. Romantic rivalries, lovers' tiffs and personal quarrels lead to offstage shenanigans, onstage bedlam and the occasional attack with a fire axe. Act 3 occurs during the play's final run, where relationships among the cast have frayed considerably, and the set is breaking down. While the actors remain determined to cover up the mounting chaos, it's not long before the plot and script are utterly abandoned in this hilarious comedy. June 22 through July 8.
Dunes Summer Theatre continues its summer series with two performances of the multiple Tony Award-winning Broadway musical "Man of La Mancha" starring artistic director Jeffrey Baumgartner and featuring classical Spanish guitarist Peter Aglinskas on July 13 and 15. Six quirky adolescents compete in "The 25th Annual Putnam County Spelling Bee," July 20 through August 5, approaching the competition with all the ferocity of athletes in a state-wide championship. "Charlotte's Web" is brought to life for young audiences and their parents August 3, 4, 10 and 11. The story centers on Wilbur, young Fern's pet pig, spared from slaughter by her father, who allows Fern to nurture the piglet into adulthood. When Wilbur is sold to Fern's uncle, he is left yearning for companionship. Wilbur is sadly snubbed by the other barn animals, until a spider named Charlotte, befriends him. Upon Wilbur's discovery that he is again intended for slaughter, Charlotte promises to hatch a plan guaranteed to spare his life and win him friends. For more information: 219/879-7509 or www.dunesartsfoundation.org.
Click to read more from the Jun-Jul 2018 issue of Northwest Indiana Business Magazine.