Employers find taking care of workers benefits bottom line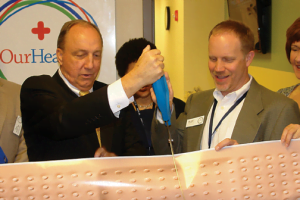 A decade ago, when the Great Recession torpedoed the economy and stock markets, Michael Schrage organized a meeting for Centier Bank's hundreds of employees.
Schrage told his leery workers that there would be dark days ahead. He told them it was unclear how bad things could get. He told them to brace themselves for a rocky period in the history of a company in business for more than a century.
He also told them there would be no firings or layoffs related to the recession's wrath.
"No matter what," Centier's president and chairman of the board told his employees.
Chrisanne Christ, a senior partner in the bank's human resource department, remembers thinking to herself, "I can't believe he is saying this."
Schrage said it, and he meant it.
"I think he would sell his wedding ring to avoid something bad from happening to this bank and its employees," says Christ, who's been at Centier for 22 years. "It's about trust. If you take care of your employees, they will take care of your clients."
Civility in the workplace has become a cliché in a business world that too often is defined by a cutthroat culture of profits first, customer satisfaction second and trust as an afterthought. Such a harsh description is the antithesis to companies that continually get recognized for being among the best places to work—such as Centier.
Since 2007, the bank has been among the "Best Places to Work in Indiana," according to the Indiana Chamber of Commerce. Last year, the bank received national attention by American Banker publication, ranking No. 5 among the nation's "Best Banks to Work For" between $3 billion and $10 billion in assets.
Coincidence? Don't suggest that to Schrage and other CEOs of firms that repeatedly make such lists of recognition.
"What makes Centier different and unique is that culture and values come first," Shrage says to anyone who will listen.
Again, he means it.
"There is a strong connection between a high-trust culture and business success," states the opening line in the 2016 study, "The Business Case for a High-Trust Culture." It was conducted by Great Place to Work, a global research and consulting firm helping businesses become extraordinary by creating high-trust, high-performance cultures.
"In fact, the connection is so strong that strategy-minded leaders, who care deeply about the financial well-being of their business, should make building a high-trust culture a top priority," the study states.
For more than 30 years, Great Place to Work has studied and recognized organizations with high-trust cultures, in part through the best workplaces lists produced in partnership with Fortune magazine. For these companies, a defining feature of being recognized as a great workplace is a high level of organization-wide trust, as reported by employees, not by ownership.
Several of the compelling business outcomes associated with a high-trust culture include: stock market returns two to three times greater than the market average; turnover rates 50 percent lower than industry competitors; and increased levels of innovation, customer and patient satisfaction, and employee engagement.
"It took four years to complete this study, to verify the robustness of the results and rule out alternative explanations," said Alex Edmans, professor of finance at the London Business School, in the study. "So what did I find? I found that the 100 best companies to work for in America delivered stock returns that beat their peers by 2 to 3 percent per year over a 26-year period."
"Simply put," he said, "companies that treat their workers better do better. And this fundamentally changes the way that managers should be thinking about their workers."
Respecting workforce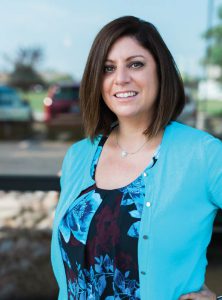 Several companies throughout Northwest Indiana are already doing this, with positive results in the workplace and in their profit margins.
"Communication is key, and we continue to provide an environment of trust where those conversations can happen openly and collaboratively," says Alyse Ellman, vice president of talent and organizational capabilities for White Lodging Services, based in Merrillville.
Earlier this year, White Lodging was named a winner of the Gallup Great Workplaces Award. The firm participates in Gallup's Q12 Engagement program, which focuses on building engaged workforces.
The Gallup Q12 focuses on companies ensuring that associates know what's expected of them, even in times of uncertainty; providing the materials and equipment they need to be the best they can be in their role, empowering associates to do what they do best, recognizing and thanking them for a job well done, and focusing on their continued development.
"Having buy-in from our executive leadership team is key to our success in creating a great place to work," Ellman says. "Their support, direction and enthusiasm ensures that we will continue to provide the kind of environment where our associates feel productive, engaged and successful."
Workplace perks that associates enjoy at the corporate office include a state-of-the-art workout facility, yoga classes, fully-stocked breakrooms, discounts on hotel rooms around the country, and the opportunity to have breakfast with their CEO to discuss what's going good, and what isn't going so good.
"For example, areas of opportunity for the company and an innovation box where associates can comment anonymously on enhancements they would like to see," Ellman says. "White Lodging believes that providing an engaging and dynamic environment will increase retention, performance and overall commitment from our associates."
At Inovateus Solar in South Bend, which delivers high-quality, personalized solar development, EPC and solar supply services, company officials are all about workplace PEACE. It's an acronym for Passion, Engagement, Ambition, Creativity, Esprit de Corps, or "spirit of the team."
"Our employees must have these values rooted in their personalities," says Mauricio Añón, the firm's director of marketing.
Every six months, the company recognizes and celebrates an employee who best defines those workplace attributes, with a paid day off and a charitable donation in their name.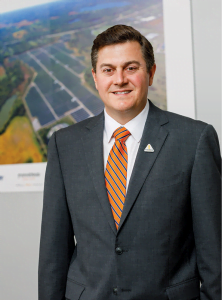 The 40-employee firm, which is marking its 10-year anniversary as Inovateus Solar, was recognized by the Indy Chamber as one of the 2018 Best Places to Work in Indiana, under the helm of chairman and co-founder TJ Kanczuzewski.
"Everything starts with a mission and a vision to accomplish the goal," says Kanczuzewski, who authored the book, "Building a Brilliant Tomorrow," reflecting the firm's values.
Añón adds, "We focus on teamwork and then break down into smaller teams, or what we call pods, to accomplish specific tasks. This gets the whole team engaged, and it gives everyone the opportunity to contribute ideas and to work collaboratively to execute tasks."
Shaping workplace culture
At Lakeside Wealth Management in Chesterton, "Employees come first, clients come a very close second," says Jenn Brown, corporate communications manager. "As cliché as it sounds, we are a family at Lakeside. We have created a culture that encourages our team to engage with each other both personally and professionally."
"We celebrate the good times together, and we struggle through the hard times together," she says. "Our clients know they have a whole team supporting them, not just their forward facing adviser."
How does a business create an environment that's collaborative where employees feel empowered and engaged to help their company be successful? "Trust them," Brown says enthusiastically.
"Lakeside's executive team encourages our employees to push, try new things and think outside the mind of a typical financial firm," she says. "Our team knows that if we fail at something, it's OK. Employees feel empowered because the management and executive teams are engaged day in and day out."
For example, the firm began including its operation teams in client meetings to give them a sense of ownership and connectiveness to their clients' accounts.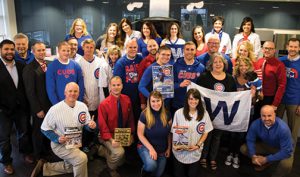 "This allows our operation teams to see how impactful their work is to the success of our clients and our team," Brown says, noting the company has 38 employees, including 19 licensed advisers.
Workplace civility impacts productivity and, ultimately, profits, she insists.
"Our atmosphere is not a kill-or-be-killed type of an environment," Brown says. "We hold each other accountable, but each person knows they have a team behind them, willing to step in and help when needed. Clients can see that, too."
"At the end of the day, our client referrals are priceless, and we want those referrals to include the type of people we are, not just the products we offer or the advice we give about the markets," she says.
Benjamin Bochnowski, president and CEO at Peoples Bank, says there is no magical algorythm to cultivating civility in the office.
"Like anything, it is a lot of hard work," he says. "That means continually engaging our employees, responding to their needs, and making sure the company provides value for its employees. It's a continual process, requiring listening, making changes, and balancing it with the expectations of our other stakeholders."
One of the bank's core values is integrity.
"We take that to mean many things, including acting ethically but also acting with respect," Bochnowski says. "Respect is essential in understanding each other, both internally in the workplace and externally with our customers."
The bank also emphasizes another value learned at a young age—empathy.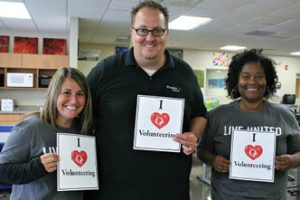 "Putting yourself in someone else's shoes is extremely powerful in terms of coming up with creative solutions to all sorts of problems, and ultimately, that helps us create value for all of our stakeholders," Bochnowski says. "It gets better results for the customers, empowers our employees, helps us better serve the community, and creates better relationships that lead to better returns for our shareholders."
Providing opportunities
The corporate leadership at Ameristar Casino Hotel in East Chicago understands that it's in the entertainment business, "so having fun is important," says Roxann Kinkade, director of public relations for Pinnacle Entertainment Inc.
Two examples include making music videos with team members while competing with other properties' videos, and hosting an annual full-production talent show.
"The winner wins the opportunity to travel to another Pinnacle Entertainment destination to compete with the other property winners," Kinkade says.
Workplace harmony begins with leaders who care about and who listen to their team members.
"Having specific tools in place, such as surveys, roundtable discussions and an open door policy at every level ensures that two-way communication is how team members and leaders interact on a daily basis," she says. "We also strive to hire caring and compassionate people who love serving others."
The casino also provides opportunities for team members to give back to the community with a variety of volunteer events for local charities. The most popular is its annual Thanksgiving dinner event for the Salvation Army.
"It goes way beyond civility," Kinkade says. "It's about creating a culture of caring, having genuine compassion, concern and respect for our fellow team members, our guests and the community. It's of utmost importance to our business."
The casino's "Living Our Values Award" program recognizes team members who bring those values to life by doing their best work. Each month or quarter, up to five team members are selected in the categories of Integrity, Excellence, Care, Innovation and Ownership. At the end of the year, five team members are selected and each awarded $3,000, with a special parking space for the year.
Those kinds of perks lead to a better bottom line, too.
At Centier Bank, 2017 was a banner year with an 11 percent increase in total deposits, a 26 percent rise in mortgage loans, and a 13 percent increase in total assets.
"The secret ingredient really isn't so secret," Christ says. "It's putting your people first."
The bank's organizational charts show its employees, or "associates," at the top, followed by its clients, then management personnel, and finally Mike Schrage at the bottom.
"That's honestly how it is here," Christ says.
"It's not about pampering employees. It's about treating them like family," she says. "Not only during the good times but especially during the bad times."
The bank is now up to 875 employees, including most who attended that 2008 meeting held by Shrage when the Great Recession hit.
"Just as he promised, no one was laid off," Christ says. "That's the kind of trust I'm talking about."