From restaurants to manufacturing to repair shops, small business owners mix work with home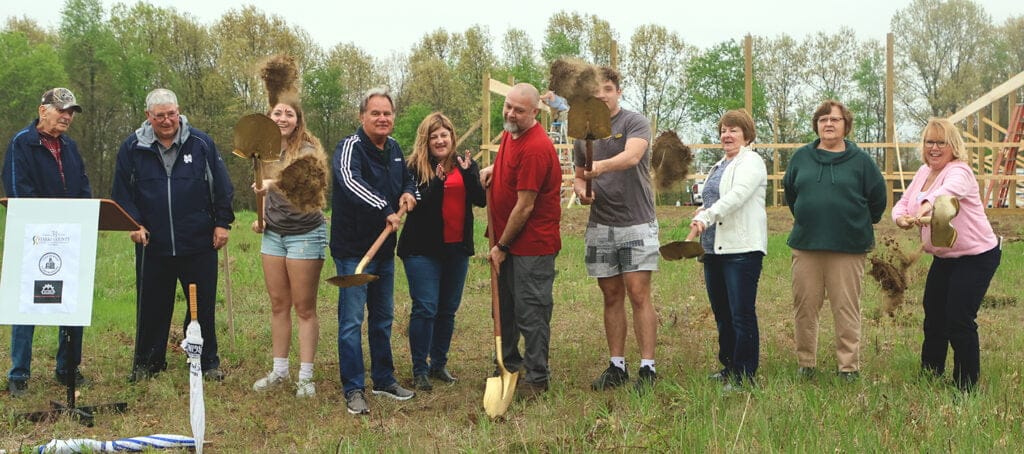 A family thread runs through the fabric of many small businesses across Northwest Indiana.
That thread helps owners succeed and thrive in their communities, providing more than just products and services.
For the Filipidis family, that business strategy has helped them successfully work alongside each other for decades in two restaurants in Northwest Indiana.
"We're not trying to make a quick buck; we're looking at it as a long, extended business plan," Michael Filipidis said.
That goes for many small businesses in the Region, including M&M Car Care, which has built a family business into four locations.
"Small business ownership means more now than it ever did before," owner Jason Smith said.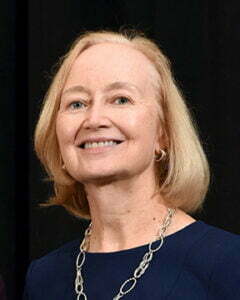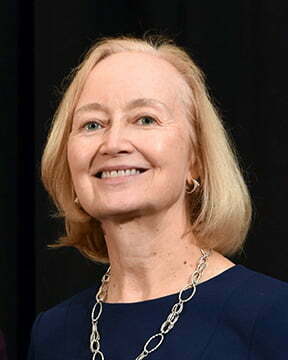 Lorri Feldt, regional director of the Northwest Indiana Small Business Development Center, said relationships among family members are the foundation that can make businesses successful.
"Teamwork and shared values are such important parts of sustaining and succeeding as a business, and families develop these skills both as family units and as businesses," Feldt said. "As kids, they see their parents and close relatives working together … so they learn the business from the bottom up and the shared values from an early age. That trust and family dynamic often extends to all employees who are part of the team."
Today, small businesses provide more than 1.5 million jobs annually and drive about 44% of the economic activity in the United States, according to the Small Business Administration.
Entrepreneurship thrives in Indiana too. The Hoosier state was ranked the eighth-most entrepreneur friendly state, according to the Small Business and Entrepreneurship Council. There are more than 500,000 small businesses in Indiana, employing more than 1.2 million people, state data shows.
Many of those businesses have family and community at their heart.
Longterm commitment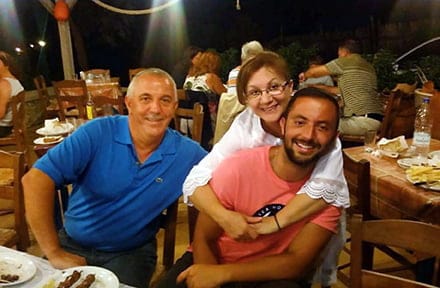 The restaurant business is in Filipidis' genes. Filipidis grew up working in his parents' family-style restaurant, Sunrise, in Chesterton. It was there that Filipidis cut his teeth working both sides of the house, the customer-facing side, as well as behind the scenes in the kitchen and the dishwashing area. He also received a first-hand education in management from his parents.
That home-grown education and the love for the restaurant business became ingrained in Filipidis' DNA. Today, Filipidis operates his own restaurant, Geitonia Greek Grill in Valparaiso. He opened the Greek restaurant in 2004 to share his passion for food with the community.
"We are an authentically Greek restaurant; there is no cutting corners. Everything is made to order. It's always fresh and always delicious," Filipidis said.
When Filipidis set out on his own, not only did he have the education from working at Sunrise, his parents came along for the journey. Just as their son worked in Sunrise, the elder Filipidis couple helped with Geitonia Greek Grill.
"We're a tight-knit family. They were here from the day we opened," Filipidis said.
Not only that, Filipidis said the presence of his parents has been a boon.
"They have provided a lot of guidance. It takes weight off your shoulder, and you can always count on them to help out and do the right thing," he said.
As any business owner will tell you, it's not easy. For most any business, there are good times, and there are bad times.
According to the U.S. Bureau of Labor and Statistics, the majority of new businesses fail within the first 10 years of operation. The data shows 20% of new businesses fail within the first two years of opening and 45% during the first five years. By year 10, 65% of new businesses have closed their doors. Only 25% of new businesses make it to 15 years or more, government data shows.
For restaurants, the failure rate is even higher. According to the National Restaurant association, about 60% of restaurants fail in their first year of operation, and 80% fail within five years of opening.
A learning experience
M&M Car Care made it past the 10-year mark but not without some struggles.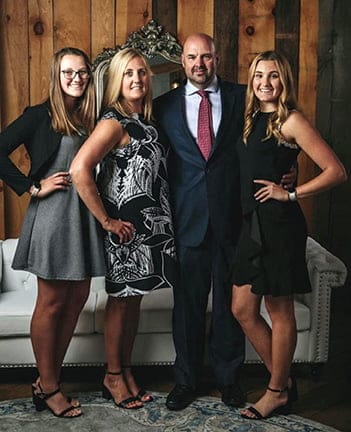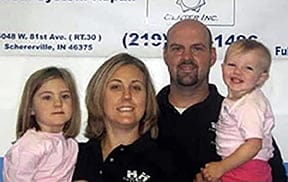 Smith said finances were tight, with Christmas presents either being homemade or coming from discount stores. Part of that was due to a lack of business training.
Unlike Filipidis who learned about costs and labor from his parents, Smith had no such experience. He learned on the job and then later, learned management techniques from Shopfix Academy, an automotive management training organization based in Tennessee. He now shares those lessons with other entrepreneurs in the automotive industry.
In Starke County, Bill and Sherry Wakal are just getting started. They expect their three children will spend some time working alongside them in a new machining shop. The new business, Wakal Machining LLC, is scheduled to open in Knox in September. The couple broke ground on the new site in May.
Bill Wakal will begin working in the business and then son Alex will join once he has completed training. The couple's eldest son, Ethan, will work some in the shop when not away at college. Sherry Wakal and daughter Grace are expected to work together in the shop's office.
"Bill and I are excited to see our kids help our business grow. They have learned so much already about how to start a small business," Sherry Wakal said.
When it opens, Wakal Machining will be a workshop where various machines and tools are used to shape, cut and manipulate materials, typically metal. The machines in the shop include lathes, milling machines, drills, presses, grinders, saws and other specialized equipment, Sherry Wakal said.
Wakal Machining is in a strong position to serve the community. Pointing to a variety of potential clients, she says there is a need for a machining business in the county. Wakal said they anticipate clients from multiple industries, including manufacturing, aerospace, automotive, farming and construction.
The family business was born out of a need for machining the couple saw in the area. Having grown up in Knox, the Wakals wanted to open a business that could contribute to a thriving community. Inspired by the success of others, Wakal and her husband decided it was time to open their own business and potentially expand to other areas across Northwest Indiana.
"We hope to be able to serve Valparaiso, La Porte, Walkerton, Plymouth, Culver, Winamac and surrounding areas initially, and branch out further into Northern Indiana and beyond as we grow," Bill Wakal said in a press release.
Smith is a business owner who found that kind of success.
An automotive technician turned entrepreneur, Smith began the business when his girls were small, ages 2 years and 5 months old. He named M&M Car Care Center after them — Madelyn and Morgan.
Smith's journey into entrepreneurship began in 2007 when he acquired a failing automotive business. It was a two-bay shop. After taking over, he retained one employee who worked for the previous owner, changed the name to M&M Car Care and hit the ground running.
His wife and daughters have all spent time working in and around the business, which Smith said helped to create a broader, extended family with his employees. His wife, a retired teacher, not only coordinates various employee functions, she also helps the children of employees with their school work should they need it.
That relationship building has paid off. Fast forward 16 years, Smith has expanded to four locations — Dyer, Hammond, Merrillville and Schererville. He employs 27 people. That growth was made possible not only through strong customer service but also community spirit, Smith said.
Pillars in the community
Building relationships has allowed AJ Alghazali to thrive as a business development entrepreneur. He recently sold one of his businesses, The Social Restaurant in Merrillville. The sale has allowed him to focus on two other businesses: Nextech Solutions, a next-generation home security business, and Rytech Restoration, a franchise business focused on repairing water and fire damage and mold remediation.
It's important to build strong relationships among business leaders, Alghazali said.
"I'm a small business owner, and I depend on other small business owners," Alghazali said. "I build relationships. I believe every client we have turns into a friend or family member."
Smith, Filipidis and the Wakals all hold a similar philosophy.
As longtime residents of Starke County, the Wakals want to see the community continue to thrive. They believe Wakal Machining will become an important piece of the economic puzzle in the community. Throughout the time it has taken to establish their business, Sherry Wakal notes the family has received significant support from friends and family, as well as the Starke County Economic Development Foundation.
Smith also wants to be part of the larger community.
"We are all about community and family. We've given away repairs to help people who cannot afford them. We've also donated cars to people who are in need," Smith said.
When the company started, Smith said they had one goal — be the best automotive shop in the Region. The idea of being the best goes beyond performing automotive maintenance. It's about going above and beyond, Smith said.
"We listen to our customers, we hone in on what their needs are," he said. "When you take a car to a shop, you need a car still. We have a loner car program at no charge. That way, they (customers) can have transportation when they need it."
This approach builds trust within the community, he said. It shows them M&M Car Care is about more than just earning money for a service. Smith said people can be wary of automotive maintenance places, for various reasons. Some simply out of a need to have a car to keep working, while others are out of concern that additional, and sometimes unnecessary repairs, will be forced upon them.
"We know people don't want to be there to get their car fixed. We try to comfort you and make it as painless as possible. We're an advocate for you," Smith said.
He adds that if technicians discover additional repairs are needed, they will inform the owner about the repairs but will also offer guidance as to whether the repair is worth it, considering the condition and value of the vehicle. Smith said that blunt honesty is the right thing to do, especially since their customers are also their neighbors.
Filipidis credits strong support from loyal customers within the community for the longevity of his and his parents' restaurants. That support helped both restaurants weather the uncertainties during the pandemic. Those were dark times, but Filipidis credits customer loyalty for helping Geitonia Greek Grill and Sunrise recover.
That loyalty to the community has been returned in numerous ways. The restaurants participate in charity drives for the schools, the local police departments and other community organizations. Filipidis called the restaurants a "grass-roots product within the community."
Although the lockdowns are in the rearview mirror, new challenges have arisen, including increased food costs due to inflation. Filipidis meets these challenges with a focus on customers.
"We don't always want to pass along costs to the customers. Sometimes the profit margin may not be as high. As a community-driven small business, sometimes you'll have to bite the bullet and focus on the long-term, rather than short-term gains," he said.
Small Business Count
Hoosiers by the Numbers offers data on firms based on the number of employees. Businesses usually are considered small if they have fewer than 100 employees. Here is a breakdown of 2021 establishments in Northwest and North Central Indiana based on numbers from the U.S. Census Bureau:
Lake County — 10,061
St. Joseph — 5,735
Elkhart County — 4,779
Porter County — 3,562
La Porte County — 2,23

Marshall County — 1,092
Jasper County — 743
Pulaski County — 311
Starke County — 301
Newton County — 241
Source: www.hoosierdata.in.gov
Read more stories from the current issue of Northwest Indiana Business Magazine.