United Way Pacesetters' goal to boost business philanthropy
Chester Inc. has a long history in Valparaiso, and it has evolved beyond being the business whose roots are connected to the iconic Orville Redenbacher popcorn.
Chester Inc. was founded in 1947, said Rich Shields, the company's director of marketing and business development. The firm today has three primary divisions, agricultural systems, architectural and construction services and information technology.
While evolution has redefined Chester Inc., Shields says the company never will overlook the community it's always called home. That's what inspired the firm to join the United Way of Porter County's Pacesetter Program, a new initiative designed for businesses to become more philanthropic as well as get a jump start on their annual United Way fundraising campaigns.
"Our company has had 100 percent employee participation in United Way campaigns the past 20 years, and that's very near and dear to us," Shields said. "The advantage of becoming a pacesetter is that it may encourage other businesses to start thinking about their (United Way) campaigns earlier and maybe bring in an upswing in donations."
Generating more dollars for United Way of Porter County means additional funds for the 55 programs supported by the agency annually, which assisted almost 70,000 people in 2017. United Way of Porter County's 2017 workplace campaign ran from July through December, raising $1.3 million, which went toward supporting $2.3 million in community programs.
Raising awareness and importance of workplace campaigns was among the reasons why McAfee Animal Hospital in Valparaiso also became a pacesetter, said Larry McAfee, owner of the veterinary clinic, which was launched by his father in 1943. His daughter, Brooke, now leads the clinic as third-generation owner.
McAfee said becoming a pacesetter for United Way simply was to show the clinic's commitment to the community.
"Our motto at the clinic is 'caring for the community matters,'" he said. "Porter County and Valpo have been good to our business over the years, and to show our thanks, we want to do our part to give back. It's our hope we can inspire other (businesses) to do the same."
Kim Olesker, president and CEO of United Way of Porter County, said a few Region businesses approached her last summer about introducing pacesetters to Northwest Indiana.
She said the process gained momentum after United Way Worldwide rolled out its corporate agreement strategy in the spring, which aims to work with businesses that seek more engagement with United Way. In becoming a pacesetter for United Way of Porter County, businesses say they will start their annual United Way campaigns sooner as well as become a partner to the community.
"As our partner, we know a pacesetter is a company we can rely on," Olesker said. In addition to dollars, pacesetters also may be called on to provide volunteers for a community project.
"It isn't all about money; it's a little bit of everything," Olesker said. Joining McAfee and Chester Inc. as pacesetters for United Way of Porter County are CSI, and Blachly, Tabor, Bozik & Hartman LLC, both of Valparaiso.
Corporate giving has increased nationally in recent years. The 2018 Giving USA report found giving by U.S. corporations totaled $20.8 billion in 2017, an 8 percent increase from the previous year.
Financial contributions are important, but it isn't the focus of the pacesetter program, Olesker said. She said much research went into studying local businesses' mission statements and their focus on social responsibility.
"Part of the pacesetter agreement is that a business' (social responsibility) goals are strategically aligned with (United Way), and they already have a demonstrated path of commitment to the community," Olesker said.
Shields said Chester Inc. is involved in numerous causes. Through the years, it also has supported Visiting Nurse Services, and staff volunteers wherever they can help.
"It's important to stay visible and involved in a lot of community affairs," he said.
McAfee, who served on the United Way of Porter County board in 1983, agreed, saying supporting area humane societies and their missions also helped spread the word about his veterinary practice.
"United Way in some way touches everyone in the community," McAfee said.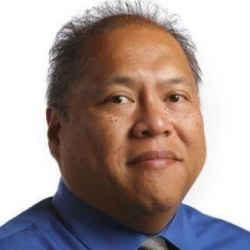 Latest posts by Larry Avila
(see all)