Hustling to keep pace with sports tourism boom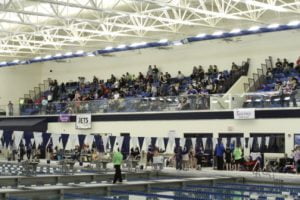 Sports tourism is a multi-billion dollar industry in this country, scoring big points from tiny hamlets to major cities with family-friendly "sportcations" and "tournacations." Northern Indiana has been stepping up to the plate in recent years to not only get on base with this lucrative market, but to hit a few homers with its Hoosier-styled "host it and they will come" marketing strategies.
"We're never going to be Disney, but we are a family-friendly and easily accessible destination that offers trusted, Midwestern values and a solid product," says Speros Batistatos, president/CEO of South Shore Convention and Visitors Authority. "We've come a long way, and we can certainly do more."
With the absence of a large-scale convention center or meeting facility, curbing the numbers for convention delegates and corporate professionals, sports tourism has become this region's steadiest tourism market, he says.
It's also one of the few industries that continued to rack up dividends during the recession a decade ago. Families may have had to cancel their Disney World vacation, but they didn't want to postpone their kids' sports tournaments and related excursions.
"The hospitality industry is happy to see more local municipalities jumping on board," Batistatos says.
The idea is to package the family experience around the travel sport, whether it's baseball, softball, volleyball, basketball, soccer or even chess, disc golf or table tennis. The sport serves as the driver to any tourism destination, and family entertainment is the passenger.
Statistically speaking, parents travel more with daughters than with sons, and those girls are typically teenagers, industry data shows.
Already in 2018, this region has hosted an exhaustive list of sporting events, including the Midwest Gymnastics Invite in Hammond, the YMCA Swim in St. John, Lutheran Basketball at Valparaiso University, and the NAIA Collegiate Bowling in Highland, to name just a few.
Not a passing fad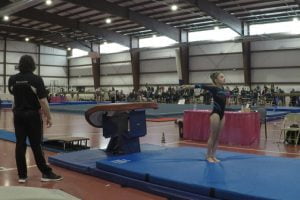 "Youth sports tourism is not a passing fad. It's bigger than ever," says Lorelei Weimer, executive director of Indiana Dunes Tourism in Porter County.
In Portage, the Indiana Elite Futbol Club is opening a 56-acre, $1.5 million soccer field complex on Samuelson Road. Its first phase opens in August with eight soccer fields, and the completed complex will include 13 full-sized fields, a concession stand, and a paved parking lot.
"It can be a game changer for us," says Weimer, whose market is comprised of 80 percent leisure activities. "What drives our market is the Indiana Dunes."
A feasibility and market analysis study for Indiana Dunes Tourism was conducted by Convention, Sports and Leisure, or CSL. The 159-page report stated there are simply not enough existing facilities for tournament-ready competitions in Porter County.
Weimer's office is currently focusing on partnerships with an outside party to operate a cluster of softball/baseball fields, and possibly with Valparaiso University involving a new swimming pool that could host tournament-style competition.
Utilizing Porter County's natural resources, including the Kankakee River, her office is looking to forge partnerships with outfitters and guides to host tourists who want to kayak, fish and birdwatching.
"People prefer to have a professional guide for these leisure activities," Weimer says.
The goal of every convention and visitors authority is to attract sports-minded tourists from outside Northwest Indiana, with expectations that families will stay overnight, or for multiple nights, while frequenting local restaurants and stores.
Tourism officials calculate potential revenue with an estimated economic impact figure, multiplying the number of hotel room bookings by $250. This figure includes the cost for a hotel room, between $120 to $150 a night, with additional money spent on gas, food, admission tickets, and other items.
To capture this thriving market, communities across northern Indiana are in the process of repurposing their resources to cater to sports tourism.
High on our priority list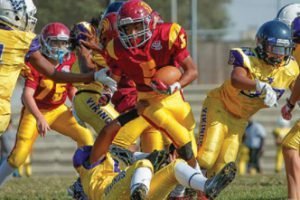 "We may have been a little slow to figure this out, but this is now high on our priority list," says Jack Arnett, executive director of La Porte County Convention & Visitors Bureau. "Our problem is that we don't have enough quality facilities."
His office is working on partnerships to upgrade Patriot Park in Michigan City, which includes four baseball diamonds and soccer fields. Other partnerships are in the works for a new sports complex in the city of La Porte or Warsaw.
"We're currently evaluating all of our options and resources," Arnett says.
One perennial winner for La Porte County is the Michigan City Pop Warner football tourney, which attracts waves of tourists each fall. Also, the wildly successful Dunes Volleyball Club in Rolling Prairie, which will be opening a new facility this summer.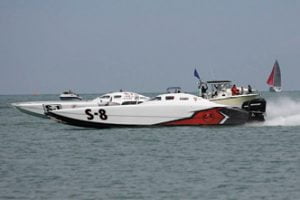 Plus, the Super Boat Great Lakes Grand Prix along Lake Michigan from Aug. 3 to Aug. 5. And, of course, Notre Dame football games that help book hotel rooms in LaPorte County for fans who can't find lodging in the South Bend area.
"With the increase in number of available hotel rooms over the past few years, sports tourism helps fill over 31,000 room nights annually," says Mike Franz, communications manager for Visit South Bend-Mishawaka.
In 2017, more than 92,000 tourists visited South Bend-Mishawaka for sports tourism, he says.
"South Bend-Mishawaka is a great sports destination," Franz says. "When the weather is warmer, sports tourism certainly drives even more business to The Bend with tournaments ranging from baseball and softball to golf and soccer."
Not only can you find in downtown South Bend the best Single-A baseball stadium in the country, according to BallparkDigest.com, one of the most storied college football programs has called South Bend home for the last 130 years.
"Because of this history of sports excellence, sporting event planners continually bring their business to the area, which helps grow sports tourism in South Bend-Mishawaka on an annual basis," Franz says.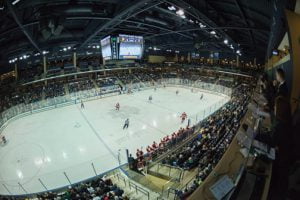 Hockey is the biggest sport there in terms of annual hotel room nights, at roughly 10,000. And pro hockey will be featured there in 2019 with the NHL Winter Classic being played inside Notre Dame Stadium on New Year's Day, pitting the Chicago Blackhawks against the Boston Bruins.
"Another project that is going to help grow future sports tourism in The Bend is the completion of a multi-use sports complex which will bring even more basketball, cheerleading, and volleyball events to the area," he says.
South Bend's goal is to always grow the number of annual visitors and room nights with each passing year. Thanks to the variety and quantity of sporting events that South Bend-Mishawaka plays host to each year, this will not be a problem.
This includes marquee events such as the LPGA Symetra Tour: Four Winds Invitational in June, America's Youth on Parade in July, Motocross of Nations in October, and the U.S. Senior Open in June 2019.
"South Bend-Mishawaka is all about making memories and living in the moment. We believe sports is a great avenue to do both in The Bend," Franz says.
Built with tournaments in mind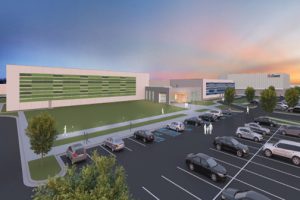 In Hammond, Mayor Thomas McDermott, Jr. is excited to finally open his city's new indoor sportsplex this September. The 150,000-square-foot complex, with six basketball courts, six volleyball courts, two soccer fields, and other amenities, is located on the site of the former Woodmar Mall.
"It's being built with tournaments in mind," says McDermott, a travel baseball coach for 10 years.
The facility costs $20 million, with half of that figure covered by a federal grant. Hammond city officials are expecting to draw sports travel teams from Michigan, Illinois and Wisconsin, in addition from this region.
"We're putting it on everyone's radar this spring and summer, so when it opens in September we're ready to go," McDermott says.
He is hoping to see new developments, including hotels and retail stores, after the sportsplex gets established.
In Crown Point, the city's domed Sportsplex and surrounding Legacy baseball fields at Center Ross Park have been attracting thousands of families since 2008. It has become a true destination location for youth sports tournaments.
"The city of Crown Point is looking forward to expanding our sports tourism opportunities beyond the Sportsplex and Legacy fields," says Jennie Burgess, the city's parks administrator.
The Sportsplex is home to both youth and adult soccer, lacrosse, baseball, softball, and football tournaments on weekends from March through November.
"These tournaments have brought in teams from all over the United States, and a few teams from Canada," Burgess says. "We continue to promote our local businesses and provide our visitors and guests both dining and shopping experiences only Crown Point can offer."
Construction has begun on Bulldog Park, which will feature an 80-foot by 200-foot ice rink.
"The rink will bring us the ability to host open skating, skating lessons and hockey games, as well as tournaments," Burgess says. "We have sold out 2018 at the Sportsplex, and we are planning to open the ice rink this winter."
Complacency can kill you
Just north of Kouts, a proposed 63-acre sports park for youth and adult sports is on the table awaiting funding.
"This is a shovel ready project," says Craig Kenworthy, vice president of the Porter County park board.
Aukiki County Park, named from a Native American word meaning Kankakee River, would have six soccer fields, four softball fields, two full-size baseball fields, paved parking, ornamental fencing, native plant landscaping, and a detention basin.
Kenworthy, whose two teenage sons play soccer in travel leagues, estimates it would cost at least $3 million to construct the park, with millions of dollars more to complete it.
Several tourism officials noted the massive Grand Park sports complex in downstate Westfield, located near Indianapolis with a population of 37,000. It has become one of most popular youth sports destinations in the country.
The 400-acre campus features 26 baseball and softball diamonds, 31 multipurpose fields for soccer, football, rugby and lacrosse, as well as two indoor facilities to accommodate year-round play for a variety of sports.
"If I ever have time to visit there on my way to Indianapolis, I do it," McDermott says. "It shows what amateur sports can bring to a community, and a region."
In our corner of the state, several sports can add up to big dividends. These sporting events include volleyball, table tennis, disc golf, swimming and bowling.
"Other amateur sports don't get the same recognition as baseball or softball, but they bring in hundreds of people for their competitions," says Erika Dahl, director of communications for South Shore Convention and Visitors Authority.
Looking to the future, sports tourism is squarely on the radar of northern Indiana hospitality officials. Each county and most cities are working hard to build new facilities or repurpose existing ones to attract families. They realize that those families will happily go elsewhere to score points with their kids.
"This is an industry where complacency can kill you," Batistatos says.
Click to read more from the Jun-Jul 2018 issue of Northwest Indiana Business Magazine.