Every child born in Porter County eligible for $100 toward post-secondary education
For the estimated 1,600 to 1,700 babies born each year in Porter County, Mary Jane Eisenhauer has a guiding principle: Give them a strong start.
Her organization, First Things First, launched the Seeds of Promise program Jan. 2, making $100 available to every child born in Porter County.
"If we take care of first things first in Porter County, many things down the line will be mitigated," said Eisenhauer, the executive director of First Things First Porter County, an initiative of the overall Porter County Community Foundation.
The funds must go toward post-secondary education expenses ranging from apprenticeships through institutions of higher learning.
"We know that, when a mom is presented with this opportunity for her baby, symptoms of maternal depression decrease, which is really incredible, and that fits right in with what we are trying to do with our maternal child health initiative," Eisenhauer said.
Initially, the Seeds of Promise funds are held by the foundation as part of a larger strategy, Eisenhauer said.
"We want to encourage families to establish a 529 College Choice savings account," she said. "Families may transfer the funds into their own 529 account starting in kindergarten, and we will work with families to make investing in their child's future as easy as possible."
The funds collect interest, and officials believe the amount can grow to an estimated $325 by high school graduation, Eisenhauer said.
Residents can apply online by supplying only basic information, Eisenhauer said. Providing sensitive information such as Social Security numbers or income levels is not required, which might otherwise dissuade some applicants. Parents have 365 days to apply from a baby's date of birth.
There are no eligibility requirements for Porter County residents, and babies delivered to county residents outside of Porter County remain eligible. So far, eligible residents have delivered babies at nine different facilities from Chicago to Indianapolis, Eisenhauer said.
The program is the result of a gift from Northwest Indiana businessman Bill Jewell. Upon his death in July 2021, $12.5 million was donated to the Porter County Community Foundation, with a direction that some of the money be used toward educational initiatives.
"Mr. Jewell's generosity is a legacy that will transform our community," Eisenhauer said, adding that the funds are set to be there in perpetuity. She said the endowment is set to grow over time.
Eisenhauer said enrollment in Seeds of Promise is increasing every month, noting some parents are not immediately applying for the funds after their child is born.
"We are really pleased that families have a full year to enroll because we know how busy families are after a baby arrives," Eisenhauer said.
Eisenhauer said she and colleagues are trying to spread awareness of the program through "trusted messengers," including local gynecologists, pediatricians and the county's health department.
Recipients include Megan Marshall, who was expecting her second child when she applied.
"It is really cool that they are willing to help me save for future education," said Marshall, a First Things First board member. "I think whether my child goes to a trade school or a four-year undergraduate program, these funds will be available to use, and they will grow over time and that will be an added benefit."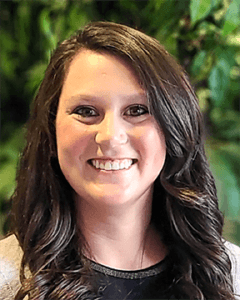 Marshall said, as a financial adviser at CAPTRUST in Chesterton, long-term planning makes sense to her.
Another beneficiary is Yana Pinkhasov, a Porter County resident for about six years. She owns a small pediatric clinic and participates in First Things First meetings when she became aware of the new program. Now she is passing information along about the initiative to her clients.
"I think it reminds you that education is a good thing to start saving for and to think about. It gives you that mindset," Pinkhasov said.
The program is about so much more than money, Eisenhauer said.
"While the dollars are great, the power is the mind shift that occurs for children, families and communities. It leads to a positive sense for our children's collective future," she said. "For some families where college or post-secondary education was never a consideration, this opens possibilities."
Read more stories from the current issue of Northwest Indiana Business Magazine.