Business community works together to persevere during unprecedented crisis

While COVID-19 has impacted every community in Northwest Indiana, taking lives and livelihoods, this crisis also showcased Region resilience. Facing down this unprecedented challenge, Indiana's strong fiscal foundation and top-ranked business climate enables our state to emerge from the storm in once again a position of economic strength.
That's possible because we hunkered down to slow the spread, ensuring our health care system maintained its capacity to provide care to those who need it. We stepped up when social distancing kept us physically apart. Health care workers pulled back-to-back shifts, going way above and beyond to care for the sick. Hoosier companies partnered with our Indiana Economic Development Corp., altering production lines to make personal protective equipment and to deliver supplies needed by the front line.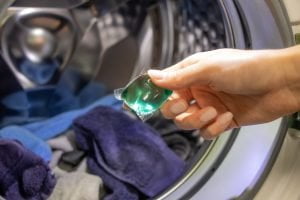 Across Northwest Indiana, businesses led the charge. Among the many answering the call, Merrillville-based MonoSol ramped up production of detergents and dissolvable health care laundry bags supplied to hospitals. They procured N95 masks for health care providers, delivered no-touch thermometers for use by Portage emergency personnel and provided donations to local food pantries.
Prairie Packaging Co. in Kingsbury used their expertise to meet the demand for hand sanitizer and hard surface cleaners, distributing these essential products, and donating critical supplies to La Porte County first responders.
At its La Porte plant, Sterno Products sewed protective cloth masks for workers at hospitals, nursing homes and restaurants, producing more than 3,000 masks per day.
And I'm doubly inspired every day by the way Region neighbors are working together to overcome the challenges this novel virus has thrown our way. Our administration is aligned with and working alongside Hoosiers and their businesses, following a data-driven roadmap to safely reopen Indiana's economy.
In fact, Indiana's Economic Development Corp. is supporting critical relief efforts, assisting businesses impacted by COVID-19, with a toolbox to help Hoosier entrepreneurs grow and get back on track.
The federal Paycheck Protection Program has approved more than 74,000 forgivable loans, totaling more than $9 billion, to help Indiana employers make payroll, thanks to our congressional delegation, led by the dean, Congressman Pete Visclosky himself.
By deploying federal CARES Act funds and assistance secured through the U.S. Small Business Administration, we've allocated almost $44 million in support of small businesses and manufacturers, two key drivers of our local and state economies.
In addition, the IEDC's Economic Activity Stabilization and Enhancement program will use $10 million to support technology and operational advancements in the manufacturing industry.
Leveraging $30 million to aid recovery from the global pandemic, the Indiana Small Business Restart Grant allows hard-hit businesses to get rolling by providing reimbursement for expenses, including rent, lease payments and utilities.
Providing no-cost resources, including financial assistance, counseling and training to businesses impacted by COVID-19, the Indiana Small Business Development Center will deploy almost $3.7 million in additional funding supporting these initiatives.
The IEDC also has secured more than 1.17 million Personal Protective Equipment items for the Indiana State Department of Health to distribute to front-line health care workers. And to protect the health of employees and customers, our Indiana Small Business PPE Marketplace is helping companies with 150 or fewer employees procure the protective equipment they need to safely conduct business. This online hub already has fulfilled 29,000 orders, shipping hand sanitizer, face masks and face shields to companies across our state.
As we've faced these unprecedented demands, Hoosiers across Northwest Indiana have demonstrated incredible patience, perseverance and teamwork. And while this obstacle might have caused some laps to be run under caution, we know the race will be won by finishing strong.
That's why we'll continue to partner with you, doing all we can to support employees and employers who have been affected by COVID-19.
I'm proud to share your commitment to driving growth and economic opportunity right here in the heart of the heartland. From the newest, smallest startup, to the most established industry entrepreneurs, you're the economic innovators and game changers who turbocharge our state's growth.
My mission is to continue with you to build the best growth environment anywhere on earth for every person, business and community to rise. The Region's in the race — and because your engine is roaring — together, we'll lead the way as the century before us unfolds.
Click here to read more from the August-September 2020 issue of Northwest Indiana Business Magazine.