Bill Hanna ready to help community as leader of White Family Foundation
"I had a total of 11 years with the RDA, and prior, I was city manager for the city of Valparaiso with Mayor [Jon] Costas for his full first term and part of his second term," Hanna said. He cites the East Gate Plaza and former County Seat Plaza projects in Valparaiso as two lasting landscape impressions during his time on the Valparaiso mayor's team.
"I like the process of strategic planning and preparing for the future."
Hanna resigned from the Northwest Indiana Regional Development Authority with his final day Feb. 12 to accept his new post, which started Feb. 15, as executive director of the Dean and Barbara White Family Foundation in Merrillville.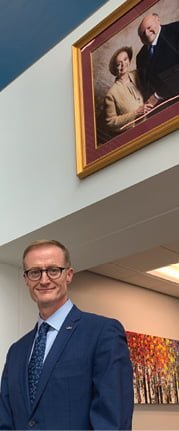 "Bill is a catalyst for progress and good things," said Mike Banas, director of communications and corporate affairs for White Lodging. "On behalf of the Dean and Barbara White Foundation, we're glad to have him in this role."
Established as a private foundation in 1998, the Dean and Barbara White Family Foundation has more than $20 million in assets. It has helped many organizations with contributions to community projects around Northwest Indiana, including the renovation and refurbishing of the Lake County Courthouse in Crown Point. During the past two decades, grants and capital campaign contributions to other organizations have included $2,375,000 to the Crown Point Youth Sports Commission, $250,000 to the Culver Educational Foundation and $250,000 to Crossroads YMCA for an expansion project.
Entrepreneur, billboard and hotel visionary Dean White died in 2016 at age 93, and wife Barbara died in 2018 at age 92. The couple's philanthropic legacy continues with their four children and the White Family Foundation.
"I've known Bruce White and his wife, Beth, for some time with the rest (of the) White Family, and like Dean and Barbara, they continue to be living examples of the importance of dedication to Northwest Indiana communities and organizations, doing what they do with a passion to help others," Hanna said.
"I was honored to be asked if I'd be interested in this new position, and I'm excited to begin the new assignment," Hanna said. "For many years, there'd be occasions I'd be at the Radisson Hotel in Merrillville for a function, and I'd see Dean at the restaurant of the hotel having his breakfast, and I'd stop by his table to say 'hello' and talk with him."
Hanna explained the Dean and Barbara White Foundation has been guided by a board, which includes Dean and Barbara's sons Bruce and Craig.
"My strength and knowledge in strategic planning and looking to how to best benefit for planning for the future is where I see myself to help guide the Dean and Barbara White Family Foundation," Hanna said. "I share the same passion as everyone on this team."
Hanna is pleased with his accomplishments during his 11 years with the RDA and learned from teamwork with the seven board members, including chair Don Fesko, who he described as "a guiding force." Fesko is president and CEO of the Community Foundation of Northwest Indiana Inc.
Hanna said the federal funding for the South Shore double-track project as it advanced with the RDA's influence allows Northwest Indiana to benefit because of its proximity to Chicago.
"Success comes from partnerships with local, state and federal officials, and during my time with the RDA, we saw more than $1 billion in shoreline development projects, including Wolf Lake (Memorial) Park in Hammond, the East Chicago North Harbor redevelopment as shoreline, Whiting Lakefront Park, Marquette Park in Gary and Gateway to the Indiana Dunes in Porter County," Hanna said. "Now, it's time for someone else to continue this rebirth of the RDA with the continued strength of strategic planning for the benefit of communities and the economy."
Click here to read more from the April / May 2021 issue of Northwest Indiana Business Magazine.

Latest posts by Philip Potempa
(see all)