Society of Innovators at Purdue Northwest honors bold thinkers who have devised unique solutions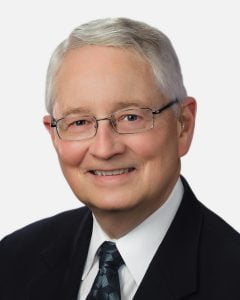 The 2022 honorees for the Society of Innovators at Purdue Northwest are transforming Northwest Indiana one project at a time.
Their contributions were celebrated at an induction luncheon in November. The annual gathering brings together business and community leaders from across the Region to celebrate problem-solving demonstrated by individuals and teams across all industries and backgrounds.
Calvin Bellamy, a retired partner at Krieg DeVault, also was honored with the John H. Davies Lifetime Achievement Award. Bellamy retired from Krieg DeVault in 2019 but continues his legacy of community involvement in numerous organizations.
This year's inductees share their stories of how they arrived at their solutions.
Resources for pandemic parenting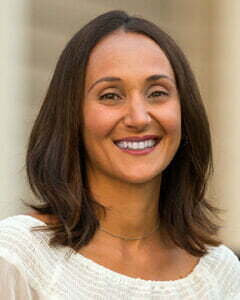 Parenting during the pandemic felt relentless for most parents, without clear guidance about how to mitigate the potential impacts on children's mental health and well-being. In response, psychologists, researchers and mothers, Amanda Zelechoski and Lindsay Malloy launched Pandemic Parenting in August 2020, a digital resource platform and nonprofit organization.
Their mission was to share science-based knowledge, experience and resources with parents and caregivers navigating the COVID-19 pandemic.
According to Zelechoski, professor of psychology and director of clinical training at Purdue University Northwest, the Pandemic Parenting concept is novel.
"To our knowledge, there is no other organization connecting with families through such specialized mental health tools and resources, especially free of charge," she said. "Pandemic Parenting provides a unique and community-oriented approach to help mitigate the stress and other mental health struggles that parents and families have confronted during this challenging time."
Speaking of challenges, Zelechoski said she and the team had to become comfortable with the discomfort of the unknown. They became adept at getting out of their comfort zones and trying new methods of disseminating information.
The result was that they innovated in a way that meets parents and caregivers where they are now.
"We have somehow managed to do so for over 2.5 years, despite the difficulty of launching a new organization, amidst the chaos and disruption of the pandemic, and on a shoestring budget," Zelechoski said.
To date, she said they have reached about 70,000 people from more than 150 countries through podcast episodes, webinars, infographics, social media, blogs and video clips. That number likely is many more with their media appearances.
Healthier candy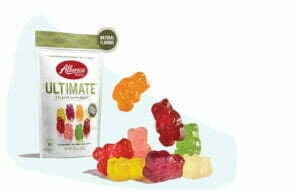 Candy is an American tradition, but not everyone can enjoy it. Dietary restrictions or preferences keep some from the candy jar. Albanese Confectionery wants to change that with the introduction of its Ultimate 8 Flavor Gummi Bears in January 2020. They were 10 years in the making. The line features unique natural flavors and colors made from real fruits, vegetables and superfoods.
Consumers benefit from these gummies, because they have all the desirable trending attributes of natural flavors and colors from real fruits and vegetables. These products are also allergen-free, gluten-free, fat-free, MSG- free, low in sodium and made in the USA. They have quickly become fan favorites.
According to Leslie Simonovski, the company's marketing manager, the outcome was driven to lead the industry while maintaining an unwavering commitment to standards in taste and quality. The results speak for themselves.
"The Ultimate 8 Flavor Gummi Bears really take flavor profiles to the ultimate level," she said. "The variety of unique real fruit flavors give your palate the experience of biting into the actual fruit."
Simonovski said, from the outside skin to the juicy flesh inside, consumers of the treats will leave their "taste buds begging for the next flavor."
Police social worker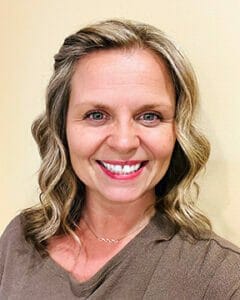 While the idea of advocates and social services working alongside law enforcement is not new, the Griffith Police Department recognized a particular need. They pinpointed a gap between available community resources and individuals who lack basic needs, access to mental health and substance abuse services.
Erica Rios, police social worker, is the driver behind Griffith's approach to harm reduction. She was granted permission in 2016 to complete a graduate-level internship with the Griffith Police Department to conduct a community needs assessment. She was tasked with identifying solutions for the most at-risk populations to lower recidivism and increase long-term outcomes for individuals encountering police.
This work led to a significant milestone when Rios became Indiana's first embedded police social worker when the department hired her in 2018.
"Having a full-time licensed social worker on staff means people are quickly and efficiently referred for services or connected with other agencies," she said. "Community members are offered a more holistic approach to resolve issues and crises, as well as underlying needs."
Rios said the creation of the police social worker position in Griffith helped shed light on a positive collaboration between social work and law enforcement.
"And (it also paved) the way for other departments to implement social workers," she said.
Rios wants to bring this proven approach to other contexts.
"My long-term goal is to educate more first responder agencies on this model to implement social workers in agencies specifically designed to respond to people in crisis and help them return to their lives safely and with dignity," she said.
Fabrics find new life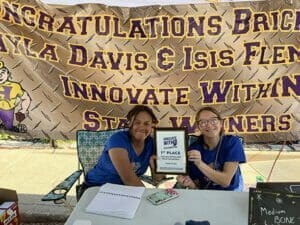 Today's students are more socially conscious — perhaps more now than ever. It's not surprising then that some Hobart High School students developed a solution to help the environment.
Led by Hobart High School educator Daniel Schultz, Patchables is a small business tackling a global problem on a local scale. They take unwanted fabrics that would otherwise end up in landfills and give them new life.
There's also a social factor, which makes Patchables unique.
"They take textile donations and partner with companies to help reduce their textile waste," Schultz said. "They use the wasted materials to produce dog toys."
He said the team, which includes students Isis Fleming and Kayla Davis, already made an impact on Northwest Indiana by partnering with TradeWinds, a Region organization that assists people with disabilities.
"Not only are they helping create jobs for the disabled community, but with their solution, they can eventually get companies with textile operations to 100% efficiency," Schultz said.
Schultz is proud of his student's initiative and their multiple objectives. Patchables' mission is to reduce textile waste, create jobs and give back to the local community.
The team recently made a $1,000 donation to the Humane Society of Hobart.
In Schultz's estimation, the students are the problem-solvers of tomorrow.
"I think they are a good example of tackling a global problem on a local scale," he said. "They also stick very closely to their mission and values, and refuse to trade their values for more profit, which I think is very admirable."
STEM at Munster High School
Mike Wells, Midwest regional director for global nonprofit Cognia, is an innovator at heart. His creative spirit, hard-working attitude and thinking outside-of-the-box approach have benefited thousands of students in Munster.
Many know him as the former principal of Munster High School. He put Northwest Indiana on the map by completing the rigorous process of becoming the first Cognia STEM-certified Indiana school.
While at Munster High School, he created partnerships with Munster Community Hospital, Chicago's Museum of Science and Industry, Purdue University Northwest, Rotary, Munster Chamber of Commerce and many other businesses. The fabrication lab and business incubator are perfect examples of these synergies coming to life.
Munster High School partnered with the Museum of Science and Industry's Fab Lab team to train teachers to implement the belt system. The Fab Lab was an outreach program that started at the Massachusetts Institute of Technology.
The belt system is an integral component of a Fab Lab. In addition, Munster High School designed and implemented a business incubator.
According to Wells, the latter is a true asset to the school for several reasons.
"The incubator partners experts in the business community with students as they create a business model from start to finish," he said. "The coaches and mentors come to the school throughout the year to work with students on the projects they are designing."
Creative placemaking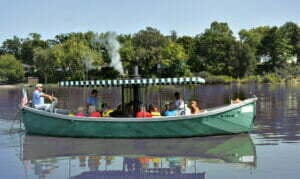 Far too often, local history destinations and museums are venues that only merit a single visit. The Cedar Lake Historical Association and Hesston Steam Museum are volunteer-operated, nonprofit corporations that have innovated to become attractions that drive economic impact for their communities.
Together, using a tourism attraction mindset, they tapped into an underserved market that helps residents and tourists experience Cedar Lake to the fullest. Today, a new community placemaking pier extends more than 200 feet into the waters of Cedar Lake and serves as the welcome mat to unite pedestrians and boaters.
"For the first time in 80 years, the public had the opportunity to similarly experience the lake as they did when Lassen's Resort was a thriving summer destination," said Julie Zasada, executive director of the Cedar Lake Historical Association. "An observation deck with benches welcomes foot traffic; public slips welcome boaters; and steamboat rides take guests onto the water to see how the town looks different from the lake while teaching the science of steam power and resort-era history."
Zasada this project was possible through collaboration between the association, the museum and other key partners — including the Indiana Department of Natural Resources — and countless volunteer hours.
Ultimately, this project illustrates a key truth: Innovation isn't limited to people in lab coats.
"An entrepreneurial spirit is alive within the nonprofit sector, and history attractions have the power to impact lives," she said.
Overcoming barriers to access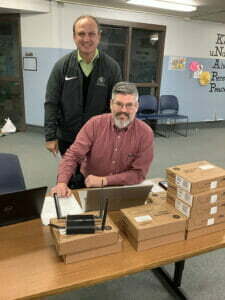 Today, the internet is a necessity not a luxury for 21st-century education. Six years into an initiative offering a Chromebook to every student, Michigan City Area Schools had a documented need to find a way to connect its 5,200 students to the internet at home.
"MCAS is in a unique circumstance in owning its own fiber that connected all the school buildings across the district," said Kevin McGuire, the chief financial officer and director of technology at Michigan City Area Schools. "In January 2020, before the pandemic, MCAS reached out to (Naperville, Illinois-based NEO Network Development) to design and build a wireless network that all students could connect to."
He said, for the first time then, MCAS administration began to visualize a community where all students had access to the internet with a device provided by the school district.
However, the pandemic threw a wrench in that plan but also underlined the need for installing the network's infrastructure.
While all K-12 MCAS students had devices, many had limited access to do homework or communicate with teachers. According to McGuire, almost 450 households requested a cellular hotspot for home use during the pandemic.
That represented almost 1,100 students who did not have reliable internet access at home, according to MCAS estimates.
But thanks to a timely $600,000 state grant, MCAS received the necessary funds to build its wireless network.
That network is in use today and serves as a template for other districts across the country to connect their students to their schools.
"This network proves there are ways to fill those gaps," he said. "This network is not intended to compete with the big carriers, it isn't intended to offer gigabytes worth of broadband, but it can connect individuals or families with a need, students or elderly a small pipe to the internet."
Michigan City Area Schools also was chosen to receive the Richard C. Sussman Prize for Team Innovation. One team is selected each year from the inductees to receive the prize. The award honors the late Richard C. Sussman, former chairman of the Society of Innovators and leader of the Research Laboratory at ArcelorMittal East Chicago.
Click here to read more from the December-January 2023 issue of Northwest Indiana Business Magazine.