Innovative startups get off the ground with plenty of help from regional resources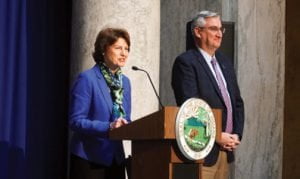 Northwest Indiana is known for manufacturing factories that employ tens of thousands. A closer look reveals that small businesses are the bedrock, locally and statewide.
According to the U.S. Small Business Administration, more than 99 percent of Indiana businesses are classified as small business. There are 508,924 small businesses in the state, including 61,000 that are minority owned. They employ 1.2 million people or 45 percent of the state's workers. Those companies also added more than 33,000 new employees to the payrolls in 2018.
The Region is home to many resources that help transform ideas into action. Sometimes referred to as the best kept secret in Northwest Indiana, small business resources are available to assist entrepreneurs and fledgling businesses launch their ideas and fly high.
Help available from the state
The Indiana Economic Development Corp. and its programs and partnerships are designed to support innovators and entrepreneurs from startup to scale up. This includes free business planning and consultation through the Indiana Small Business Development Center, startup advisement services and venture capital from Elevate Ventures, assistance identifying and securing innovation-focused grant dollars through the Indiana Procurement Technical Assistance Center, and traditional IEDC incentives to support job creation and workforce training.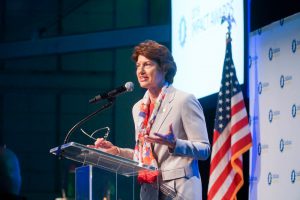 "Small businesses are a crucial piece of Indiana's economy, so as the economy evolves, we're staying ahead of the game by fostering an ecosystem in Indiana where big ideas and bold ventures can flourish," explained Elaine Bedel, president of the IEDC. "From technology commercialization to accelerating startups, we're committing to initiatives that will support long-term, self-sustaining innovation and economic success."
In 2018, the Indiana SBDC celebrated a record-breaking year, assisting in 318 new business starts, almost $98 million of capital infusion and the creation of 1,265 new Hoosier jobs.
"In the years ahead, the Indiana SBDC, together with its 10 regional offices, is committed to strengthening partnerships, growing and diversifying its client base and increasing statewide efforts to support small businesses and build on Indiana's economic success," Bedel said. "Programs like the Indiana SBDC are crucial to these efforts, providing support and resources for Hoosier entrepreneurs and small business owners across the state that are in turn fueling Indiana's economy and creating quality jobs."
One of those 10 regional offices, in Crown Point, focuses on helping Region startups.

"Our goal is to help bring your innovation to market," said Lorri Feldt, regional director of the Northwest Indiana SBDC. "That includes new startups and existing businesses that have innovative ideas to expand."
She said her organization is dedicated to helping a business at every stage.
Feldt and her team believe the diversity of businesses in the Region provide limitless opportunity.
"We have manufacturers that need hundreds of supporting businesses to provide valuable components," she said. "Then we also have hundreds of businesses that provide valuable support in many other venues, such as entertainment, food services and the arts."
One function of the regional SBDC arm is the role of the devil's advocate.
"We ask a lot of questions related to marketing and strategy," Feldt said. "What or who is your market? Is it crowded or new? How will you stand out? Is your idea viable? Will it be easy to find employees with the right skill-set?"
Helping entrepreneurs work through a solid business plan, whether it's from scratch or refining an existing one, is paramount.
"One service we provide is to help you create a sustainable business plan," she said. "We offer a wide variety of planning tools to help develop business plans."
Market research aid is a critical service that's provided at no cost.
"Small business owners can access our market research databases to find the information they need to know about the industry," Feldt said. "That includes market trends, best practices and much more. It's a service that's very valuable to determine the viability of your idea."
From the research, entrepreneurs can develop actual marketing plans.
"We strongly encourage businesses to adopt a digital marketing strategy," Feldt said. "Pictures are really worth a thousand words, and a strong social media presence is very valuable."
Funding a new idea can be daunting. The regional SBDC helps through multiple sources, beginning with the SBA.
"The federal program has funds available to help business start or grow," Feldt said. "We also have access to local resource partners who are interested in investing in new, local businesses."
Developing distribution channels is another service that Feldt's team offers.
"We have expertise in helping create a solid channel that include raw materials and finished products," she said. "We can also help move product interstate and intrastate."
Exporting is another area where SBDC also can assist, Feldt said.
In 2018, the NW Indiana SBDC office served more than 500 clients and helped launch 54 new businesses.
It also advised clients who raised more than $12 million in capital funding.
"So far in 2019, we have exceeded last year's numbers," Feldt said. "Small businesses are at an all-time high here in Northwest Indiana, and we're proud to be part of that growth."
New business casts wide net
Rob and Leslee McGowan have always shared an entrepreneurial spirit and passion for being their own bosses. After moving back to the Region in 2005, they searched for an opportunity to match their small business desire with a food-oriented venture.
McGowan and Sons opened for business May 21. It's a daily fresh seafood market and deli featuring meal planning packs for home cooking, gourmet cooking classes, complementary soups and salads made from scratch, catering and an event center.
"Rob has been a chef at heart for over 20 years," Leslee McGowan said. "The work we did with the regional small business development center helped make our dream a reality. Sounds cliché, but it's true."
The McGowan's learned about the SBDC through the Valparaiso Chamber of Commerce. When they were ready to flesh out their dream, they contacted Feldt and her team.
"We had a business plan written up," Leslee McGowan said. "We saw the opportunity for a seafood place in Valparaiso, and we knew we wanted to be home at night."
The SBDC provided the McGowans with several resources, which helped them realize it could work.
The McGowans went through a business modeling program, researched financing options, acquired marketing research for the area, and even found a perfect location — all through the regional SBDC office.
"Those resources were provided to us by an organization dedicated to helping startups in the state," Leslee McGowan said. "If you had to pay a consultant for those services, it would be a significant investment. That would be a show-stopper for many entrepreneurs who are operating on a shoestring budget."
One example was the traffic report chapter of the market research. Another was the age demographics showing where potential customers were located.
"Those reports confirmed many of our upfront strategies," Leslee McGowan said. "We felt much more confident in going forward because of the valuable data provided by Lorri and her team."
McGowan and Sons' first six months in business has exceeded the family's expectations. The deli and market portion of the business provided a steady stream of income, while the catering and event center created opportunities for long-term growth.
The fish and seafood meals are becoming popular in Valparaiso and the surrounding communities, the McGowans said.
Repeat business proves value
Steve Burke came across the NW Indiana SBDC while searching online for small business help.
"I discovered their website and read up on how they help startups get started," Burke said. "I decided to give them a call and see what I could learn."
What he learned still amazes him today. Interested in a distributorship with Lokring Technology, Burke was in search of help with financing. What he found with the regional SBDC was assistance with every step of the business process.
"We began with discussions about financing options," Burke said. "They helped connect me with a veterans' program that helped vets who wanted to start a business."
An Army veteran, Burke found his financing. He then worked with team members from the Crown Point office on customer relations management software, digital marketing and networking, and budget analysis software.
"I had no idea that these resources were available from our state for no cost," Burke said. "Everyone thinking about starting a business should touch base with them. There is so much expertise available."
Burke earned the 2019 Small Business Impact Award and credits the team at NWI SBDC for the honor. He is starting up two additional businesses, one that his wife, Sandy, will manage.
"I already scheduled meetings with Lorri and her team to discuss my ideas and get their valuable input," he said. "They help make starting a business so much smoother."
A breeding ground for innovation

Mont Handley is the associate director of the Commercialization and Manufacturing Excellence Center at Purdue University Northwest.
"It's critical that we establish Northwest Indiana as a breeding ground for innovation," he said. "The manufacturing environment results in dozens of new ideas every year on how to do things better and easier. We have to encourage those who create."
Handley created PittMoss, a soil amendment and peat moss replacement. He was in Pittsburg at the time and found the entrepreneurship environment that helped take his product to market. Now, he focuses his energy on creating that same environment here in Northwest Indiana.
Through the efforts of Purdue's center, innovators can test their prowess.
"We have grad and undergrad students that help build out ideas and test them in our lab," Handley said. "Creators can fine-tune their work as they determine the best practices to get to market."
Using a six-step approach, the center helps innovators take ideas to fruition. One step involves 1 Million Cups, a network of local entrepreneurs.
"Many creators need to refine their sales skills," Handley said. "At 1 Million Cups, they learn how to make a presentation designed to attract investors."
Purdue Northwest recently bolstered the local innovation economy through a $386,000 grant from the U.S. Economic Development Administration.
"Our goal is to foster advanced manufacturing related to entrepreneurship and workforce development," Handley said.
Click here to read more from the Dec-Jan 2019 issue of Northwest Indiana Business Magazine.