Youths benefit from planning and participating in event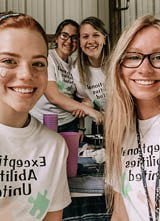 By Sol Estrada and Adriana Cattan
SLYCE is a program that brings high school students together from around the Region and focuses on improving their leadership abilities.
The Southshore Leadership Youth for Community Engagement program consists of hearing from speakers who work in impactful fields within the Region. Speakers talk about their fields and why they are important. It also involves planning and hosting an event of our choosing that would impact the Region.
We learned about the Region's economy, educational system, environment and diversity.
Hearing the speakers helped us learn about our Region and what committee we might want to be on to plan our event. First, as a group, we decided that our event should focus on those with special needs within our communities. Then, we split into different committees such as finance, marketing, program and others. As a group, we were given responsibilities.
It took a lot of hard work and effort to get our event organized. Some of the hardest tasks were making small decisions that made a big impact. We were responsible for planning the food, tables, games, tickets and every small detail of the event. As a group, we had to work together, even at the last second.
Overall, SLYCE helped all of us hone our leadership abilities and come together to help those in our community.
For our event, the group decided on a program to celebrate those with special needs. This event, later named "Special Abilities United," took place June 9 at Sunset Hill Farm in Valparaiso. It consisted of games and activities. All SLYCE members were responsible for tickets, games or concessions. We were able to interact with others and provide a pleasant experience for all who attended.
"Special Abilities United" was a success, especially for those who helped put it together. After months of coming together and planning, we were able to turn an idea into a reality. About 80 people attended the event. It was great seeing our hard work come to life. Being able to put on the event showed each of us what hard work could get done.
Our project goal for SLYCE was to help those with special needs and give back by contributing to school funding. We chose the programs Young Adults Really Care (YARC) and the Special Education Learning Facility (SELF) in Valparaiso.
YARC is a club run by Andrean High School students. It is a program that continues to grow. In YARC, we celebrate holidays with those who have special abilities.
Halloween is the first party of the year; everyone dresses up in costumes. The students help decorate pumpkins and mummy wrap. We also take our guest students trick-or-treating around our school. It is an experience that is breathtaking to see because they get so excited.
The next party is Christmas, which is where we have Santa come, and they all get to meet him. The last party we have is Easter, and we hide Easter eggs around our school for our guest students to find. It is truly a good feeling when you see them so happy and excited.
SELF was the other program we chose to donate some of the money we raised. SELF is a school run by Porter County Education Services for those who need extra attention so they can be successful. Our SLYCE class thought this program was a good way to contribute to education at a school.
I can say, for all of us, it was an honor to be chosen to help with this project.
Sol Estrada and Adriana Cattan were juniors at Andrean High School in Merrillville when they took part in the SLYCE program during the 2017-18 school year. They will be entering their senior year this fall.
Click here to read more from the Aug-Sep-2018 issue of Northwest Indiana Business Magazine.