A fast rebuild for the IU Northwest women's basketball program.
By Ben Smith
History and home. That's what Nicki Monahan saw when Ryan Shelton came calling.
She was a basketball star at Portage High School who was a self-professed "family kind of gal" and so, when she was recruited by Shelton, the women's basketball coach at Indiana University Northwest (IUN)–12 miles down the road–the appeal was obvious. She'd get to play in front of her family and friends for four years–and she'd get to do it in a program that had some weighty history to throw around.
Conference titles. Twenty winning seasons. A fistful of all-conference and NAIA All-American players.
"I wanted a program that was gonna be successful," says Monahan, now a senior guard who's started all 92 games in her career and stands second all-time in career points (1,577).
History and home. And yet … there is history, and then there is history.
The latter begins on an autumn day in 2007, not long after the women's basketball coach was let go and IUN came to Shelton to take on a seemingly hopeless task. The women's team, if you could call it that, consisted of one eligible player. Ahead lay a 24-game schedule larded with nationally ranked opponents.
Fast-forward a few weeks. Practice had just ended for the day. Shelton had somehow managed to find four more players by calling every female student on campus who had even a passing interest in athletics–not just basketball, but any sport. He knew how full his hands were.
And so, looking at his five players that day, he threw his hands up.
"I actually looked at the girls and said, 'I really don't think you guys should do it,'" he recalls.
There was an awkward silence for a few moments. Finally one player–a nursing student from Hammond named Erica Baran–spoke.
"Coach, will you just let us try?" she said.
"The first thought that popped into my mind was, 'Looks like we're playin'," Shelton says. "Because what are you gonna say to that?"
You could say the season was every bit the disaster Shelton imagined. The RedHawks went 0-24 and lost games by 30, 40, 70 points. One game they lost by 100.
But here's what else you can say, nine years along: humble beginnings are only that. Beginnings.
By the next season, Shelton had a full complement of players. One of them would emerge as perhaps the best NAIA player in the country–Sharon Houston–who went on to be a four-time NAIA All-American.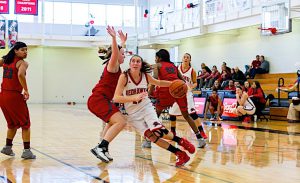 "I like to think because of our perseverance of getting through that first year that the basketball gods helped us get the best player in the country," Shelton says. "Regardless of how much work I put into it, we had the best player in the country for the next four years, and that helped us build the program and gave us credibility."
It all happened in a blinding flash. That second season, IUN went from 24 losses to 20 wins. Back-to-back Association of Independent Institutions (AII) tournament titles in 2010 and 2011 followed. And in 2011-12, IUN won 16 straight games and beat Chicago State, an NCAA Division I school.
This season, the RedHawks return four starters from a team that went 22-10 in 2015-16. They've posted winning seasons seven of the last eight years. In the same span, they've won at least 20 games five times.
"That first year, I wasn't trying to build a program. I was just trying to get through a season," Shelton recalls.
And now?
"I want to keep doing it as long as we're having fun, have great people academically on our team and be competitive for conference championships each and every year," he says. "That's kind of what keeps me going."