J's Breakfast Club owner committed to building community with Midtown location in Gary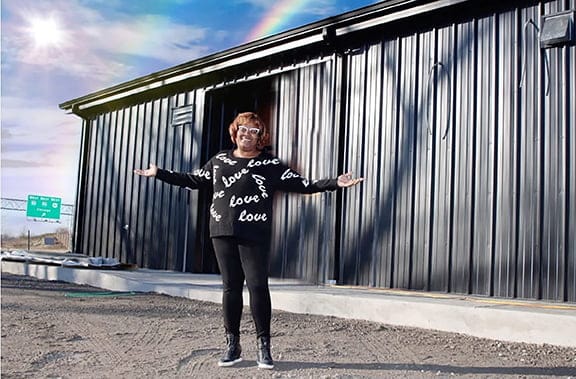 Joslyn Kelly has reason to smile these days.
Her J's Breakfast Club restaurant in Gary is a smash hit, serving breakfast with a "soulful" flair, she says.
"You can get all your traditional stuff like a skillet or omelet, pancakes, French toast. But then when we add the soulful flair; our No. 1 sellers are shrimp and grits, chicken and waffles, salmon croquette. You can get pork chops and catfish for breakfast," Kelly said. "We don't offer mimosas, but we do offer J'mosas!"
J's Breakfast Club represents years of hard work, planning and a commitment to the community.
With financing assistance from the Community Investment Fund of Indiana, the $1.5 million building opened in early February. It replaced Kelly's original location less a mile to the south on Broadway in Gary, where J's had been for seven years.
The new building sits in Gary's Midtown neighborhood at 26th Avenue and Broadway, an area that has never been commercially developed despite its convenience. But J's takes advantage of Broadway's location off busy Interstate 94 and the Calumet River, the dividing line between Midtown and Gary's Glen Park neighborhoods.
The location of her new building is significant for another reason.
"Historically, this is where people of color lived," Kelly said of the days before the 1960s when racism restricted Black people to one area of the city. "History says that because of the Calumet River, you weren't allowed south."
The corner of 26th and Broadway is where bus stops once took Black residents to jobs. "This is one of the very few places where there were bus stops in this community where people were allowed to get on the buses and transported to the different areas to work," Kelly said.
The land then was owned by the Gary Public Transportation District.
"I'm excited because we had been gifted this space not only to build on it and create this wonderful business, but now we have the opportunity to transport people, not physically but mentally, into the possibilities that exist."
Kelly also uses her restaurant for networking and educating the public about financial literacy and estate planning. She established the This Is Gary Foundation to highlight the city's history, people and culture.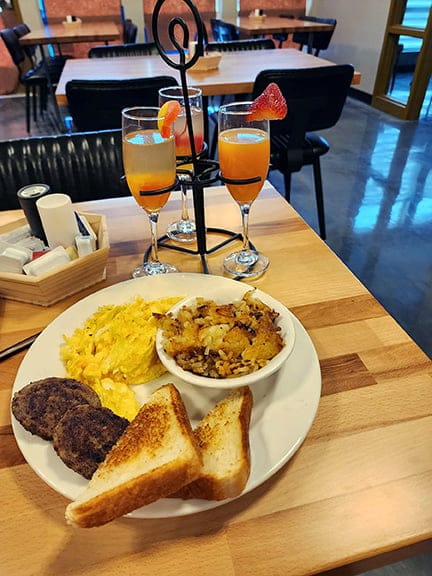 Kelly earned a bachelor's degree in economics from Spelman College in Atlanta and an MBA from the Keller School of Management from DeVry University. She spent much of her career in community banking. But she says hospitality, entertainment and food always brought her joy.
"I spent 20 years in banking working with small businesses," Kelly said. "It was only natural for me to do what I've done for others and do it for myself."
Kelly said her parents were her first instructors in hospitality. Jesse and Rosie Washington were from Alabama.
"My first training in customer service was at home. If you were ever able to walk through my parents' door, you're going be fed, and they are going to be hospitable," Kelly said. "My dad was an entrepreneur by heart. He loved to cook."
Kelly operated or owned other restaurants in Gary before J's Breakfast Club. She even credits her time working for McDonald's as a teen for her love of customer service and food.
She says the restaurant isn't exactly named just after her but also for her father (Jesse), brother (Jesse), her late son (Jalyn) and her husband (James).
"Of course, my name is Joslyn. I love all things J. One of my customers reminded me that the most important J is Jesus," she said. "The mission here is inspiring positivity through love."
Her father, Jesse, died shortly after the new restaurant opened but was there to see his daughter's dream come true.
"She's a visionary, and she's been like that since she was a little girl," Rosie Washington said of her daughter. "She has always been a child who thought she knew what she wanted."
One recent morning, Gary resident Tammy Barnes visited the restaurant with a friend for the first time.
"This is awesome! We need stuff like this," Barnes said. "This is so pleasant and comfortable."
Kelly referenced a 2014 study by the University of Chicago that showed $200 million leaves Gary every year because there aren't enough businesses to spend those dollars at, with $47 million in out-of-the-city restaurant spending alone.
"People want a nice place within their community. They want to support their community, and they want quality food and a quality experience," Kelly said. "A lot of people are overlooking the opportunities here but, for whatever reason, God directed me here to engage and build on that opportunity."
Read more stories from the current issue of Northwest Indiana Business Magazine.