Expansion of logistics, manufacturing paints bright future for commercial development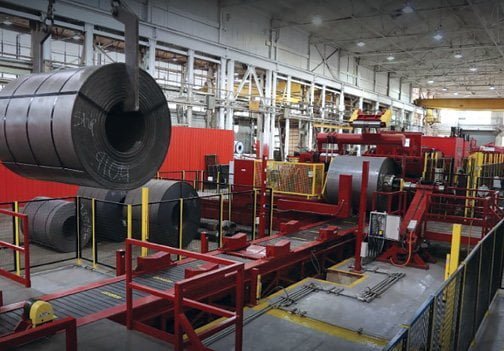 In recent months, vacant land in Northwest Indiana near desirable commercial locations has not remained that way very long.
Despite nationwide economic stagnation, the Region's commercial real estate boom appears poised to continue in the months ahead, experts say. Several mixed-use developments are under construction in many communities, including Valparaiso, La Porte, Whiting and Portage.
The anticipated growth is having a ripple effect, driving investments in infrastructure, too, experts say. Case in point: The South Shore Line's $764 million West Lake Corridor project is expected to create a faster, more cost-effective and more reliable form of transportation to Chicago.
Economic development and community leaders agree the future looks bright for commercial real estate development in Northwest Indiana.
Major milestones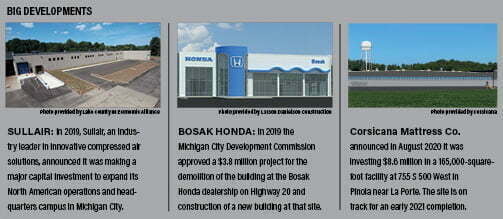 Matt Saltanovitz, director of northwest region business development at the Indiana Economic Development Corp., is not surprised by the recent spike in activity in the commercial market.
"During a time of tremendous uncertainty, Northwest Indiana continues to secure positive economic momentum as businesses across the U.S. and around the world leverage our state's pro-growth business climate and our Region's skilled workforce and close proximity to major markets to fuel their success," he said.
He cited specific examples of companies driving growth. In 2020 alone, firms, including Ekos Window + Wall, Corsicana Mattress Co. and Mesa Associates, chose Northwest Indiana to locate or expand their operations, while Midwest Truck & Auto Parts and Alliance Steel celebrated major milestones.
Midwest Truck broke ground in October on a new 125,000-square-foot facility in Merrillville at the AmeriPlex at the Crossroads business park. The company plans to hire up to 100 people.
Alliance Steel relocated its corporate headquarters and opened a new, state-of-the-art service center in Gary, which will employ up to 130 workers.
Pro-business climate
This trend comes in the context of bigger-picture growth, according to representatives at the Lake County IN Economic Alliance. Established in 2013, LCEA is an independent 501c3 nonprofit, nonpartisan economic development organization for Lake County and its 18 communities.

"The cost of doing business compared to our neighbors is less when you look at the tax climate," said Don Koliboski, vice president of economic development. "The property tax cap means we have tax certainty, (and) for companies that are looking to do business (here), they find that attractive, because you know what your tax bill is going to be from year to year."
When comparing Indiana to Illinois, which is experiencing a budget deficit and revenue problems, elected officials there likely will either explore tax hikes or spending to address cash shortfalls. Indiana ranked ninth as a best tax environment in the U.S. based on the 2018 State Business Tax Index by the Tax Foundation.
Koliboski said an unpredictable tax climate might be a deterrent to companies looking to locate or relocate operations in a particular location.
Location, location, location

Karen Lauerman, LCEA president and CEO, described the commercial real estate market in the Chicagoland area as "tight."
"Now granted the south suburbs like Joliet and areas like southeast Wisconsin have land availability, but they don't have the proximity that we do to Chicago," she said. "And so, with land being tight, the next best location would be what we call the eastern suburb of Chicago, which is Lake County (Indiana) and adjacent counties, so you're looking at all of the benefits of being in the Chicagoland market, without being in Illinois."
Real estate developers are riding this wave, too, she said. They recognize desirable land for commercial development is in short supply and want to stay ahead of the curve.
Lauerman said developers try to plan ahead.
"So, we have more developers from either national or Midwest firms working in Lake County now than we've had probably in the last six years," she said. "They're taking a look at Lake County in particular, because we are the closest to Chicago."
Distribution brings opportunity
E-commerce also is an essential part of the supply chain. Lauerman said no doubt the pandemic changed the way people shopped, and consumer numbers reflect that trend.
"According to the Department of Commerce, online sales soared a record 44.4% in the second quarter of 2020," she said. When you break it down, that means almost $1 of every $5 is spent online.
But there is more to this statistic.
"You're talking about an e-commerce supply chain, which is equally important when you're talking about business-to-business or traditional retailers expanding their online presence," Lauerman said. "And it's not just the e-commerce side, but other businesses and manufacturers are all becoming more confident in their outlook with vaccines on the horizon and then, of course, you've got the suppliers of packaging and other services that support the e-commerce retailers (added to the mix)."
Parcel delivery giant UPS's decision to set up shop at the Gary/Chicago International Airport points to this, according to the Northwestern Indiana Regional Planning Commission.
"UPS is expanding its express air network to Gary/Chicago International Airport to help businesses in Northwest Indiana and the Chicago area successfully position themselves in the fast-paced e-commerce market," the agency said. "In addition, UPS is leasing 14,000 square feet of office space in the Gary-Chicago airport's passenger terminal."

Michael O'Connor, vice president of development and leasing with South Bend-based Holladay Properties, said sectors such as logistics and distribution and businesses seeking to support those companies want to cluster together.
"I think a lot of the activity is driven by changes or new activity, new volume in distribution, in both post-consumer products and business distribution," he said. "This is really driving a lot of the activity that we're seeing, (and) there's changes in how we are acquiring goods, and therefore, the way goods are distributed."
At a crossroads of activity
O'Connor said his firm has benefited from this momentum. For example, AmeriPlex at the Crossroads in Merrillville is a hot commodity. Located near Route 30 close to the Indiana-Illinois border, the complex spans about 350 acres.
O'Connor said wins like Midwest Truck & Auto Parts are just the beginning.
"There's additional activity at AmeriPlex at the Crossroads for users acquiring land sites," he said. "We've got a 35-acre site under contract for a distribution business, (and) we've got a contract for about 50 acres for a pharmaceutical business."
O'Connor said an existing building owned by the town of Merrillville (in the business park) is in the process of being sold.
"So, there's just quite a bit of activity in Merrillville," he said.
O'Connor is also bullish on the long-term forecast for the Region, noting that the boom should last for some time.
"I think that the investment being made in improving the South Shore Line service to Chicago will have a big impact," he said. "They're going to add capacity so that the speed of the trains and the frequency would also increase, making it more viable for people to commute, and I think that's going to be a real plus."
A strong post-pandemic economy

Terry Larson, secretary/treasurer with Larson-Danielson Construction Co. Inc. in La Porte said Northwest Indiana is gaining attention from outside the state.
"We have seen more interest this year than ever before from Illinois companies looking to move operations to Northwest Indiana," he said. "Not only is our tax and regulatory environment much friendlier to business, but many point to the quality of life in Northwest Indiana as a draw as well."
And much to the benefit of Larson's firm, he said historically low interest rates are motivating companies to make moves. He also cited projections that bode well for his portfolio of clients.
"Despite the economic impact of the pandemic and the uncertainties it has created with the economy in 2020, indications are economic conditions will strengthen in the second half of 2021 and continue to strengthen in 2022," he said. "The financing and tax advantages currently available are helping many companies position themselves for a strong post-pandemic economy that is expected to develop starting late next year."
Michigan City flourishing

If 2020 is any indication of the future, Michigan City may be in for another robust year.
Clarence Hulse, executive director of the Economic Development Corp. of Michigan City, Indiana, reflected on 2020 — and beyond. At the current rate, he said the boom could continue well into 2023.
"In terms of projects, we've had a very good year, almost like a regular year," he said. "We started off with a bang — one relocation and a hundred jobs, more or less, and by the end of the year, we had another relocation bringing 120 jobs."
Hulse said Michigan City saw several business expansions in 2020, and various projects in the downtown area and southern section of the city, including "shops, restaurants, medical clinics, a grocery store, etc."
"So, from that perspective, 2020 blew our expectations in terms of investment," he said. Breaking that down into economic impact, Hulse said that translates to $40 million in deals and more than 500 new jobs in Michigan City in 2020.
Capitalizing on existing assets will help the city's boom continue, Hulse said.
"We've always had great assets," he said. "We've got a great lakefront, casino and hotel, and so I think by repackaging and marketing those assets and getting the word out to people, that's going to generate a lot of interest."
Click here to read more from the February / March 2021 issue of Northwest Indiana Business Magazine.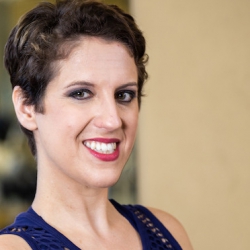 Latest posts by Lauren Caggiano
(see all)