Add jobs during and after construction
Prominence at Promenade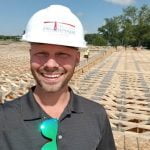 After five years of planning, Drew Mitchell, vice president of development at Holladay Properties, is excited to see the $40 million investment in the Promenade at Founders Square in Portage begin to take shape. The residential /retail facility will circle three sides of Founders Square Park once completed. The company purchased approximately 20 acres from the city's Redevelopment Commission for the project.
"It took us quite a while to acquire all of the various properties needed," Mitchell explains. "While we assembled the land, we worked with the City Council and various boards to finalize a plan that will provide the city exactly what they envision."
That vision includes more than 16,000 square feet of unique, niche retail shops, 500 luxury apartments designed to attract millennials and empty nesters, and amenities such as a cyber café and fitness studio.
"The upper floors will have upscale apartments for those who desire the city life," he says. "These residences will include granite counters, open concepts and many exquisite touches usually seen in much larger cities."
The first phase will include five buildings located north of Main Street, south of the Indiana Toll Road, east of the Little League fields and west of Hamstrom Road. This phase will also include a community room, an art studio and a facility for elderly residents who may need assistance.
"It's important to include the types of amenities that attract people to want to live here," Mitchell says. "We have conducted extensive research and feel we have made some excellent choices in that regard."
Apartment models, which will include everything from studios with one bath to three bedrooms with two baths, will be available to view next spring. The first phase is scheduled for completion in the summer. The second phase will add four buildings and construction will begin as soon as phase one is complete.
Commercial development will include restaurants, retail, boutiques, offices, medical facilities and assorted amenities on the first floor of the five buildings, according to Mitchell.
"Two restaurants have committed to the project," Mitchell says. "We cannot release the names yet, but soon."
Expanding and developing the area around Founders Square has been a high priority for city officials as they work on different ways to attract various age groups to Portage.
Town on the Ridge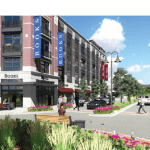 Planning Director Tom Vander Woude says the development of Centennial Village is a precedent for the evolution of the Town of Munster.
"The concept of mixed-use neighborhoods is very popular," Vander Woude explains. "With unique retail shops on the first floor of each building and condominiums on the top three levels, Centennial Village with be a community within a community."
Munster has placed an emphasis on developing walkable communities, a highly desired amenity for those looking to call Northwest Indiana home.
"Residents are drawn to a neighborhood where they can walk to various shops, boutiques and restaurants," Vander Woude says. "These walkable communities establish a sense of place, where residents feel they belong. That's very high on everyone's wish list."
Centennial Village, located on the corner of 45th Street and Calumet Avenue, will eventually contain an upscale hotel with 99 rooms and extensive amenities, a Japanese steak house called Kitaro and dozens of niche shops not found in big box malls. Groundbreaking on the first two buildings took place in late spring. Those first two buildings will house four restaurants—two each—and many attractive retail shops.
"We have the opportunity to create a community where residents can shop and eat locally, then commute to Chicago and its suburbs for work," Vander Woude says. "And all of this will be close to bicycle and walking paths."
Dustin Anderson, town manager, says, "We have a strong school system that attracts young families to Munster. Our low crime rate helps mature homeowners feel comfortable and safe. New neighborhoods that emphasize walkability, like Centennial Village, will create a very desirable town."
Proof of that statement lies in the fact that dozens of condominiums in Centennial Village have already been sold, even though construction is ongoing.
Anderson adds that Centennial Village will eventually include 15 buildings on its 15 acres. Six of the buildings will be four stories high, with residential components on the top three floors.
"Current and potential residents have been very receptive to our plans," Anderson says. "That feedback tells us we're on the right track."
Speaking of tracks, the town is working with regional partners to build an underpass beneath the Canadian National Rail tracks that cross Calumet Avenue. Once that project is complete, 45th Street east of Calumet Avenue will be realigned to reduce congestion at the Centennial Village site.
One-stop shop for businesses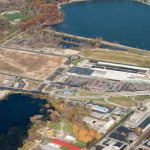 The Greater LaPorte Economic Development Corporation (GLEDC) provides prospect and project development, coordination, retention and expansion services. In that regard, they teamed with Holladay Properties to redevelop NewPorte Landing.
The project includes the redevelopment of 50 acres along Clear Lake in the heart of La Porte. Twenty acres are now shovel-ready, according to Micka. The current plan is to build spec and custom retail buildings of 8,000 to 10,000 square feet in 2018.
"This project has been a long time unfolding," explains Mike Micka, vice president of development for Holladay. "We began in 2013. Some of the land includes the old Allis Chalmers factory. We had a lot of preparation to make the land reusable.
"We worked with the state and federal EPA divisions to clean past issues. But, we're finally gaining steam."
Micka explains that Holladay is the master developer for the property, and they work in tandem with GLEDC on the vision.
"What both sides envision is a focus on retail and mixed-use development," says Micka. "We want this project to complement the downtown area, not steal from it. We're focused on bringing new business to La Porte, not move everything from downtown. It's a balancing act.
"We can accommodate small, unique shops within each building. Many small boutiques that will be about 1,500 square feet are discussing spots at NewPorte. "
A 50,000-square-foot sports complex that will focus on youth and adult volleyball will be built at NewPorte Landing, according to an August 7 town press release. The Dunes Event Center will be designed to draw teams and spectators to La Porte for tournaments. Eventually, the complex will include batting cages, basketball courts, soccer fields and event space.
"Part of the vision is to create destinations within the city," Micka explains. "When players and families come out for a tournament, we hope they will stay overnight, eat and shop locally, and learn what a wonderful community La Porte is."
In addition to Holladay's plans for the 20 shovel-ready acres, Dunkin' Donuts opened in 2015 at the Landing, and Starbucks purchased a parcel to develop next year. Holladay is in negotiations with two larger restaurants, although Micka says it's too early to release names.
Holladay will own and lease the land and buildings.
"We have a history of being a long-term owner," he says. "That's beneficial to tenants, because we will understand the history of NewPorte Landing, and we'll be able to adapt as needs change over time."
Industrial growth in South Bend
Not all of the local land development is retail and residential. In the South Bend area, Great Lakes Capital is making news with industrial growth.
The real estate developer and private equity firm recently signed a lease with Communications Test Design, Inc (CTDI) for a 315,000 square-foot building. This will be the first development north of Adams Road just off I-90 in Phase II of the Portage Prairie Industrial Park.
"This is a prime national distribution and shipping location," says Jeff Smoke, director of development for Great Lakes Capital. "Logistically, this area is convenient for many regional and national freight companies, due to its proximity to the toll road, U.S. 31, I-94 and several local airports."
CTDI is a global engineering, repair and logistics company in the communications sector. They've had a location in South Bend for more than 28 years, and had outgrown their current location.
"This is a big win for the South Bend area," says Smoke. "When CTDI outgrew their space, they could have looked elsewhere. But they wanted to stay in the area for several reasons. Together, we worked with them and the city officials to make this a happy move."
Breaking ground on the 119-acre site occurred in June. The plan is for CTDI to take occupancy in February 2018.
Meanwhile, Great Lakes Capital has already fielded several inquiries and begun marketing the remainder of the site. The company previously built a 210,000 square-foot spec building for the city that is now occupied by American General, builders of the Humvee.
"We have room for an additional 1.3 million square feet of development," Smoke says. "The close location to major highways, trains and airports makes it very desirable. Manufacturing and transportation are making a big comeback, and South Bend is a focal point."
Great Lakes Capital is also developing a modern warehouse and distribution center at Ameriplex, located at I-80/90 and only five miles from the South Bend International Airport. The building will be 210,000 square feet and similar in design to the building leased by American General. Smoke says the building can be enhanced with build-to-suit options and flexible demising walls.
"South Bend is a terrific location for these type of businesses," Smoke says. "Multimodal transportation is on the increase, and South Bend and Great Lakes are positioned to capitalize on the need."
Click to read more from the Fall 2017 issue of Northwest Indiana Business Quarterly.