NWI companies expect growth in overseas business with improved infrastructure, help of state grants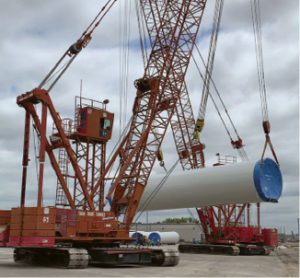 As the economy becomes more global, states are stepping up their game either to enter or up the ante on their presence and activity in international markets.
The Hoosier state is no exception. In 2018, Indiana exported a record $39.3 billion of made-in-America goods to the world, according to the Office of the U.S. Trade Representative. This milestone made it the 12th largest state exporter of goods in 2018 and represents a 48% increase from its export level in 2008. But Region organizations recognize there is greater opportunity.
The Ports of Indiana has a few ideas to boost Indiana exports. Representatives say planned investments show the port's commitment to making Northwest Indiana a global commerce powerhouse.
"At the Port of Indiana-Burns Harbor, where steel and agriculture products are top commodities, we are spending $20 million to enhance intermodal facilities with rail and truck marshalling yards," said Ian Hirt, Port of Indiana-Burns Harbor's director. "Work underway from this FASTLANE grant includes two new railyards, 4.4 miles extension to the port's 14-mile rail network, construction of a new 2.3-acre cargo terminal with multimodal connections, improvements to the dock apron and approximately 1,200-foot dock expansion, and a new 6-acre truck marshalling yard."

Hirt says these enhancements will be a boon to the Region on many levels.
"The marshalling yard will reduce truck emissions, and the two new berths will help grow marine transportation — the most environmentally friendly method of moving cargo," Hirt said. "Rail is second cleanest (mode of transportation), and the two new railyards will expand our rail opportunities."
Beyond environmental considerations, Hirt said water is the most cost-efficient way to move cargo long distances. In addition, the five major infrastructure projects allow the port to continue offering international connections and competitive advantages.
The Burns Harbor port improvement plans also include installation of high-speed fiber throughout the port to ensure tenants have the best communication system possible.
Hirt said the port's maritime industrial park has attracted many companies who seek facilities for manufacturing, warehousing and distribution that are near U.S. waterways and the Chicago area. And those companies have other needs, too, served by other regional entities.

Duane Hayden, executive director of the Gary/Chicago International Airport, said the momentum experienced during the past several years has helped to push Northwest Indiana forward. He cited significant public and private investments, including the expansion of the airport's main runway to almost 9,000 feet in length, making it the second-longest in the greater Chicago and Northwest Indiana region after O'Hare International Airport.
"This expansion has allowed us to service larger aircraft than Midway International Airport can accommodate," he said. "These investments continue to allow the airport to function as a critical economic engine, fueling regional growth and investment."
Hayden considers the opening of the U.S. Customs and Border Protection facility in 2018 a win for Gary and the Region. It allows air travelers to visit the airport from any international destination without first having to clear customs.
This is just the tip of the iceberg, however, Hayden said. During the past five years, the Gary airport has seen more than $30 million in private investment, which has resulted in several new aircraft hangars and airport terminals.
"Notably, our two premier fixed-base operators in B. Coleman Aviation and Gary Jet Center have constructed and opened several new facilities, including new state-of-the-art terminals," he said.
In May 2020, the airport entered into a long-term lease agreement with multinational package delivery and supply chain management company UPS, allowing for cargo operations to begin before the end of 2020.
"This is a tremendous partnership, as it will fuel regional economic growth while also solidifying our role as Chicago's official third airport as we continue to fill a vital cargo role complementing our partners at O'Hare International Airport and Midway International Airport, both of whom face increasing passenger demands," Hayden said.
Promising outlook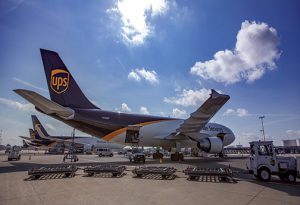 Hayden said recent airport upgrades and private investments paint a bright future for the airport as well as for the Region economy.
"The future of the airport is bright, and we are really beginning to take off," he said. "Our increased economic benefits are a key indicator of the airport's regional importance, and we look forward to continuing to solidify our role as a key part of the Chicago metropolitan area's air travel system."
With the Gary airport contributing to expanding global commerce opportunities, additional resources also have become available to assist companies seeking business in the global marketplace.
The Indiana Economic Development Corp.'s IN-STEP program assists small businesses in identifying, marketing and selling its products or services around the world.
Lorri Feldt, regional director of the Northwest Indiana Small Business Development Center, said the matching grant program helps the state level up. Launched in January 2019, Feldt said the state is gaining ground on the competition.
"This is a grant program that literally 47 or 48 other states had set up," she said. "Indiana did not (have one in place) until the past year, (so) we're really excited about the opportunity to provide matching grants to help cover some of those expenses businesses face when looking to do activities overseas."
Under normal circumstances, business representatives might travel domestically or abroad to attend trade shows to expand their reach and sales. Travel-related expenses can add up fast, so these funds can help offset the financial burden, according to Feldt.
For example, a business might use the funds to contract a professional to translate marketing materials into another language, she said. The same goes for expenses covering targeted market research, currency exchange fees, booth space rental, and booth design and construction.
"For a smaller business, (the cost of attending a trade show) can be a huge barrier and a really big decision," Feldt said. "So this allows for them to cut the cost in half with the matching opportunity and actually do some of those things that could exponentially increase selling overseas."
Businesses reboot

The COVID-19 pandemic has stifled activity for a lot of businesses, but Feldt said it also has inspired plenty of innovation. Some grant recipients have used the funds to attend virtual trade shows or conferences.
Unusual times call for pivoting — something entrepreneurs do best,
she said.
"I think most people would be surprised to know how quite small businesses do actually export," Feldt said. "And it's always fun to discover that there are companies in Northwest Indiana, with fewer than 10 employees who have very active export programs."
Exporting isn't just for large corporations, she said.
"I think maybe people tend to assume this is something where just big companies play," Feldt said. "But that's actually not the case at all."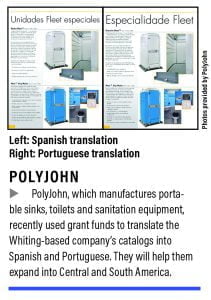 Chris Davis, PolyJohn's international sales manager, recognizes the potential of doing business in the global marketplace. The Whiting-based company manufactures portable sinks, toilets and sanitation equipment.
Davis said he first heard about the IN-STEP program while at a trade show in February. Despite the lay-of-the-land changes with COVID-19, Davis said his company has remained nimble throughout the crisis.
"With the onset of Covid-19, all travel internationally came to a halt," he said. "So many of our international plans were put on hold, such as customer visits or trade shows were either canceled or pushed to later dates, (but) this gave us time to work on other items."
Davis said his firm had been eyeing markets in the southern hemisphere, and the time was right to act. It used the grant funds to translate its catalogs into Spanish and Portuguese.
"Having these catalogs in other languages will help us expand our markets in Central and South America," he said. "We can put these catalogs online for prospective clients to download and have these language-specific catalogs ready for international trade shows, once those markets reopen."
Davis' company is formulating strategies to maximize use of its new marketing materials and is confident in the results it will yield.
"This will aid us in putting these catalogs online for customers in Latin America to download," he said. "We will also be ready at future trade shows with Spanish- and Portuguese-speaking customers."
PolyJohn is in growth mode, so this might just be the beginning when it comes to gaining market share overseas.
"After successful translation of our catalog into Spanish and Portuguese, we have plans to expand our catalog into other languages or markets where we need to improve," he said. "We will also be looking to exhibit in more overseas trade shows and trade missions, as we try to expand our international markets."
And, Feldt said, they aren't necessarily the exception to the rule either.
Click here to read more from the August-September 2020 issue of Northwest Indiana Business Magazine.