Tourism experts say they are going full speed ahead with plans to attract visitors to Northwest Indiana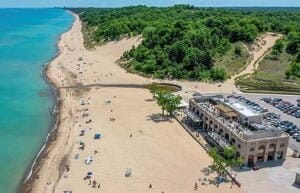 Tourism in Northwest Indiana is on the rebound after a few tumultuous years. Destination and marketing leaders especially are optimistic about 2023 and beyond.
Jack Arnett, CEO of Visit Michigan City La Porte Visitors Bureau, is bullish on the Region's future in terms of tourism and economic development.
"We weathered the whole COVID situation, probably better than 95% of the rest of the destination management organizations across the United States," he said. "The simple reason is that we have two factors at play. (For one), we have the third largest number of third-party rentals in the state of Indiana, right here in La Porte County."
This trend is significant because these venues must collect taxes due to a recent change in federal law. This means the county sees revenue from those bookings. The second factor — the nature of the venues — has helped the county's cause, according to Arnett.
"Right as COVID hit, folks started making different decisions on how they would travel," he said. "They weren't necessarily going to use the (traditional) hotels. They started using third-party (venues). So, we came out of (the worst of the pandemic) about as good as you could get."
For the most part, Northwest Indiana destinations didn't see significant dips in numbers because state leaders kept Indiana fairly open during the pandemic.
Elaine Bedel, president of the Indiana Destination Development Corp., said that the leisure and hospitality industry is returning to pre-pandemic levels. However, the workforce needed to staff it might make it difficult to sustain that trend.
Build it, and they will come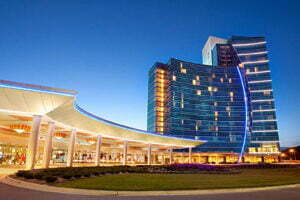 Hotels still are a major driver of revenue in the state. In 2019, the state took in more than $705 million in hotel-generated state and local tax revenue, according Oxford Economics. The independent economic advisory firm projects that more than $820 million in taxes will be collected in 2023 by the state. Hotel occupancy might even reach 2019 levels.
Increased lodging and tourism activity has made it hard for hospitality operators to keep up with the demand, making room for hotel expansion in the Region.
In late 2022, a $240 million hotel and multi-family project was announced near the Michigan City shoreline, according to a report from the Northwest Indiana Regional Development Authority. Hotels in Hammond and Elkhart also have recently opened, as report on the Lodging Development website..
"In our case, we're desperate for some extra rooms," Arnett said. "And we'll be glad to see these new properties come up."
The Pokagon Band of Potawatomi also planned a grand opening in early March of its 23-story hotel with 317 rooms at its casino in South Bend. Lou Gramm of Foreigner fame is slated to perform there June 16.
Those properties also will come to good use with investments made in developing youth sports venues.
The Visit Michigan City La Porte Visitors Bureau has made partnerships with various sports associations like National Softball Association, Baseball Players' Association, Dunes Volleyball Club, Pop Warner Football & Cheer and others. Arnett said regional leaders should continue to nurture those leads as they represent a sustainable source of revenue.
In 2021, the bureau hosted the Pop Warner Mid America Region Championships in Football and several cheer competitions that brought about 2,500 room stays, according to the organization's 2021 community report.
Other communities also rely on sports-related tourism. Valparaiso announced last fall plans for a new sports and recreation campus on 248 acres on the city's east side. Crown Point and Hammond also have venues touted by Sports Destination Management.
Other Region tourism organizations are planning special events to bring back revenue.
The South Shore Convention and Visitors Authority planned Savor the South Shore restaurant weeks earlier this year. More than 20 restaurants, breweries and wineries signed up. The group also is helping to fund the return of the Gary airshow this summer at the Gary / Chicago International Airport. It had been on hiatus since 2016.
Adventure awaits
Arnett said it was fortuitous that the Indiana Dunes were designated a national park in 2019.
The high point for tourism in the Region resulted in what he referred to as a "shot in the arm" for Northwest Indiana moving out of 2021 into 2022 and beyond.
The Indiana Dunes National Park in Porter is now a tourism hotspot. The park boasts 50 miles of trails that lead through shifting dunes, quiet woodlands, sunny prairies and lush wetlands across 15,000 acres.
Lorelei Weimer, the Indiana Dunes Tourism's president and CEO, said the numbers have fluctuated during the last three years, so it's hard to determine a baseline. For instance, shortly after the pandemic hit in 2020, the Indiana Dunes National and State parks saw an increase in visitation as more people discovered the outdoors. However, in 2022, the national park was down by about 300,000 visitors from the previous year and the state park was down as well.
"So many significant events have happened since 2019 that it's hard to know our new normal," she said.
But she said the designation guarantees a certain type of traveler.
"Park visitors are different from beach visitors — they do the research before traveling and extend their stay beyond a day trip to the beach," Weimer said. "Also, they don't necessarily mind traveling during cooler weather, so our busy season now extends from March through October. We think those types of visitors are going to remain as we're on the national park bucket list now."
With that in mind, Michelle Senderhauf, director of communications, said the longstanding goal has been to encourage extended stays and overnight getaways. This approach is in the best interest of tourists, she said, as it takes more than five or six hours to experience all the parks and communities have to offer.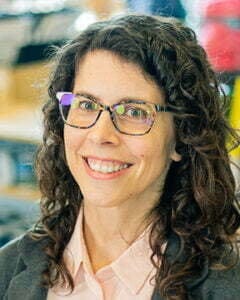 In 2023, Senderhauf said they launched the "love and protect" sustainable travel campaign.
"While we believe this will drive visits from travelers seeking sustainable and responsible vacation options, our goal is also to provide resources and tips to all visitors," she said. "We want to help everyone visit the Indiana Dunes area in a responsible and environmentally friendly way."
Conservation is one facet of that aim. According to Weimer, Indiana Dunes National Park is one of the most biodiverse parks in the country, with only five fewer species than Yosemite.
This means the organization wants visitors to enjoy themselves while also protecting the ecosystem.
Senderhauf said to look for the Indiana Dunes Discovery Trail ahead of the busy summer season, and bicycle rentals will be available at the Indiana Dunes visitor center this spring.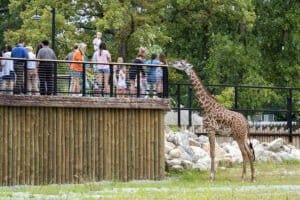 "Indiana Dunes Tourism purchased the Pedal Power Bike Rentals business to continue providing the service to visitors and locals who want to skip the line into the Indiana Dunes State Park or explore the many bike trails our communities offer," she said.
And for those looking for respite, the Indiana Dunes State Park pavilion will open again this season. Senderhauf said the renovated 1930s-era building offers a restaurant, rooftop lounge, event space and an ice cream shop right on the beach.
Bouncing back
South Bend's Potawatomi Zoo on the other hand suffered losses during the pandemic, although the impact on revenue was softened by federal relief funds.
"Because we are an outdoor facility, we were able to open for the season in June 2020," said Josh Sisk, executive director. "We also benefited from the fact that people weren't traveling, so we were able to rebound fairly quickly. Many people were looking for a place they could be safe with family and friends, and the zoo was able to fill that niche."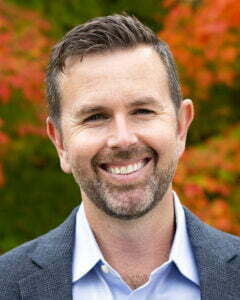 Sisk said that enthusiasm hasn't waned, noting that in 2019 they reported 211,000 visitors. They ended 2022 with 316,000 and expect a similar attendance for 2023. He's also confident that the recent investment in revitalization will pay dividends and drive "record-breaking numbers."
"Last year, we opened an expansive African savanna with a big new species: four Masai giraffes," he said. "We were able to offer feeding opportunities at the end of the season, which were hugely popular."
A new lion habitat will open this year, and a concession lodge and new bear exhibit will open in 2024, he said.
"We've focused our marketing on increasing awareness of the zoo, and the big things it's doing right now," Sisk said.
'IN Indiana' takes off
Indiana Dunes National Lakeshore and the Potawatomi Zoo are just two of the many destinations that the state tourism agency Visit Indiana markets.
Bedel's agency leads the campaign that is empowering destinations and venues to market and position themselves in their niche. Enter the "IN Indiana" statewide campaign, which launched in June 2022. This effort was funded through a federal grant to boost tourism after the pandemic.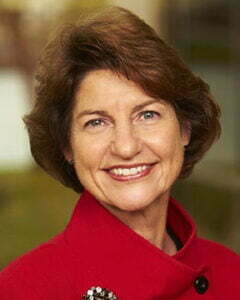 "The idea is that every entity can use it because it allows them to create their own headline," she said. "So instead of … creating a tagline … that might not fit everybody, what we did was allow (them to) create their own headline, to complement what they're already doing."
Visit Indiana equips destination management organizations with other types of marketing collateral, such as video content. According to Bedel, they have created some video clips that can be customized.
This means the local municipality or the local tourism organization can insert their message there.
"It saves them a lot of money because all of the videos are done already," she said. "We just insert their portion of it, and it's a lot less expensive. Anything we create is free for everybody to use. That's kind of how I look at it. We're using tax dollars to do it. So, we might as well share it as far and wide as we can."
Delivering results
The IN Indiana state tourism campaign is no exception to that rule. According to Bedel, the campaign has resonated with entities and the target audience alike because it's versatile enough to apply to many destinations. And perhaps most importantly, it's been effective.
She cited a study that found that because of the "IN Indiana" messaging, it created trips to Indiana that otherwise would not have happened. Per the research, those visits created more than $11 million in new taxes. That translates to a 6-to-1 return on investment, according to her estimates.
If you ask Bedel, this campaign represents just the beginning of their efforts to make the Hoosier state more appealing to outsiders and its natives alike.
"We're going to be creating more tools to be able to share with corporations so that they have a way to (attract and retain) workers," she said. "We also want to work to retain some of the graduates of our great colleges and universities."
She said students come from all over the country and world, so why not try to keep some of them.
"We need to give them an experience that says, 'I could live here in Indiana. I could stay here in Indiana.'"
Click here to read more from the April-May 2023 issue of Northwest Indiana Business Magazine.