Mrvan says role as township trustee prepared him to follow in Visclosky's footsteps

Frank Mrvan understands all too well the hurdles some people face just to get through daily life.
Those obstacles might include not having enough money to either pay for rent, electricity or food, and in some instances, all the above. For the past 15 years, Mrvan's role as North Township trustee has been to assist those in need in East Chicago, Hammond, Highland, Munster and Whiting.
The job isn't easy, but Mrvan found fulfillment in the grassroots work helping residents find solutions to their problems. It also proved an effective training ground for his new job as representative of Indiana's 1st Congressional District.
"I helped people find solutions from local, state and federal avenues, and made sure people could transition from being in financial crisis to getting back to work," said Mrvan, a Hammond native. "(Serving as township trustee) trained me and gave me the experience to be able to understand people's struggles and what we need to do for the Region and other communities to ensure all the lifeboats are lifted at once."
By that Mrvan means helping set policies and priorities through legislative action to create and preserve good-paying jobs, protect the domestic steel and manufacturing sectors, ensure federal dollars flow into the Region to maintain critical infrastructure, and make higher education and health care more accessible to the underserved.
He recognizes it's a tall order, but Mrvan said he's ready for the challenge. And as he works toward his goals, he will make the first steps toward making his own mark on the 1st District. Fellow Democrat Pete Visclosky of Gary had represented the district since 1985. He chose not to seek reelection.

"When I ran for township trustee, many people said I was able to win because of my relation to my dad (Frank Mrvan Sr., a long-time Indiana state senator), but that motivated me to work hard and prove to people I was more than Frank's son," Mrvan said. "Pete was a productive representative and an icon for working men and women, so as I hit my marks, where steel interests are protected, more young people have access to education, and I can work to bring our communities together to focus on doing what's best for all of Northwest Indiana every day, then I'd say I would have stepped out from under (Pete's) shadow."
After winning the position in the fall election, Mrvan spent time in Washington, D.C., learning about the role. He also secured a post as co-chairman of the Congressional Steel Caucus, which works to promote and advance the interests of the domestic steel industry and steelworkers.
Visclosky, a former chair of the Congressional Steel Caucus, said Mrvan is a good fit for the position and knows he will represent the 1st District well.
"(Frank) has proven throughout his career to be one of the most sincere, decent and honorable individuals I have ever met," Visclosky said. "I know he has the character and skills to excel as a member of Congress."
Mrvan recognizes it also will be important to get to know Indiana's other U.S. representatives and find ways to help the state as well as Northwest Indiana.
"First and foremost, the 750,000 people who elected me to represent the 1st District are my priority, but it's also important to develop relations with the Indiana delegation and the state of Indiana," Mrvan said. "Making sure we have a strong economy will take working across both sides of the aisle, and I understand it will be a fight every day for the 1st District's priorities, but it will be important to blend those priorities with the state and nation, but as those things conflict, I will advocate for the 1st District."
Mrvan said the task he will miss the most at his former post as trustee will be the ability to immediately assist a constituent with an issue.
"I'll miss the fruitfulness of being able to instantaneously assist someone in a desperate or challenging time," he said. "As a member of Congress, I'll still be able to help people, but it will be by setting policy for economic development, and educational and health care access, (so ensuring) these things (happen) motivates me to be a better member of Congress."
Click here to read more from the February / March 2021 issue of Northwest Indiana Business Magazine.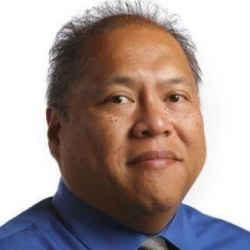 Latest posts by Larry Avila
(see all)